15.10.2019 - 15.10.2019
Europe and North America / / Oulu
Kontinkangas Campus, Aapistie 5 B, 90014 Oulu, Finland
A video lecture on effects of climate change to Saami people. Lecture is given in North Saami language and subtitled in English.
14.10.2019 - 14.10.2019
Europe and North America / / Constanta
TBA
Today the Tatar language in Romania is fluently and authentically spoken only by the generations in their 60s, 70s and 80s. Middle aged generations can understand the language, but they speak it only occasionally and partially, while the younger generations neither understand it, nor speak it. This makes Tatar language spoken in Romania severely endangered […]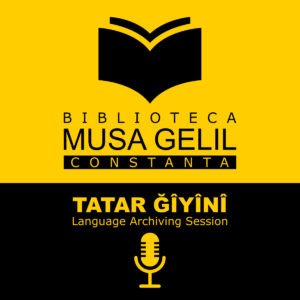 17.09.2019 - 13.10.2019
Asia and the Pacific / / Kuala Lumpur
Centre for Malaysian Indigenous Studies (CMIS), 11, Section 16/4, 59100 Kuala Lumpur
Approximately 80% of living languages in Malaysia are indigenous languages, with many of them in danger of disappearing soon. In conjunction with the International Year of Indigenous Languages 2019 (IYIL2019), an exhibition, Voices of the People: An Exhibition of Indigenous Languages in Malaysia, will be held at the Centre for Malaysian Indigenous Studies (CMIS). The exhibition is being jointly organised by CMIS and the Faculty of Languages and Linguistics University of Malaya (UM). The exhibition aims to create awareness of the linguistic and cultural diversity of the indigenous people in Malaysia through curated audio and video recordings featuring stories from different indigenous communities. A range of activities will be carried out during the three and a half week long exhibition. These include performances, talks and workshops by indigenous communities. The exhibition, which is open to the public, also aims to share research and community engagement projects carried out by researchers at UM.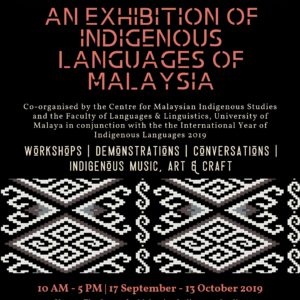 29.06.2019 - 13.10.2019
Asia and the Pacific / / Melbourne
Melbourne Museum
A multimedia soundscape exhibition that celebrates UNESCO's International Year of Indigenous Languages and the 25th Anniversary of the Victorian Aboriginal Corporation for Languages (VACL).  Co-curated with VACL, ngulu wurneet, galada-al wurrung-u, parniwaru tyalingi, waran woorroong-ee, barringgi dyaling – River of Language encourages visitors to be immersed in Aboriginal Ways of Knowing, Being and Doing, and learn through listening and […]
13.10.2019 - 13.10.2019
Latin America and the Carribean / / Irapuato
Teatro de la Ciudad
This concert is part of an internatonal tour for the release of the Cantares Mexicanos CD under the mexican label Tempus Clasico on september 10, 2019. This concert contrasts Aztec poetry in the Nahuatl language and mexican contemporary creation for the accordion. *** Ce concert est donné à l'occasion d'une tournée internationale pour la sortie du disque Cantares Mexicanos sous le label mexicain Tempus Clasico; Ce projet mêle la poésie aztèque en langue nahuatl et la création contemporaine mexicaine pour accordéon solo.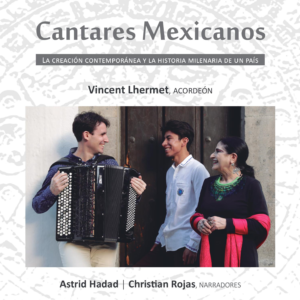 09.10.2019 - 12.10.2019
Europe and North America / / nantes
Cinéma le Concorde, 79bd de l'Egalité 44100 Nantes
Le Festival Ciné Alter'Natif vous invite à célébrer ses dix ans au service des cinémas autochtones. Du 9 au 12 octobre 2019 à Nantes, rejoignez-nous pour découvrir une sélection inédite avec un focus principal « langues autochtones ». Des animations et rétrospectives reviendront également sur les temps forts et les films primés des précédentes éditions.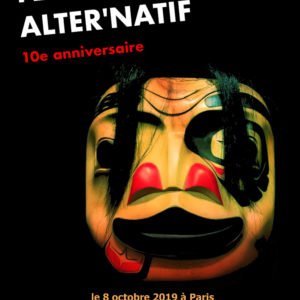 11.10.2019 - 12.10.2019
Europe and North America / / New York City
Little Theater at LaGuardia Performing Arts Center
Créssida Contemporary Dance makes their New York debut with the world premiere of Naj (House), created by the troupe's Artistic Director Lourdes Luna in close collaboration with Mexican-American composer Carlo Nicolau. The piece is inspired by Mayan poet Briseida Cuevas Cob's "A yáax tuupl" (The First Earring) and offers a contemporary focus of Mayan worldview. Créssida will also perform La primera piedra (The Foundation Stone), created by Roberto Olivan and directed by Lourdes Luna. This work approaches the current Mexican character and personal themes that pierce through borders. This performance is part of LaGuardia Performing Arts Center's 2019-2020 Season. Music and choreography for Naj are co-commissioned, co-produced and co-presented by Celebrate Mexico Now Festival and LaGuardia Community College.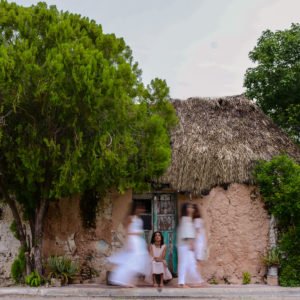 Scroll