30.01.2019 - 30.01.2019
Europe and North America / / ATHENS
Theatre "Anna & Maria Kalouta", Timokreontos 6A, Neos Kosmos, Athens
THE CLUB FOR UNESCO OF PIRAEUS & ISLANDS PRESENTS THE ORATORIO OF PANAGIOTIS KAROUSOS THE SONG OF THE NATIONS CONDUCTED BY FAIDRA GIANNELOU A concert event for the 2019 International Year of Indigenous Languages The United Nations General Assembly has declared 2019 the International Year of Indigenous Languages (IY2019) to raise awareness of the crucial […]
29.01.2019 - 29.01.2019
Latin America and the Carribean / / Ituzaingó, Buenos Aires, Argentina
Nicolás Repetto 2700, Ituzaingó, Buenos Aires
Bajo el lema de boca en boca la naturaleza nos convoca celebramos en el Jardín Botánico Arturo E. Ragonese el Día Mundial de la Educación Ambiental. Los relatos, mitos y leyendas de nuestros pueblos originarios fueron el hilo conductor seleccionado como herramienta educativa, para una propuesta que incluyó actividades con niños y adultos, visitas guiadas, narraciones, juegos, actividades manuales y disertaciones.
28.01.2019 - 29.01.2019
Latin America and the Carribean / / Quito
Calle Carrión y Av. 10 de Agosto, Quito Ecuador
Quito, 28 de enero de 2019 Ecuador realizó hoy el lanzamiento del Año Internacional de las Lenguas Indígenas (AILI 2019), en el Palacio de Najas, sede de la Cancillería ecuatoriana. Con ocasión de la co-presidencia que ejerce Ecuador a nivel internacional, el ministro de Relaciones Exteriores y Movilidad Humana subrogante, Andrés Terán, indicó que el […]
28.01.2019 - 29.01.2019
Europe and North America / / Victoria, BC
First Peoples' House, University of Victoria, BC, unceded territories of the W̱SÁNEĆ and Lekwungen Peoples
Engaging, Connecting, and Mobilizing Indigenous Language Learning Leaders, Supporters, and Researchers through an Online Sharing Space Project - NILLA (NEȾOLṈEW̱ INDIGENOUS LANGUAGE LEARNING ATLAS)
28.01.2019 - 28.01.2019
Global / / Paris
UNESCO Headquarters (Room II), 7 place de Fontenoy, 75007 Paris
UNESCO, in the capacity of the leading UN agency of the International Year of Indigenous Languages, and in cooperation with Member States, indigenous peoples' organizations, academic, and other public and private partners, as well as UNDESA and other UN-system organizations, will organize the Official Global Launch event of the 2019 International Year on Indigenous Languages that will take place from 15.00 p.m. to 18.00 p.m. and cultural programme from 18.15 to 19.00 p.m. on Monday, 28 January 2019 at UNESCO Headquarters in Paris, France (Room II).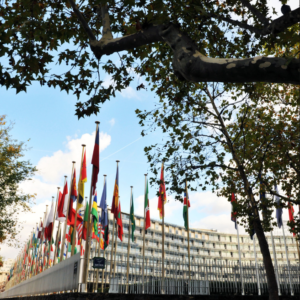 28.01.2019 - 28.01.2019
Global / / Paris
UNESCO Headquarters (Room II)
The United Nations General Assembly proclaimed 2019 as the International Year of Indigenous Languages (Ref.: 71/178) in order to raise global attention on the critical risks confronting indigenous languages and its significance for sustainable development, reconciliation, good governance and peace building. The celebration in 2019 will contribute to the access to, and promotion of, indigenous languages and to a concrete improvement in the lives of indigenous peoples by strengthening the capacities of indigenous language speakers and relevant indigenous peoples' organizations.
28.01.2019 - 28.01.2019
Europe and North America / / We'koqma'q
Wekoqma'q Mi'kmaw School
As part of support and promotion for IYIL2019 Treaty Education in collaboration with Mi'kmaw Culture and Language department will be celebrating a provincial event in the community of We'koqma'q. As part of the initial stages of planning an Atlantic wide video conference will showcase how we can promote language through creative arts as well as […]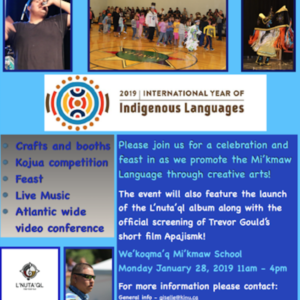 Scroll