29.08.2018 - 31.08.2018
Asia and the Pacific / / Gurugram
Lemon Tree convention center
The 6th international workshop on spoken language technologies for under-resourced languages(SLTU'18) will be held in Gurugram, India on 29-31 August 2018The workshop on spoken language technologies for under- resourced languages is the sixth in a series of even-year SLTU workshops. Five previous workshops were successfully organized: SLTU'16 Yogyakarta (Indonesia), SLTU'14 in St. Petersburg (Russia), SLTU'12 in Cape Town (South Africa), SLTU'10 in Penang(Malaysia) and SLTU,08 in Hanoi (Vietnam).There are more than 6000 languages in the world and only few are well represented digitally. India alone, with a country of 780 spoken languages and 86 different scripts that reflect its incredible diversity, has lost around 250 languages in the last 50 years and many more are at the verge of getting extinct. A major focus of this workshop is on Indo-European and Sino-Tibetan languages, but study on other under resourced languages are also encouraged. The workshop is being planned as a satellite workshop to INTERSPEECH 2018.
23.08.2017 - 23.08.2017
Europe and North America / / Stockholm
Stockholm University campus
This special session aims to accelerate the research activities for under-resourced languages, and to provide a forum for linguistic and speech technology researchers, as well as academic and industrial counterparts to share achievements and challenges in all areas related to natural language processing and spoken language processing of under-resourced languages, mainly used in South, Southeast and West Asia; North and Sub-Africa; North and Eastern Europe. Particularly, as Interspeech 2017 will be held in Sweden, we highly encourage any submissions on under-resourced languages from Nordic, Uralic, and Slavic regions.
27.05.2019 - 31.05.2019
Latin America and the Carribean / / Paris
UNESCO Headquarters Place de Fontenoy 75007
The "Latin America and the Caribbean Week in UNESCO: preserving and protecting Indigenous Languages", in general is aimed to enhance cultural diversity of the Region, and in the 2019 International Year of Indigenous Languages, to focus in the necessity of their preservation and promotion, through a variety of cultural and academic activities, during all the […]
28.01.2019 - 28.01.2019
Global / / Paris
UNESCO Headquarters (Room II), 7 place de Fontenoy, 75007 Paris
UNESCO, in the capacity of the leading UN agency of the International Year of Indigenous Languages, and in cooperation with Member States, indigenous peoples' organizations, academic, and other public and private partners, as well as UNDESA and other UN-system organizations, will organize the Official Global Launch event of the 2019 International Year on Indigenous Languages that will take place from 15.00 p.m. to 18.00 p.m. and cultural programme from 18.15 to 19.00 p.m. on Monday, 28 January 2019 at UNESCO Headquarters in Paris, France (Room II).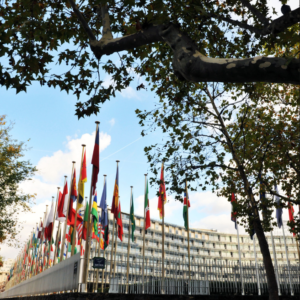 23.01.2019 - 23.01.2019
Europe and North America / / Berlin
10785 Berlin, Potsdamer Strasse 37
Panel de debate sobre experiencias concretas, potenciales y riesgos de una educación intercultural que procura preservar la diversidad de prácticas culturales y lenguas indígenas en Guatemala.
13.12.2018 - 13.12.2018
Europe and North America / / Berlin
Potsdamer Strasse 37
Discussion on the key role that writing can play in ideologies of language, as well as the analytical richness of metalinguistic or meta-orthographic expressions for understanding actual use and dissemination
15.07.2019 - 19.07.2019
Europe and North America / / Oxford, OH; Eugene, OR
Myaamia Center, Miami University; Northwest Indian Language Institute, University of Oregon
The new National BoL 2.0 is designed to build capacity around advanced archives-based research for revitalization. National BoL 2.0 offers training in the management of digital archival collections and advanced linguistic analysis of data for language revitalization to community researchers who already possess archival materials.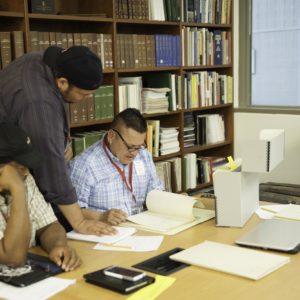 Scroll