24.05.2019 - 24.05.2019
Asia and the Pacific / / Wokha, Nagaland
Mt. Tiyi College, Wokha
Seminar on Lotha Language Development organized by Lotha Academy in Collaboration with Mt. Tiyi College. As one of the major tribes in Nagaland, the Lotha Nagas have a rich language heritage that make valuable contribution to world cultural diversity. Currently, globalization and the dominance of English language increasingly threaten the future of Lotha language. The […]
18.05.2019 - 19.05.2019
Latin America and the Carribean / / Glasgow
Kelvin Hall
ÚNA, standing for Uniting Narratives with Arts, is a nonprofit two-day festival aiming to foster a cultural and educational bridge between Latin America and Scotland, to ultimately raise awareness on diversity, environmental and socio-political issues on both ends.The core of our dialogue will explore myths and tales as a way to uncover parallels and contrasts between both ethnic backgrounds. Through a series of talks, panel discussions, art exhibition and film screenings, ÚNA will create a cross-cultural exchange, blur the boundaries, and raise the voices of marginalized Indigenous peoples and Gaelic communities in Latin America and Scotland respectively.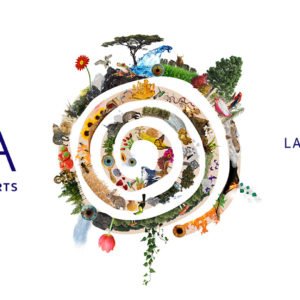 01.06.2019 - 02.06.2019
Asia and the Pacific / / Christchurch
Rydges Latimer Hotel
The multicultural aspect of NZSTI's 2019 Conference theme adds resonance to the United Nations International Year of Indigenous Languages. When speakers of different languages meet, the encounter is cultural as well as linguistic, and part of the reality of life not only in Aotearoa-New Zealand but in many countries throughout the world.In an increasingly multicultural world, the translating and interpreting professions, dedicated to promoting communication and understanding between peoples and cultures, have a more vital role than ever before in the resolution or mitigation of conflict, in the enhancement of life and civilization. Visit https://www.nzsti.org/annual-conference/
21.02.2019 - 21.02.2019
Latin America and the Carribean / / La Paz
Ministerio de Relaciones Exteriores de Bolivia
Antecedentes: EL 19 de diciembre de 2016, a iniciativa del Gobierno del Estado Plurinacional de Bolivia, la Asamblea General de Naciones Unidas aprobó la Resolución A/RES/71/178, que proclama el 2019 como el Año Internacional de las Lenguas Indígenas, con el fin de llamar la atención sobre la pérdida de los idiomas y la necesidad de […]
24.04.2019 - 30.04.2019
Latin America and the Carribean / / Niterói, Rio de Janeiro
Icaraí
In the second edition of the project Brazil: the margin, the Centro de Artes da Universidade Federal Fluminense (Fluminense Federal University Arts Center) will be open, from April 24th to 30th, to Teko Porã, which in Guarani language means well living in the community. Notably in this year 2019, declared by UNESCO as the International Year of Indigenous Languages, we reiterate the words of Prof. José Bessa Freire: "A language contains in it all the territory where it is spoken, in the means that it classifies, names, describes, evaluates, hierarchizes and gives meaning to everything in it flora, fauna, geographical accidents, enchanted and disenchanted beings that inhabit it, as well as beliefs and knowledge that reveal the relationship between them". The programming will consist of conferences, debates, art exhibition, seminars, film sessions, concerts and Indigenous Handicrafts Fair. April 24th · Opening Conference: Indigenous ancestry and contemporary dilemmas", with Daniel Munduruku. · Espaço UFF de Fotografia Paulo Duque Estrada (Paulo Duque Estrada UFF Photography Space) "Tka dahêmba / corpo terra" (Earth body) – by Edgar Kanaykõ XakriabáApril 25th·SEMINAR - INDIGENOUS LANGUAGES I"Línguas indígenas: cosmologias e culturas" ("Indigenous languages: cosmologies and cultures") Professor José Ribamar Bessa Freire. ·Minicourse: "Indigenous ethnoesthetics: The Attempts of 'Non-Indigenous' Approaches to Amerindian Plastic Production in Brazil" - Professor Wallace de Deus Barbosa ·Conversation followed by musical presentation - Dub For Galdino invites Wera MC and Katú Mirim April 26th· SEMINAR - INDIGENOUS LANGUAGES II·Minicourse: ASCURI - Ñandereko e cinema indígena de direção (ASCURI - Ñandereko and directing indigenous cinema). Short film session of indigenous filmmakers. · Show: Brisa de La Cordillera Flow, with disc release Selvagem como o vento (Wild as the wind)April 27th·Indigenous Handicrafts Fair· Sarau of Indigenous Literature · Indigenous MusicApril 28th·Indigenous Handicrafts Fair·Concert: Native American songs - Música Antiga da UFF (Ancient UFF Music) and guestsApril 29th·Projeto Cine Escola (Cine Escola Project): Children's animation shows + Animation Workshop with Daniele Rodrigues·UFF Debate Brasil (Brazil UFF Debate) "Originary women: resistance, poetry and identity", with Eliane Potiguara, Taily Terena and Renata Machao.April 30th· Minicourse: Do grafismo à arte indígena contemporânea (From graphism to contemporary indigenous art), with Denilson Baniwa.·Closing Conference: "Ipa theã oni: flecha para tocar o coração da sociedade não indígena", ("Ipa theã oni: arrow to touch the heart of non-indigenous society"), with Davi Kopenawa.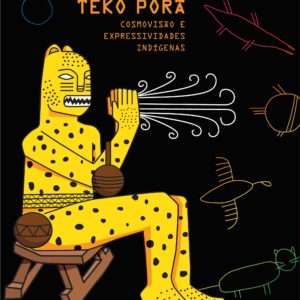 15.05.2019 - 15.05.2019
Europe and North America / / Paris
65 Rue des Grands Moulins
En mission de recherche dans le Sud du Tchad pour documenter la culture d'une petite société, les Láàl, l'ethnologue-réalisatrice Sandrine Loncke est frappée par le multilinguisme des habitants. Les sociétés qui peuplent le coeur du continent africain forment une telle mosaïque qu'il n'est pas rare d'y croiser des villageois parlant six à sept langues. Mais pour combien de temps encore ?Cette projection sera suivie d'une discussion avec la réalisatrice et des linguistes de terrain travaillant sur les langues « en danger » en Afrique, tous issus du laboratoire LLACAN (Inalco/CNRS).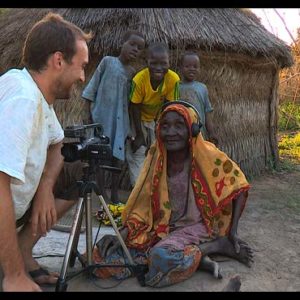 11.06.2019 - 03.07.2019
Europe and North America / / Chicago
John David Mooney Fundation
La exhibición artística Uyayta Shuyuchi - Visualizar lo Sonoro reúne obras contemporáneas de artistas kichwas y no kichwas entre emergentes y de mediana trayectoria, de cuyos contenidos e imágenes se desprenden valores simbólicos portadoras de historias, memorias, fantasías e imaginación, y nos aproximan visualmente con el significado metafórico de las sabidurías inmersas en las lenguas originarias.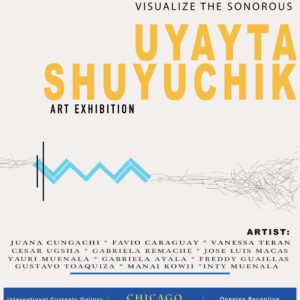 Scroll