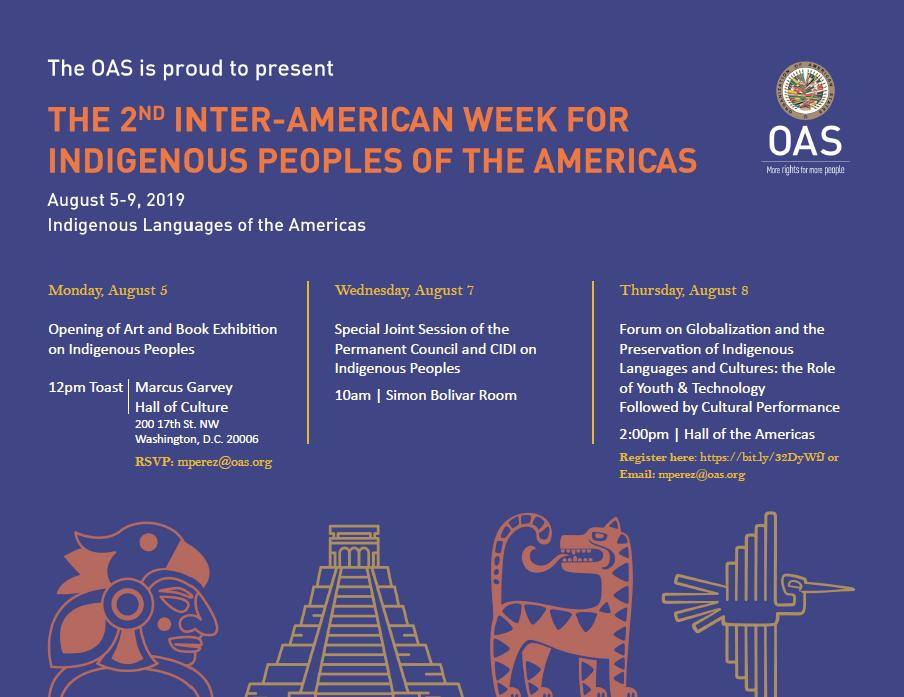 August 5, 2019 12:00 am - August 9, 2019 6:00 pm
Europe and North America | United States of America | Washington | Organización de los Estados Americanos
Cultural events
The Organization of American States (OAS) will celebrate from August 5 to 9 the Inter-American Week for #IndigenousPeoples. This year, the week will be under the theme "Indigenous Languages of the Americas" and will host events about cultural diversity, traditions, languages, and contributions of indigenous peoples of the region.
———
La Organización de los Estados Americanos (OEA) celebrará, desde el 5 hasta el 9 de agosto, la Semana Interamericana de los Pueblos Indígenas, con eventos que destacan la cultura, las tradiciones, las lenguas y demás contribuciones de los pueblos indígenas de la región.
Bajo el lema "Idiomas Indígenas de las Américas", y en el marco de la designación por parte de las Naciones Unidas al año 2019 como el "Año Internacional de los Idiomas Indígenas", la OEA llevará a cabo las siguientes actividades:
Agosto 5-9: Una Exposición de Arte y Libros sobre Pueblos Indígenas. La exhibición se hará en la Sala Marcus Garvey de la sede de la OEA, e incluirá pinturas, fotografías, libros, e instrumentos musicales que representan la importancia del lenguaje como conducto para la expresión cultural.
6 de agosto: Una visita guiada al Museo Nacional de los Indios Americanos en Washington, DC, para ayudar a crear conciencia sobre la historia y la realidad de los pueblos indígenas de la región. Participantes incluirán representantes de Misiones y Observadores Permanentes ante la OEA, y autoridades de la Secretaría General.
7 de agosto: El Consejo Permanente y el Consejo Interamericano para el Desarrollo (CIDI) celebrarán una sesión extraordinaria conjunta en su sede en Washington, DC, para conmemorar el Año de los Idiomas Indígenas". Dicha sesión contará con un panel de ponentes incluyendo a Esther Kuisch-Laroche, Directora y Representante de la Oficina de UNESCO para Centro America; Luis Felipe Duchicela, Asesor Principal para Asuntos de los Pueblos indígenas, Agencia de los Estados Unidos para el Desarrollo Internacional (USAID) (Ecuador);  Petita Ayarza, primera mujer panameña de ascendencia indígena elegida como diputada en la Asamblea Nacional (Panamá); y participando a través de video conferencia, Juan Gregorio Regino, Director General del Instituto Mexicano para las Lenguas indígenas en México (México).
8 de agosto: Un Foro sobre "La Globalización y la Preservación de las Lenguas y Culturas indígenas: el Papel de la Juventud y la Tecnología" en el Salón de las Américas. El evento incluirá una serie de paneles con representantes indígenas del Hemisferio con reconocida trayectoria junto con autoridades nacionales responsables de políticas acerca de los pueblos indígenas, así como actuaciones musicales y culturales.