24.05.2019 - 24.05.2019
Latin America and the Carribean / / San Salvador
UTEC, San Salvador
The National Conference is focused on initiating a conversation about the importance of protecting the indigenous languages and generating recomendations for the development of a national road map and action plan focused on the preservation, promotion of and use of the languages. The event will place emphasis on bilingual education, access to information, the use of technology. The importance of developing measures and policies which will encourage young people to take interest in learning the languages will be one of the key elements in these discussions.
24.05.2019 - 25.05.2019
Europe and North America / / Fairbanks
Morris Thompson Cultural and Visitors Center
Hishinlai' Peter learned her endangered ancestral language, Gwich'in, as an adult. She has taught adults at UAF since 2002, and earned her Ph.D. with a dissertation on Adult Ancestral Language Learning and Effects on Identity. In this special presentation Hishinlai' will share an inside look at how adult students learn Gwich'in in her classroom.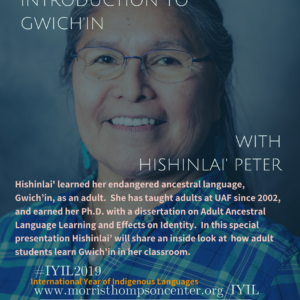 24.05.2019 - 24.05.2019
Asia and the Pacific / / Wokha, Nagaland
Mt. Tiyi College, Wokha
Seminar on Lotha Language Development organized by Lotha Academy in Collaboration with Mt. Tiyi College. As one of the major tribes in Nagaland, the Lotha Nagas have a rich language heritage that make valuable contribution to world cultural diversity. Currently, globalization and the dominance of English language increasingly threaten the future of Lotha language. The […]
24.05.2019 - 24.05.2019
Asia and the Pacific / / Lower Hutt, Wellington
Lagi Routes from the Pacific Store
The Mila's My Gagana Series promotes the learning of Gagana Samoa (Samoan language) by providing accessible tusi faitau (reading books) that engage our tamaiti (children), fanau (families) and faiā`oga (educators) in a fun and interactive way.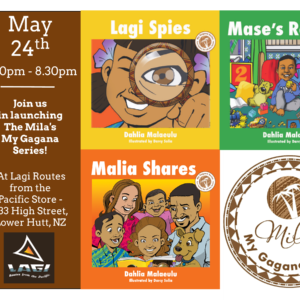 25.05.2019 - 30.10.2019
Latin America and the Carribean / / La Paz
Facultad de Humanidades y Ciencias de la Educación - Universidad Mayor de San Andrés
The Course (Diplomado, in Spanish) will be organized into different modules: linguistics, history, anthropology, traditional world vision and will be dictated in Aymara as well as the graduation paper that will be written and published in Aymara.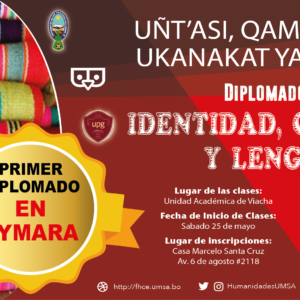 25.05.2019 - 25.05.2019
Europe and North America / / Paris
37 Quai Branly 75007
Rencontre et séance d'écoute avec Anne Pastor et Magda Helena Dziubinska autour de la plateforme documentaire "La voix des femmes autochtones" au salon de lecture J. Kerchache du musée du Quai Branly - Jacques Chirac.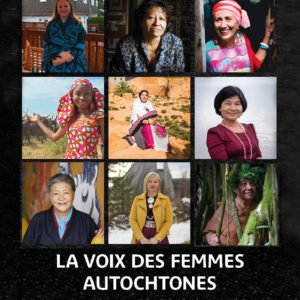 26.05.2019 - 26.05.2019
Asia and the Pacific / / Jakarta
SkyHouse Exhibition, Chubb Square, Jalan M. H. Thamrin No. 10, Central Jakarta
Polyglot Indonesia Jakarta Chapter presents the Language Exchange Meetup activities series entitled "Langlang Buana Nusantara!" In the seventh meetup of this series, we discussed the language and culture in West, Central, and South Kalimantan province in an activity entitled "A Cluster of Islands with Thousands of Culture" held on May 12, 2019. In collaboration with Forum Mahasiswa Kalimantan Barat UI (FORMAKARA UI), Harati UI, and Paguyuban Mahasiswa Banua Kalimantan Selatan UI (PAMBAKAL UI), we present unique facts about the three provinces and some of their ethnic language.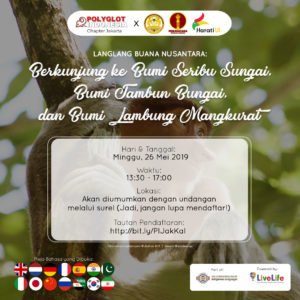 Scroll