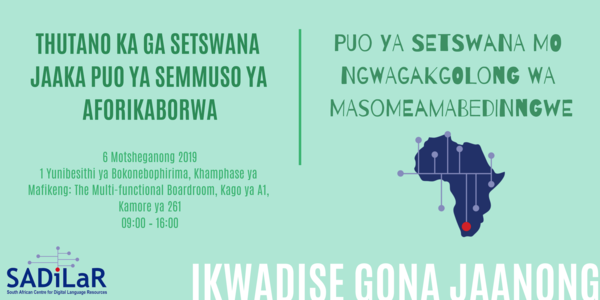 May 6, 2019 9:15 am
Africa | South Africa | Mafikeng | North-West University: Mafikeng Campus
Others
The main aim of the workshop is to celebrate Setswana as a language and to also share ways in which we can develop & preserve our language through research, Digital Humanities and technology.
PARTICIPANTS WHO WOULD BE INTERESTED IN EVENT
Academic scholars, Researchers, Setswana students and lecturers, organisations and Government Departments that are involved in the development of Setswana.
TOPICS THAT WILL BE INCLUDED:
The development of Setswana in Universities – Prof Shole Shole (NWU)
The impact of IKS in the development of Setswana – Dr Motheo (IKS)
The development of Setswana dictionaries – Mr Marema (NLU)
New ways of teaching Setswana literature – Prof Matjila (UNISA)
Scope of SADiLaR – Mrs Valencia Wagner (SADiLaR)
The Constitutional Obligations of all Government Departments and the National Lexicography Units to our Indigenous Languages – Mr Terence Ball (SANLU)
OUTCOME OF THE WORKSHOP
One of the expected outcomes of this workshop is the effective sharing of knowledge, practices and Technologies in support of the development and the preservation of our Setswana language and culture.