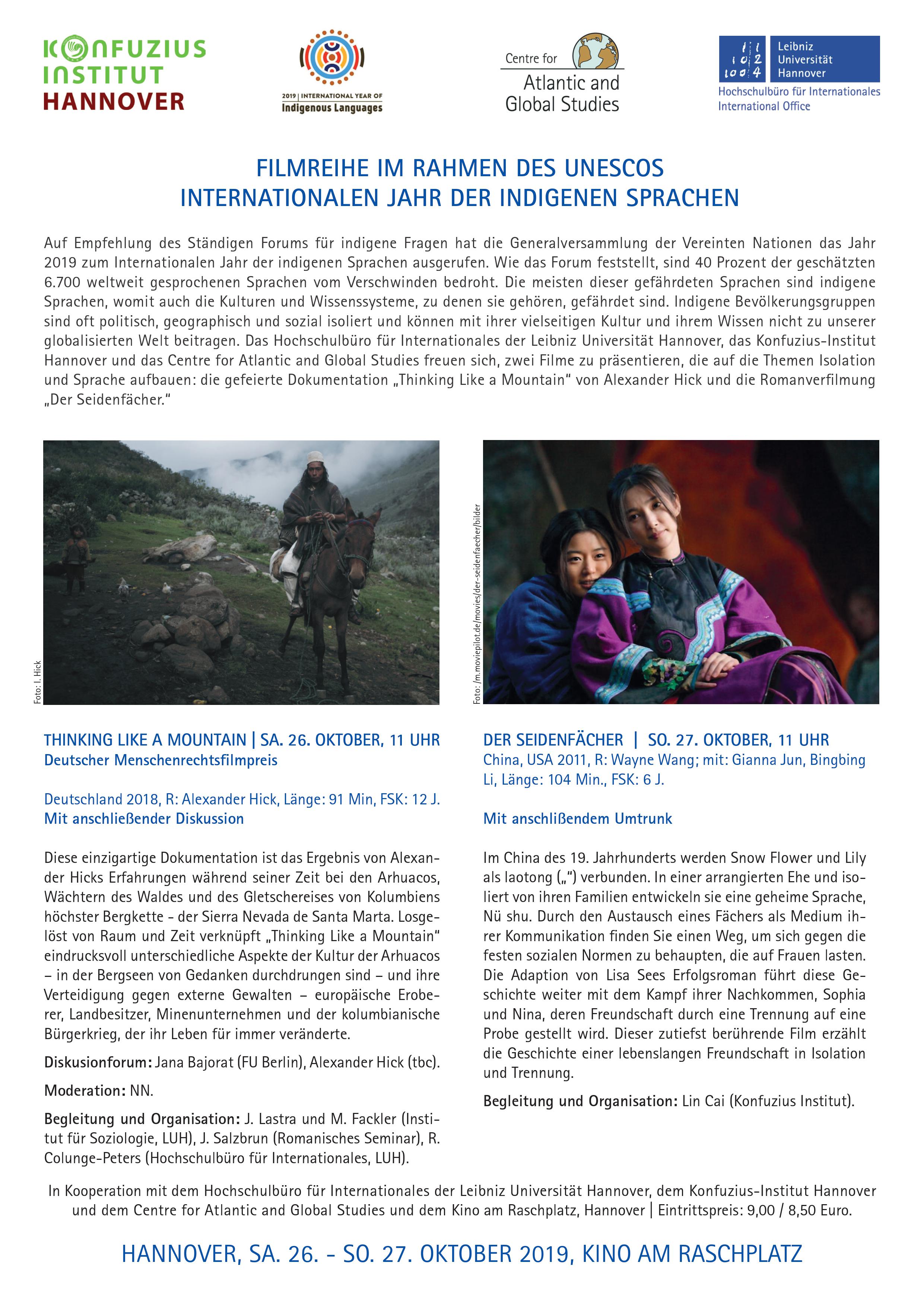 October 26, 2019 11:00 am - October 27, 2019 11:00 am
Europe and North America | Germany | Hannover | Kino Am Raschtplatz Hannover
Cultural events
40 percent of approx. 6,700 languages spoken worldwide – most of them indigenous – are endangered. Indigenous populations are often isolated politically, geographically and socially, and cannot contribute to our global world with their diverse culture and knowledge. The 2019 International Year of Indigenous Languages aims at supporting and saving indigenous languages and at improving the life of those who speak them.
The International Office of Leibniz University Hannover, the Confucius-Institute Hannover, and the Centre for Atlantic and Global Studies proudly present two movies that build on the topic of isolation and language: the acclaimed documentaryThinking Like a Mountain by Alexander Hick and the literary adaption Snow Flower and the Secret Fan (German: Der Seidenfächer).
Thinking Like a Mountain ­– Saturday, 26th October, 11.00 pm at Kino am Raschplatz
This unique documentary is the result of filmmaker Alexander Hick's experiences of living with the isolated Arhuacos, guardians of the forest and the glacial ice of Colombia's highest mountain chain, the Sierra Nevada Santa Marta. Detached from space and time, Thinking Like a Mountain impressively intertwines complex topics of the Arhuacos' culture – where mountain lakes are soaked with thoughts – and their resistance to external forces – European conquerors, landowners, mining companies, and the Columbian Civil War that changed their lives forever.
Snow Flower and the Secret Fan ­– Sunday, 27th October, 11.00 pm at Kino am Raschplatz
In nineteenth-century China, Snow Flower and Lily are paired as laotong ("old sames"). Isolated from their families and in an arranged marriage, they develop a secret language, Nü shu. Through exchange of a fan as their medium of communication, they find a way to contend with the rigid social norms imposed on women. The adaption of Lisa See's best-selling novel continues this story with the struggles of their descendants, Sophia and Nina, whose friendship is challenged by separation. This deeply moving movie tells a story of life-long friendship in isolation and separation.