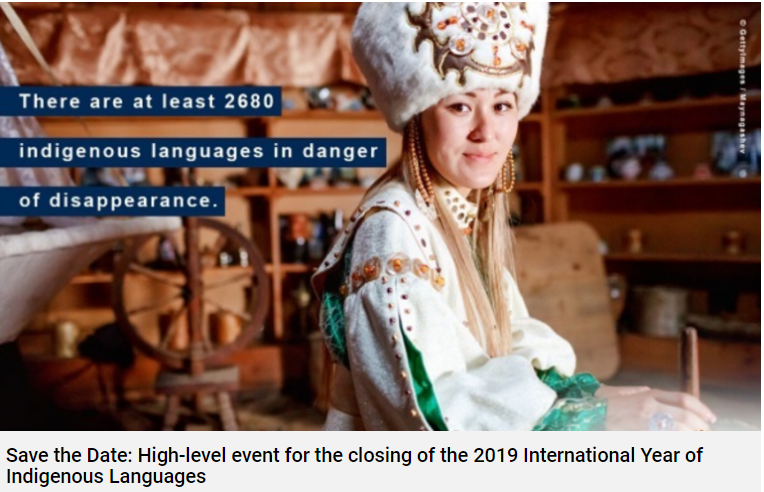 December 17, 2019 9:00 am - December 17, 2019 6:00 pm
Global | United States of America | New York, UN Headquarters | UN Headquarters
Conferences / Advisory
On Tuesday, 17 December 2019, the President of the UN General Assembly will convene a High-Level Event to close the 2019 International Year of Indigenous Languages in New York, in line with General Assembly resolution 73/156.
The event is organized in collaboration with UNESCO and UNDESA.
Participants: Member States, indigenous peoples, UN-System organizations, Observers of the General Assembly and other relevant stakeholders
Please register here: https://events.eventzilla.net/e/highlevel-event-of-the-un-general-assembly-on-the-conclusion-of-the-2019-international-year-of-indigenous-languages-2138751336 
Background
Language is one of the fundamental preconditions for human development, dialogue, reconciliation, tolerance, diversity, and the peaceful existence of human societies. People need language to communicate with one another and to pass on from generation to generation knowledge, ideas, beliefs and traditions, which are essential for their recognition, well-being, evolution and peaceful co-existence.
Despite their immense value, languages continue to disappear at alarming rates. Indigenous peoples use a vast majority of today's endangered languages. Reasons for the endangerment of indigenous languages vary across different communities and locations, but all represent a tremendous challenge to indigenous peoples — homogenous policies that led to assimilation, educational disadvantage, illiteracy, enforced relocation, migration or other manifestations of discrimination and disadvantages eventually leading to the risk of a language being weakened to the point of disappearance.
In practical terms, the risk is that parents and elders can no longer transmit indigenous languages to their children and that indigenous languages fall out of daily use. The issues around indigenous languages could have much broader consequences, affecting politics, law and justice, health, cultural practices and identities, climate change, access to education, jobs, information and communication, social life and wider participation in sustainable development.
Ultimately, clear public policies backed by generous resources can certainly provide the enabling environment for promoting indigenous languages. The survival of these languages, however, will depend on the prosperity and political influence of the communities which speak them. Language policies, therefore, will need to be complemented by policies that empower indigenous peoples politically, economically and socially so that they can make their livelihoods in their own communities without having to give up their language and culture or to migrate out of economic need.