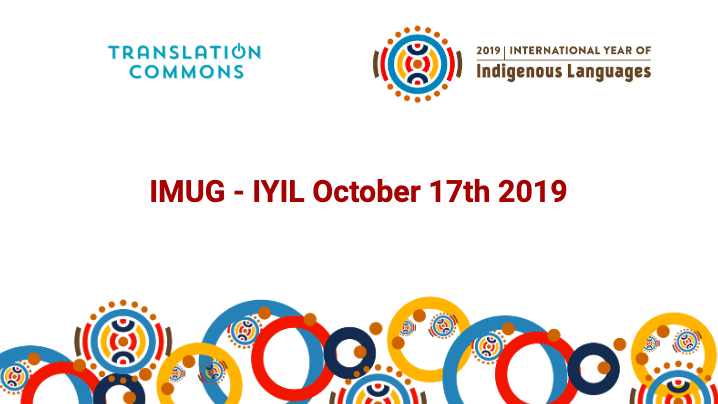 October 17, 2019 7:00 pm - October 17, 2019 9:00 pm
Europe and North America | United States of America | Mountain View | LinkedIn HQ
Conferences / Advisory
Translation Commons presents all the projects under the IYIL 2019.
Translation Commons is a social-civil partner in this UNESCO initiative, and has agreed to work on two important projects. The response from volunteer language professionals all over the word has been exceptional. The promise of digitizing so many more speakers globally mobilized linguists, academics, and companies alike, igniting a new spark for a worthwhile cause. The value of adding so many more languages to the digital environment is priceless to the language industry.
Translation Commons committed to these projects for IYIL 2019 and beyond:
1. A technical document titled "Indigenous Languages: From Zero to Digital", serving as a step-by-step guideline to help indigenous communities digitize. This will continue with specific support for individual communities' implementations.
2. A global university campaign to create as many classroom sessions and events as possible, dedicated to raising awareness of indigenous languages. UNESCO is inviting all TC participating universities to collaborate in creating an academic network for research, with our commitment to intensify efforts on raising the quality of training through knowledge sharing.
Tonight's speakers will include:
• Craig Cornelius
• Johanna Behm
• Ludmila Golovine
• Jeannette Stewart