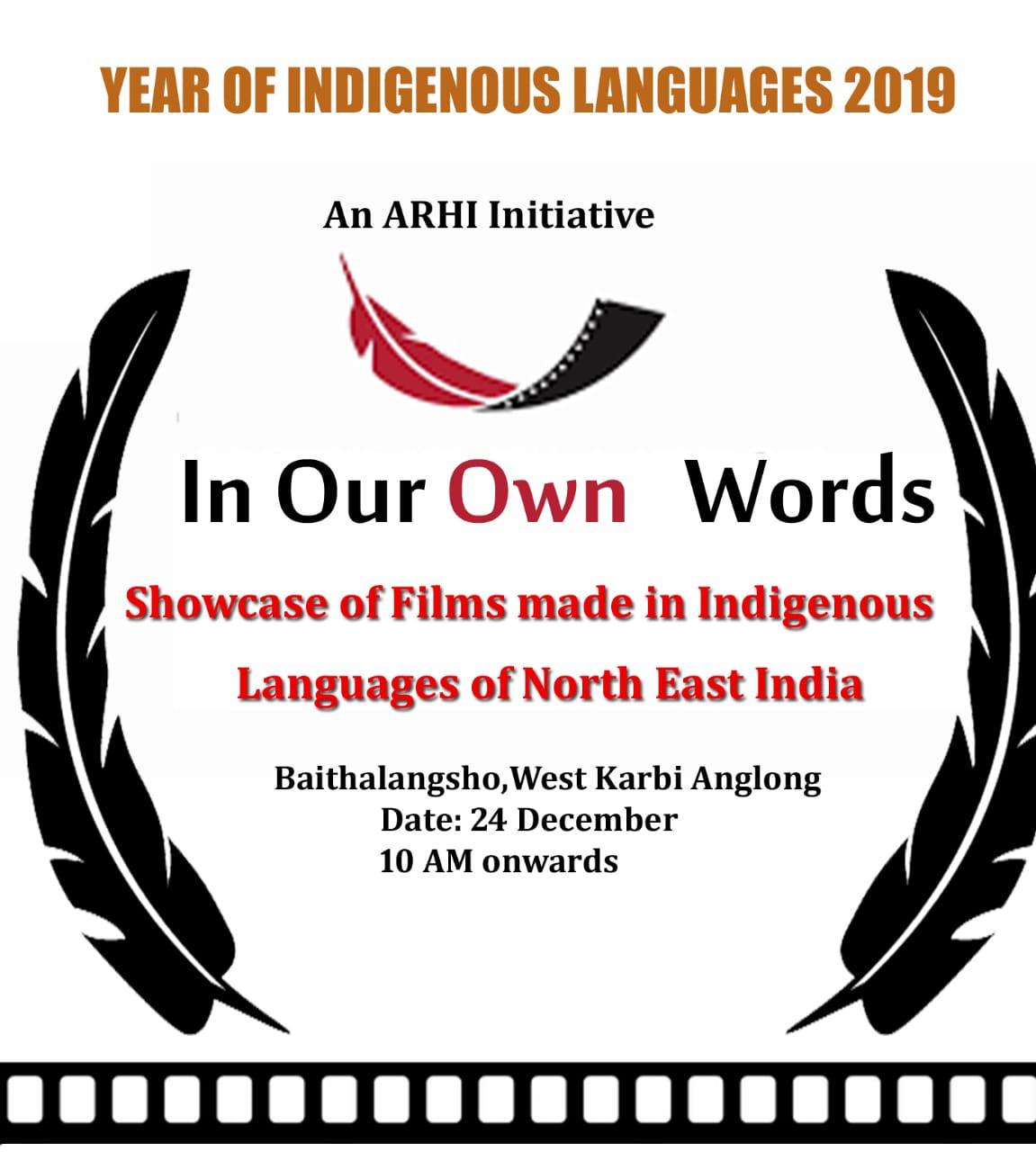 December 24, 2019 12:00 am - December 25, 2019 6:00 pm
Asia and the Pacific | India | Baithalangso | Karbi Anglong , Assam
Cultural events
Arhi – is a Foundation working towards the preservation and promotion of Oral Cultures of the North Eastern Region of India – which is comprised of a complex yet diverse mix of indigenous tribal population . The Folk Culture Research Centre (FCRC) is an unit of Arhi which is working towards creating various archival material in myriad media forms to showcase, promote and preserve the broader oral traditions of the North Eastern Region. Arhi is a recognised Non Government Organization based out of Assam. 
In your Own Words is a two day Film and Cultural Festival Showcasing the Films as well as Cultural Performances based on indigenous languages and traditions of the North Eastern Region. The event is Organised by ARHI through its unit FCRC with the technology support from Aduro Impact Technologies Private Limited – a technology company based in New Delhi. The event will be held at Baithalangso – a small town in the Karbi Anglong Hills of Assam.
About FCRC
FCRC has dedicated members form the North-Eastern part of India persevering to preserve the undocumented and un-archived cultures
of different small and big communities settled in this virgin land. In
all the researches done by the Centre, it was very encouraging to
witness the un-polluted cultural symbols of life-style, songs, rituals
et all. These communities were on the verge of losing their identity
from the hegemony of either pervading mechanisation of urban life
or dominant culture of an adjacent bigger community. Interestingly,
there was still no greater influence seen either culturally or theologically
upon some of the tribal communities in the North-Eastern part of India,
period. FCRC has therefore, to retain an archival testimony to such diverse through video and audio documentation. In addition to it,
thoroughly researched publication work has been carried on by the
Centre covering their ethnic culture, language and literature. The
Centre's aim is to "bring into the mind of people a comparative and
integrated religious and cultural consciousness and establish a solid
foundation for an actual cosmopolitan society" (part "d" of Preamble,
FCRC of North-East of India)
FCRC has audio documented different songs and hymns of the different communities of the tribes of the North Eastern States of India. It is an effort to help those communities to preserve their heritage who folk-lore
exist more in the vocal than written forms.