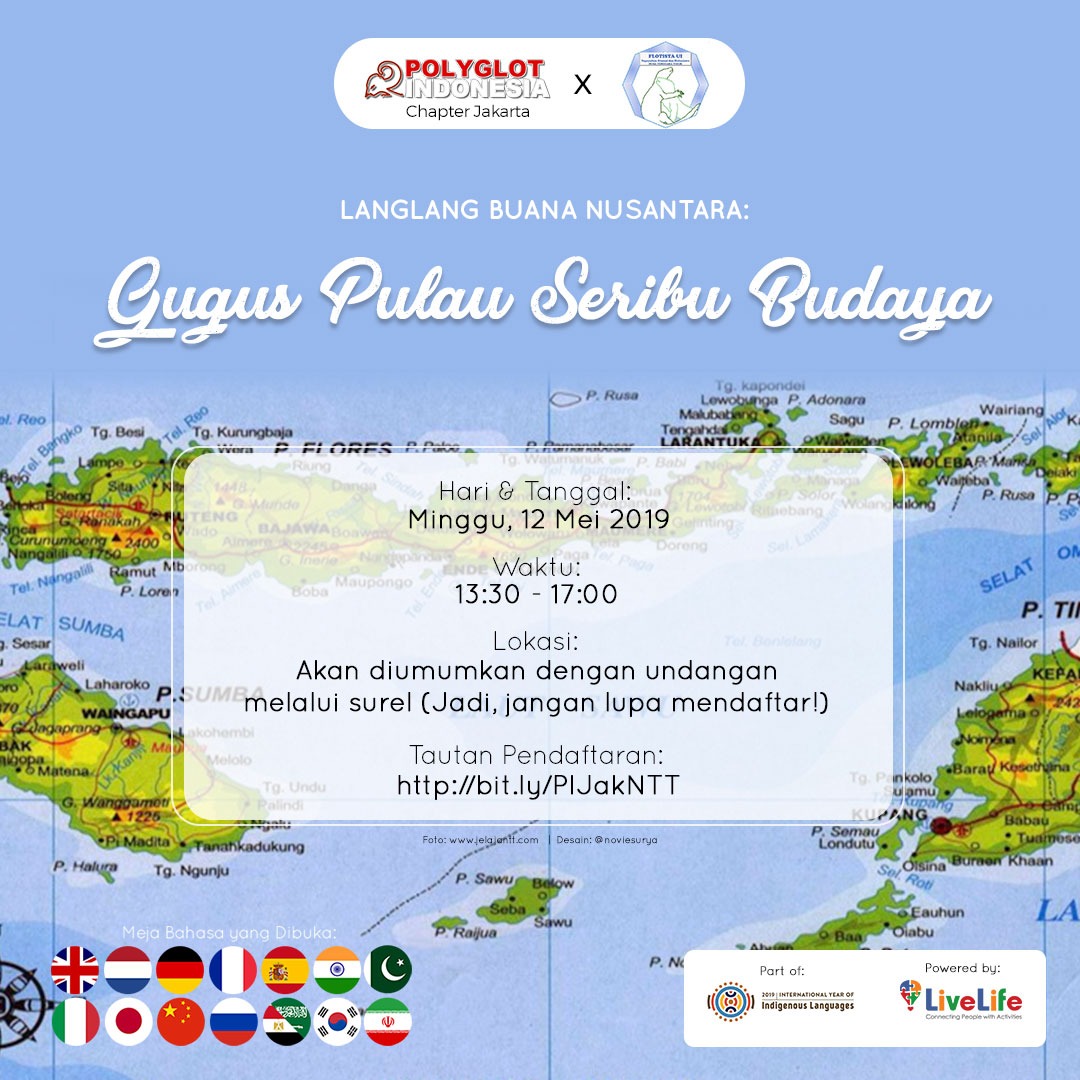 May 12, 2019 1:30 pm - May 12, 2019 5:00 pm
Asia and the Pacific | Indonesia | Jakarta | SkyHouse Exhibition, Chubb Square, Jalan M. H. Thamrin No. 10, Central Jakarta
Others
Dear Jakarta Language Enthusiasts,
These past years, Komodo National Park and its surrounding area has become a favorite tourist destination both for international and domestic tourists.
Komodo Island, Rinca Island, Padar Island, Labuan Bajo, and Wae Rebo are several places that is in high demand.
Other parts of East Nusa Tenggara that also see its popularity rises is Sumba Island with its magnificent hilly landscape and lush grasslands.
But do you know that other than its natural beauty, this province is also a treasure trove of cultural diversity?
Each island in East Nusa Tenggara Timur has its own distinct language and culture.
Even in its biggest island, Flores, once you stepped into a different village, it is a possibility that they speak in a different tongue.
In the sixth Language Exchange Meetup of Langlang Buana Nusantara series, Polyglot Indonesia Jakarta Chapter, in collaboration with Paguyuban Alumni dan Mahasiswa Nusa Tenggara Timur FLOTISTA UI, will present to you unique facts about East Nusa Tenggara province!
Our friends from FLOTISTA UI will also teach us their local ethnic language!
What are you waiting for?
Come and join us!
Available Languages:
English, Dutch, German, French, Spanish, Italian, Russian, Japanese, Mandarin Chinese, Korean,  Hindi, Urdu, Persian, and Arabic.
Sunday, May 12, 2019
13:30 – 17:00