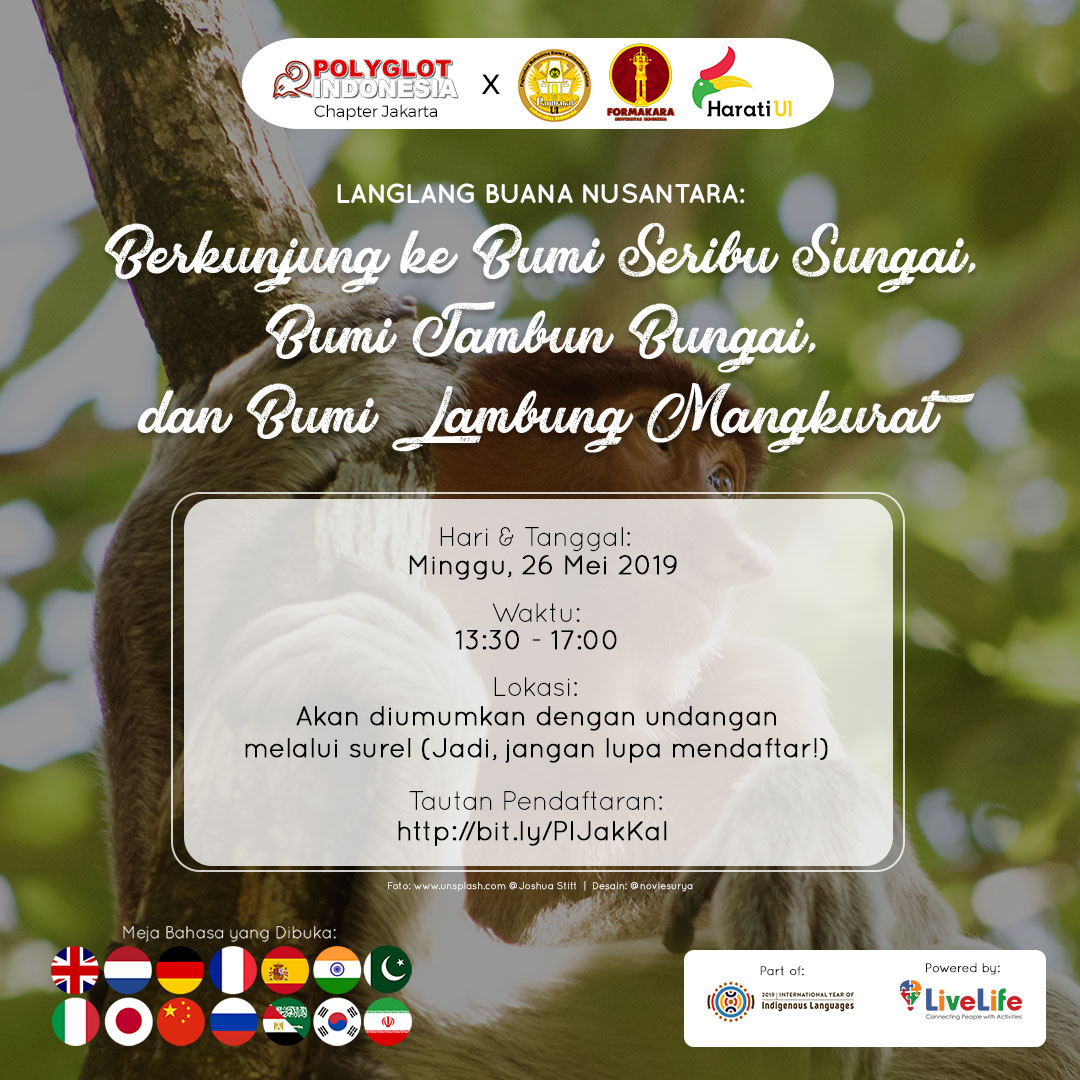 May 26, 2019 1:30 pm - May 26, 2019 5:00 pm
Asia and the Pacific | Indonesia | Jakarta | SkyHouse Exhibition, Chubb Square, Jalan M. H. Thamrin No. 10, Central Jakarta
Others
Dear Jakarta Language Enthusiasts,
Many of you might have visited Dunia Fantasi amusement park.
But do you remember that the mascot of the park is an endemic monkey species from Kalimantan called proboscis monkey?
Other than that, Kalimantan Island is also home for various unique animals such as borneo urangutan, rhinoceros hornbill, irawaddy dolphin, etc.
But, Kalimantan Island is not only rich in biodiversity, but also in culture and language.
In the seventh Language Exchange Meetup of Langlang Buana Nusantara series, Polyglot Indonesia Jakarta Chapter, in collaboration with Forum Mahasiswa Kalimantan Barat UI (FORMAKARA UI), Harati UI, and Paguyuban Mahasiswa Banua Kalimantan Selatan UI (PAMBAKAL UI), will present to you unique facts about West, Central, and South Kalimantan province and also teach their local ethnic language!
What are you waiting for?
Come and join us!
Available Languages:
English, Dutch, German, French, Spanish, Italian, Russian, Japanese, Mandarin Chinese, Korean,  Hindi, Urdu, Persian, and Arabic.
Sunday, May 12, 2019
13:30 – 17:00