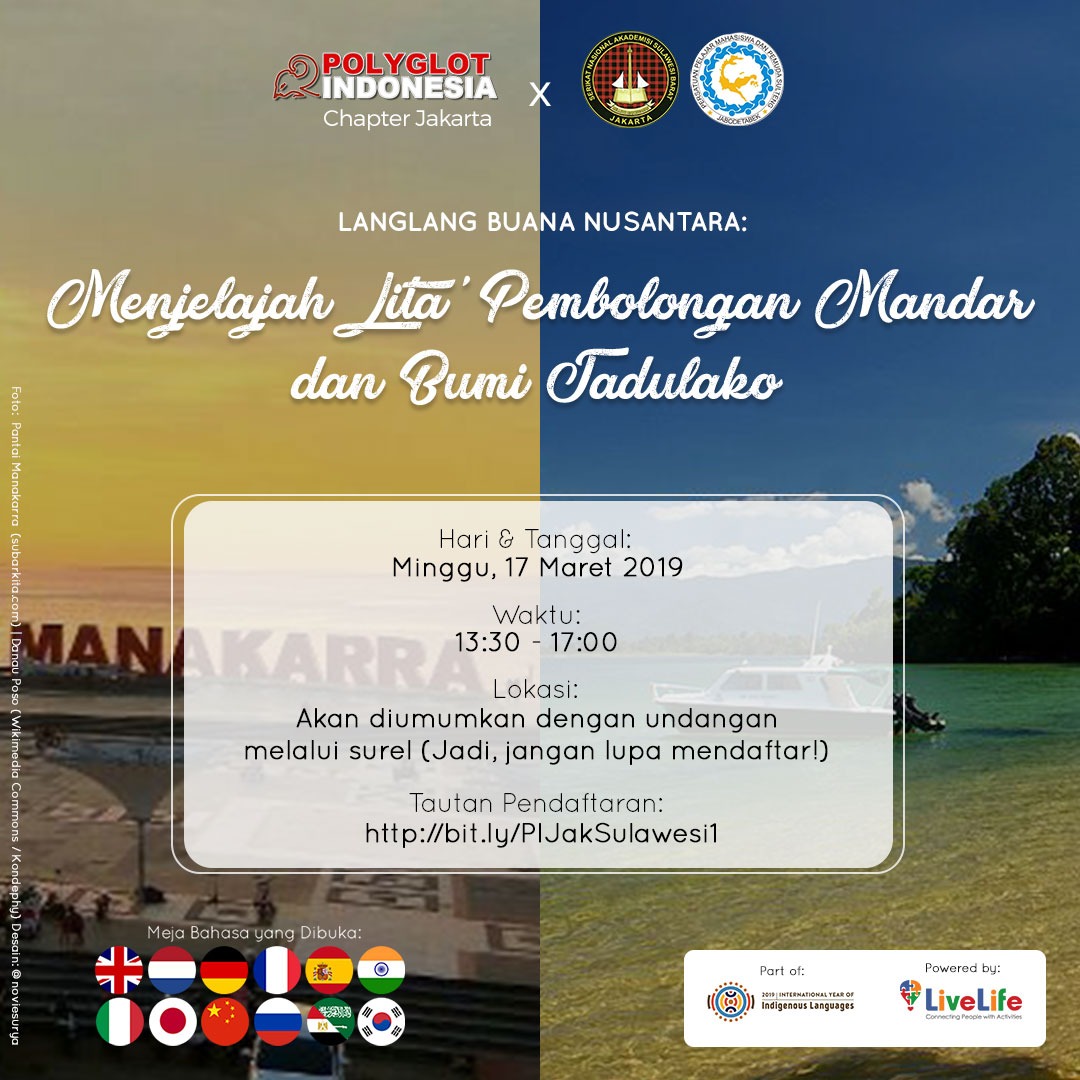 March 17, 2019 1:30 pm - March 17, 2019 5:00 pm
Asia and the Pacific | Indonesia | Jakarta | SkyHouse Exhibition, Chubb Square, Jalan M. H. Thamrin No. 10, Central Jakarta
Others
Dear Jakarta Language Enthusiasts,
We know that in the early days of Indonesia's independence, Sulawesi Island were divided into four provinces: North Sulawesi, Central Sulawesi, Southeast Sulawesi, and South Sulawesi.
As time goes by, currently the number of provinces has risen to six with the addition of Gorontalo and West Sulawesi.
Yet, admittedly most of us, especially those in Jakarta, has a gap of understanding regarding to the variety of culture and language in Sulawesi Island.
We might only know a glimpse of Central Sulawesi after the 1998 Poso riot and 2018 tsunami that hit Palu and its surrounding.
Furthermore, we might also only know West Sulawesi as a result of region expansion from South Sulawesi.
In the fourth Language Exchange Meetup of Langlang Buana Nusantara series, Polyglot Indonesia Jakarta Chapter, in collaboration with Serikat Nasional Akademisi Sulawesi Barat (Sandek-Sulbar) and Persatuan Pemuda dan Pelajar Sulawesi Tengah Se-Jabodetabek (Permuda Sulteng), will present to you unique facts about Central and West Sulawesi province!
Our friends from Sandek-Sulbar and Permuda Sulteng will also teach us their local ethnic language!
What are you waiting for?
Come and join us!
Available Languages:
English, Dutch, German, French, Spanish, Italian, Russian, Japanese, Mandarin, Korean, Hindi, and Arabic.
Sunday, March 17, 2019
13:30 – 17:00