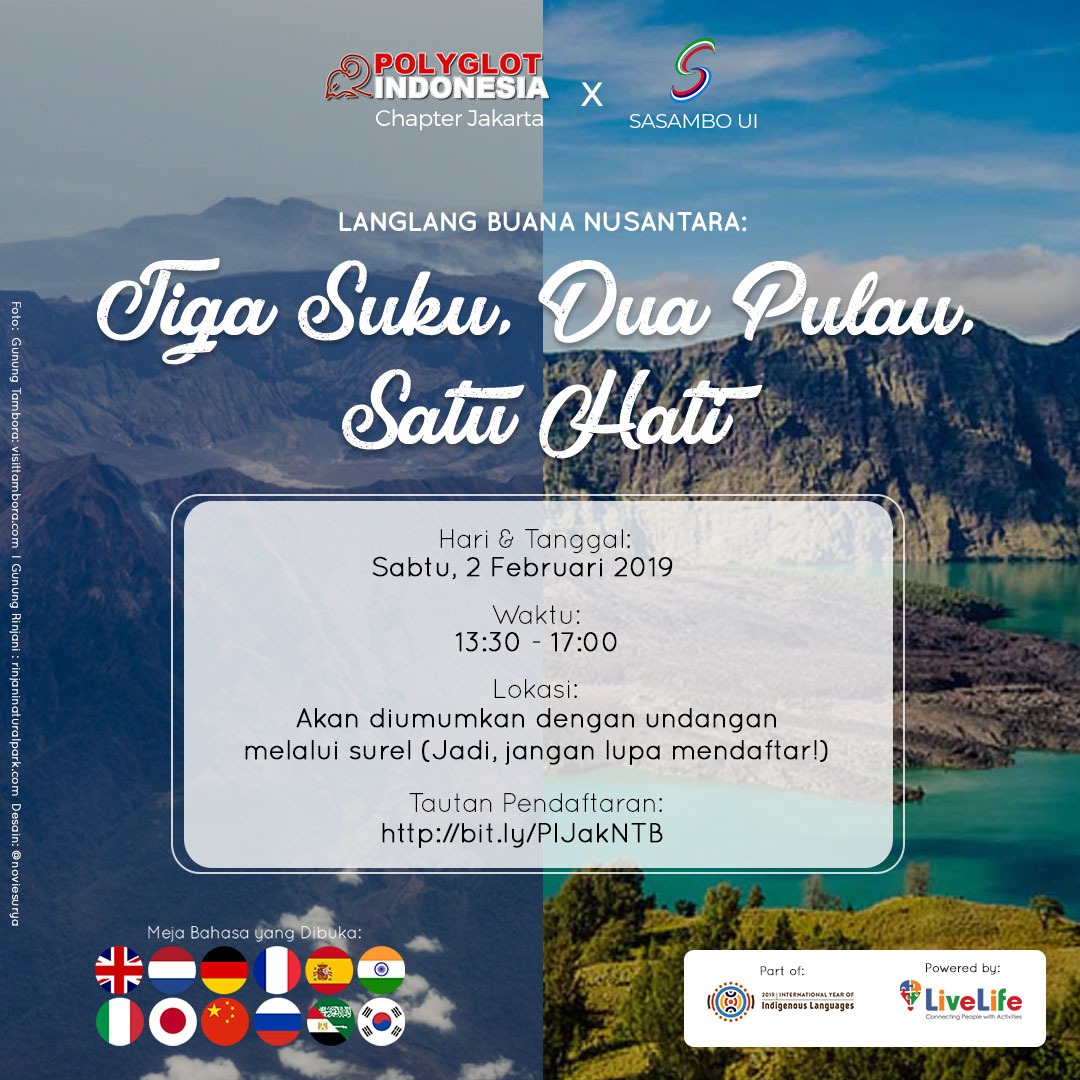 February 2, 2019 1:30 pm - February 2, 2019 5:00 pm
Asia and the Pacific | Indonesia | Jakarta | Hoshino Tea Time, Menara BTPN, Mega Kuningan, South Jakarta
Others
Dear Jakarta Language Enthusiasts,
Who among you have cruised through Gili Trawangan, Gili Meno, and Gili Air?
Or hiked the Rinjani Mountain?
Visited Kuta Mandalika beach?
Explored the spectacular waterfalls around Mount Rinjani?
Must have been a lot, right?
But, do you remember that West Nusa Tenggara Province has another island beside Lombok Island that is equally interesting to explore?
Do you know that in Sumbawa Island lives two other ethnic groups that as big as the Sasak ethnic group in Lombok Island?
Have you ever visited the renowned Dalam Loka Samawa palace?
Or explored a mountain which explosion caused year long weather anomaly dubbed as A Year Without Summer?
In the second Language Exchange Meetup of Langlang Buana Nusantara series, Polyglot Indonesia Jakarta Chapter collaborated with Sasak Samawa Mbojo UI (SASAMBO UI), a student union of West Nusa Tenggara Province at Indonesia University, to further cover about West Nusa Tenggara!
Our friends from SASAMBO UI will also teach us their indigenous language: Sasak, Samawa, Mbojo!
What are you waiting for? Come and join us!
Dendek malih terngantih-ngantih? Nteh tegabung! (Sasak)
Keang beka btari kbali? Iema tu barema! (Samawa)
Ngena au wali? Mau gabung wena! (Mbojo)
Available Languages:
English, Dutch, German, French, Spanish, Italian, Russian, Japanese, Mandarin, Korean, Hindi, and Arabic.
Saturday, February 2, 2019
13:30 – 17:00