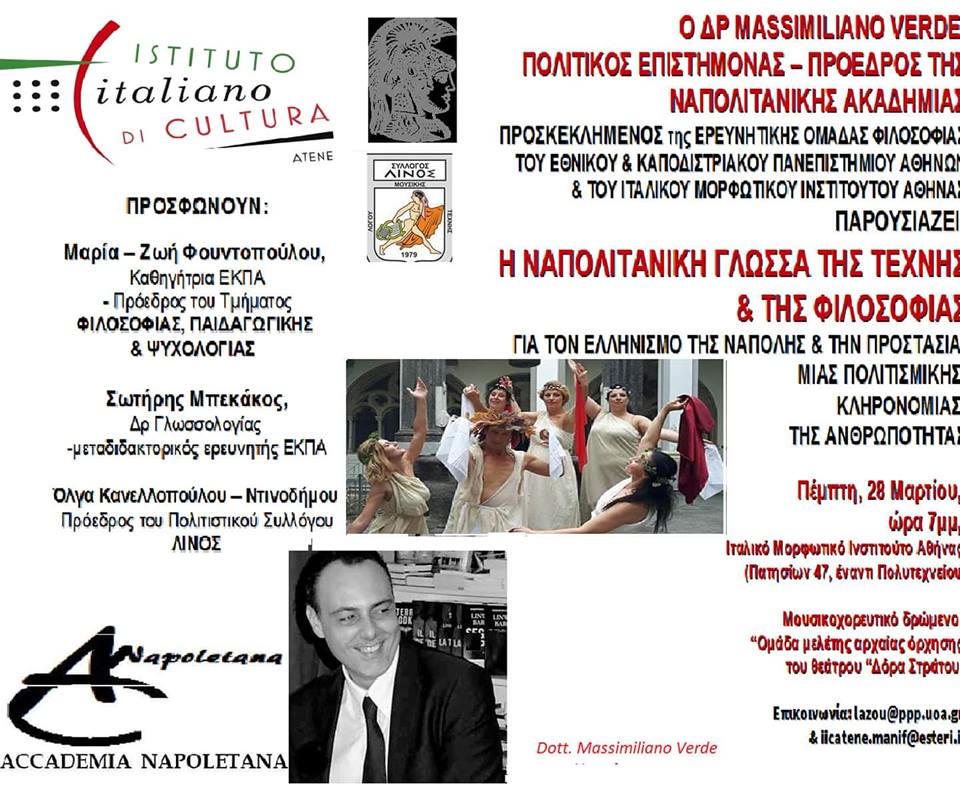 March 28, 2019 7:00 pm - March 28, 2019 9:30 pm
Europe and North America | Greece | Athens | Italian Institute of Culture
Conferences / Advisory
Dr. Massimiliano Verde invited from the University of Athens and the Italian Institute of Culture realize a conference about Neapolitan, Language of Poetry, Philosophy and Literature.
Neapolitan, mother language still today gets a vocalisme, accents and words of the ancient Greek.
Hellenic linguistic and cultural heritage is still present in the actual Neapolitan, already declared a Vulnerable Language (Unesco).
Dr.Verde shows the video-documentary: Naples and Hellenic Campania in Neapolitan, Ancient Greek and English.
Also the "Nuje"Project of the Accademia Napoletana (Neapolitan Academy) to preserve Neapolitan Language for any Neapolitan community all around the world and the work to introduce Neapolitan in Italian scholar system.
The necessity to preserve Neapolitan for youngest people of Naples as a cultural right.
With:
Prof. Maria-Zoi Fountopoulou, University of Athens;
Dr. Sotirios Bekakos, PhD, University of Athens,
Olga Kanellopoulou – Ntinopoulou, Presidente Linos Association
Orchesis Gropu- Theatre of the greek dances of the Dora Stratou of Athens (directed by Prof.Anna Lazou)