26.10.2019 - 01.11.2019
Europe and North America / / Philadelphia
University of Pennsylvania
The Quechua Language Program and the Kelly Writers House at the University of Pennsylvania are partnering to organize a week of events that promote indigenous language writers and indigenous language use in the Americas, with a special focus on Quechua (South America) and Zapotec (MesoAmerica).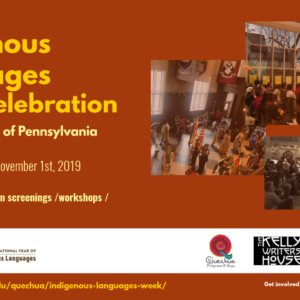 30.10.2019 - 02.11.2019
Global / / Fort Wayne
Purdue University Fort Wayne
This conference seeks to celebrate UNESCO's 2019 Year of Indigenous Languages. Conference themes include, but are not limited to the following: • Community achievements and indigenous languages • Community collaborations and partnerships • Educational policy for language revitalization and maintenance • Indigenous languages into the 21st century • Indigenous voices in popular culture (e.g. social media, fiction, poetry, film, hip hop) • Indigenous languages and multilingualism In the spirit of this celebration, participants will share experiences and knowledge to bring community voices, policy voices, and academic voices together. Further, this is an inclusive conference with a focus on celebrating indigenous languages and bringing indigenous perspectives to the forefront.
31.10.2019 - 02.11.2019
Europe and North America / / Fort Wayne
Purdue University Fort Wayne
Exploring IYIL from different perspectives with Indigenous language speakers, heritage language speakers, academic scholars, educators, policy makers, and others from around the globe to explore and share perspectives on Indigenous languages.
06.11.2019 - 06.11.2019
Latin America and the Carribean / / San Jose
La Oficina de UNESCO
The UNESCO Office in San Jose will be launching its Regional Strategy and Action Plan for the Preservation of the Indigenous Languages in Costa Rica, Nicaragua, Honduras, El Salvador and Panama. This document reflects the recommendations compiled from several conferences and consultations held across Central America in  2019.
06.11.2019 - 07.11.2019
Europe and North America / / Saskatoon
Prairieland Park
Annually in November, the SICC hosts its First Nations Language Keepers Gathering. It is the leading national gathering devoted to preserving, promoting and protecting First Nations languages and cultures. It brings together academics, Elders, Knowledge Keepers, master speakers, educators, community leaders and students from across Canada and the United States. Our gathering will be held in Saskatoon SK on November 6-7, 2019 at Prairieland Park in Hall A and our theme for 2019 is Our Sacred Languages Walk With Us.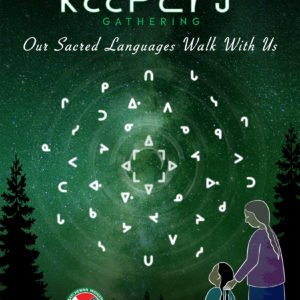 10.11.2019 - 10.11.2019
Global / / Paris
UNESCO HQ
On 10 November, on the occasion of the World Science Day for Peace and Development 2019, multiple initiatives and events will be organized marking the celebration of the International Year of Indigenous Languages, being unique systems of knowledge and understanding of the world. The aim is to raise awareness on the importance of local and indigenous knowledge systems as tools to inform decision-making about fundamental aspects of day-to-day life and provide a foundation for local sustainable development.
11.11.2019 - 14.11.2019
Latin America and the Carribean / / Rio de Janeiro
Rua das Pameiras, 55 Botafogo, Rio de Janeiro, RJ, Brazil
Brazil is a multilingual country, although its linguistic diversity is almost always silenced. Viva Living Language is an affirmation and an engaging and engaging calling, extolling the importance of language survival in a world that has become increasingly homogeneous and does not seem to care about the exponential disappearance of languages ​​and ways of living.

Scroll