08.05.2019 - 08.05.2019
Africa / / Saint Louis
Route de Khor
The meeting is aimed at understanding the essential problems associated to the use of local languages in West Africa.
15.01.2019 - 15.01.2019
Europe and North America / / Thunder Bay, Ontario
Lakehead University
One activity a month, occurring on the 15 of each month. Our activities will alternate between Confederation College and Lakehead University. January - opening, language activity sessions hosted by internal departments at Lakehead University. March - Language party - workshop hosted in the Faculty of Education, May - library teaching and learning resources open house, July - Faculty of Education open house, highlighting graduates of the Native Language Instructor's Program, September - Storytelling, November - language through art and December - closing ceremony, sharing of the art. On the alternate months, Confederation College will host similar activities. We want the opportunity to engage our community of learners with awareness and appreciation for languages spoken on our campuses.
18.01.2019 - 25.01.2019
Latin America and the Carribean / / Quito
Audiovisual Don Bosco Center
The documentary exhibition (through 10 films) will allow to raise awareness on the necessity of preserving languages in risk of extintion of indigenous peoples of Ecuador and in long-term to preserve their history, customs and traditions, memory, unique modes of thinking, meaning and expression, but also to construct their future. The languages of these indigenous […]
01.02.2019 - 28.02.2019
Latin America and the Carribean / / Quito
Radio Corape
Radio CORAPE will organize a national radial diffussion of indigenous languages and ancestral knowledges, during all the month of February 2019. The diffusion will allow to focus attention on the risks confronting indigenous languages and raise awareness of their preservation and also to promote ancestral knowledges of indigenous communities. Communication is a valued tool for […]
18.04.2019 - 20.04.2019
Arab States / / Nyala
International Convention Hall at Mosei Campus-University of Nyala
The Symposium on Documentation of Darfur Indigenous Languages shall address and investigate current status of indigenous language use and how researches deal with the issues of minority languages, extinct languages, language and diversity and live languages still used in Darfur since this country had been an independent kingdom from immemorial times to A.D. 1916. Furthermore, the timing of the Symposium will coincide with the UNESCO World Heritage Day that the Center for Darfur Heritage used to celebrate every year for raising awareness of the importance of local languages as national cultural aspects.
14.01.2019 - 18.03.2019
Europe and North America / / New York City
Endangered Languages Alliance
This ten-week course is for students who have already taken our Introductory Quechua course, or already know some Quechua. You should be able to form sentences in the present and past tense. Once you register, we will send you a review packet summarzing what we covered in Beginning Quechua. (If you're not sure if this class […]
01.01.2019 - 31.12.2019
Asia and the Pacific / / South Brisbane
State Library of Queensland - Online
As part of State Library's commitment to the 2019 International Year of Indigenous Languages, we will be promoting a 'word of the week' from one of the 125+ Aboriginal and Torres Strait Islander languages and dialects from across Queensland. State Library of Queensland invites you to celebrate the 2019 International Year of Indigenous Languages as we raise awareness of the rich diversity of Queensland's Aboriginal and Torres Strait Islander languages. Join the conversation as we post a new word for each week!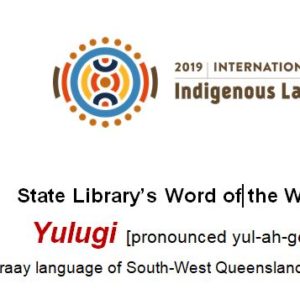 Scroll