12.10.2019 - 12.10.2019
Global / / Graz
Radio Helsinki: Schönaugasse 8 - 8010 Graz
Der Tag der Entdeckung Amerikas markiert eine neue Epoche der Zeitgeschichte – die Neuzeit. Dieser Tag der 12. Oktober ist ein Feiertag der in der lateinamerikanischen Gesellschaft hinterfragt wird. Wie kann Ausbeutung, die Auslöschung von Gesellschaft, die Versklavung gefeiert werden? Chirstopher Kolumbus ist ein fragwürdiger Held der Geschichte. Eine differenzierte Betrachtungsweise ist angebracht. Es gibt kein schwarz und weiß, aber unterschiedliche Perspektiven auf eine gemeinsame Sache bezogen auf den heutigen Kontext. Was feiern wir und warum feiern wir? Dieselbe Frage können wir uns bei der Kommerzialisierung von Feiertagen aber auch den Zweck und Hintergrund beleuchten. Dazu referieren Personen mit spanischen, österreichischen und lateinamerikanischen Wurzeln mit dem Ziel gemeinsam mit dem Publikum eine differenziertere Sicht in der Frage auf das was und wie zu entwickeln. Umrahmt wird der Diskurs/Diskussion mit knackigen Showeinlagen und einem abschließenden Konzert.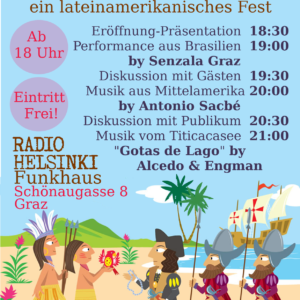 12.10.2019 - 12.10.2019
Europe and North America / / London
SOAS University of London
This workshop introduces Persephone (/pərˈsɛfəni/), an automatic phoneme transcription tool. As opposed to traditional speech recognition tools Persephone is designed for situations where training data is limited, perhaps as little as an hour of transcribed speech. Such limitations on data are common in the documentation of low-resource languages. It is possible to use such small amounts of data to train a transcription model that can help aid transcription, yet such technology has not been widely adopted.
12.10.2019 - 12.10.2019
Latin America and the Carribean / / Guanajuato
Festival Internacional Cervantino
This concert is part of an internatonal tour for the release of the Cantares Mexicanos CD under the mexican label Tempus Clasico on september 10, 2019. This concert contrasts Aztec poetry in the Nahuatl language and mexican contemporary creation for the accordion. *** Ce concert est donné à l'occasion d'une tournée internationale pour la sortie du disque Cantares Mexicanos sous le label mexicain Tempus Clasico; Ce projet mêle la poésie aztèque en langue nahuatl et la création contemporaine mexicaine pour accordéon solo.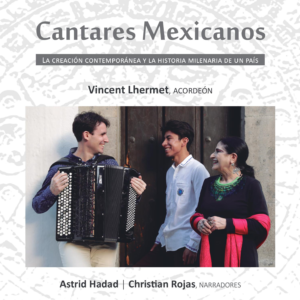 12.10.2019 - 12.10.2019
Latin America and the Carribean / / Queretaro
Centro De Desarrollo Artesanal Indigena. Allende #20, Centro, 76000 Queretaro
"(…)Ahora entregamos la tarea a nuestros hijos ¡Qué no olviden, qué les informen a sus hijos cómo será su elevación, cómo nuevamente se levantará nuestro venerable sol y cómo mostrará dignamente su fuerza, cómo tendrá a bien completar grandiosamente su digna promesa a nuestra venerada y amada tierra madre Anáhuac!" Cuauhtémoc. Anáhuac Huei Tlahtohuani. Tenochtitlán. Mahtlactlihuan yei cuetzpalin, Tlaxochimaco, Yei calli (Trece lagartija, Ofrendas de flores, Tres casa). Jueves 22 de agosto de 1521 Este 12 de Octubre se cumplen 527 años del inicio del saqueo en nuestras tierras, y la fuerza de las palabras de Cuauhtémoc retumban en la memoria de quienes hemos decidido no olvidar lo que la conquista hizo con nuestro pueblo. Resistir al olvido y encender la memoria es hoy una tarea urgente y necesaria, para reconstruir desde lo que somos el porvenir de nuestra tierra, porque "Articular históricamente lo pasado no significa «conocerlo como verdaderamente ha sido«" sino hacer de este pasado el fuego que encienda la consciencia de las y los oprimidos.*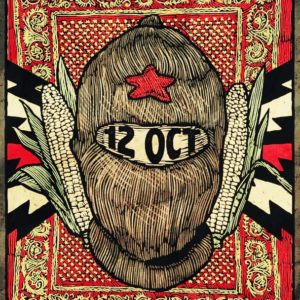 11.10.2019 - 11.10.2019
Global / / Virtual Conference
Virtual Conference
En conmemoración del Día de la Descolonización en el Estado Plurinacional de Bolivia, el viernes 11 de octubre de 2019, de 10:00am – 12:00 hora boliviana (-4 horas UTC/GMT), se realizará la Conferencia Virtual Internacional "Descolonización Cultural y Lingüística para Vivir Bien y alcanzar los Objetivos de Desarrollo Sostenible 2030". El objetivo es contribuir a la visibilización de las necesidades de protección, revitalización y desarrollo de las lenguas indígenas, como instrumento para el proceso de descolonización y aportar en el diseño de políticas lingüísticas públicas e iniciativas propias de los pueblos indígenas en el marco de la Agenda y Objetivos para el Desarrollo Sostenible 2030. La Conferencia se desarrollará mediante el sistema Webinar (virtual), con participación de expertos internacionales que impartirán sesiones magistrales y diálogo interactivo, para enriquecer los instrumentos de preservación, revitalización y desarrollo de las lenguas indígenas en el proceso de descolonización y sus fines; así como la política pública lingüística. Participarán: Institutos de Lenguas Indígenas, Centros de Educación Superior y de Investigación, instituciones académicas, autoridades y organizaciones de los pueblos indígenas, expertos independientes, docentes y estudiantes de las Universidades Indígenas, Universidades públicas y privadas, Comité Directivo Interinstitucional del Año Internacional de las Lenguas Indígenas, organizaciones no gubernamentales del campo educativo e interesados.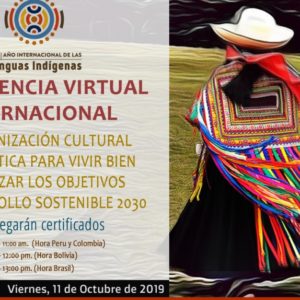 08.10.2019 - 10.10.2019
Global / / Temecula
Pechanga Resort & Casino
Now in their 12th year, the International Conferences of Indigenous Archives, Libraries, and Museums provide culturally relevant training and networking opportunities for indigenous cultural institutions.  In 2019, the conference will focus on how archives, libraries, and museums can support indigenous languages.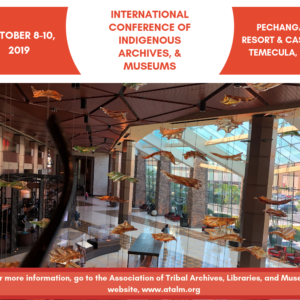 10.10.2019 - 10.10.2019
Europe and North America / / New York City
The Center for Fiction
Celebrate Mexico Now Festival has partnered with the Center for Fiction for a screening and panel discussion on the importance and challenges of translating indigenous languages. The conversation will include the screening of 68 Voices, 68 Hearts, a series of animated short films that retell Mexican indigenous stories in their native tongues. This panel will feature filmmaker and creator of 68 Voices, 68 Hearts Gabriela Badillo; Américo Mendoza-Mori, Quechua and Spanish professor at the University of Pennsylvania; and Mirian Masaquiza, Social Affairs Officer at the Indigenous Peoples and Development Branch of the UN's Department of Economic and Social Affairs.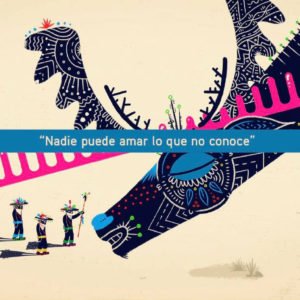 Scroll