01.10.2019 - 22.09.2020
Africa / / Benin City
170, Upper Mission Rd., Benin City
"Can You Really Speak Your Language?" is a Reality TV show that would run for 53-weeks EVERY year (Season) broken down into 4 quarters of 13 Editions weekly.It is organized as a Family game show because we wanted a show that EVERY member of the family (old or young) would be comfortable watching anytime we are on high.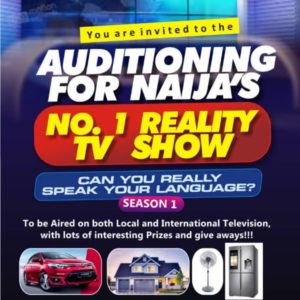 01.10.2019 - 04.10.2019
Latin America and the Carribean / / Brasília
Universidade de Brasília Campos Darcy ribeiro
The mission of the Second International Conference on Revitalization of Indigenous and Minoritized Languages (2017) is to bring together instructors, practitioners, activists, Indigenous leaders, scholars and learners who speak and study these languages. This international conference includes research, pedagogy and practice about the diverse languages and cultures of Indigenous and minoritized populations worldwide. The conference engages participants in a global dialogue and also serves as a forum for networking and exchanging ideas, experiences and research on language revitalization issues from interdisciplinary perspectives. In other words, its mission is to exchange different ideas and experiences that will transcend the academy walls and find space in the larger world community by giving all the participants an opening to share their multiple ways of being, seeing, knowing and learning.
01.10.2019 - 22.09.2019
Europe and North America / / SEVILLA
Seville, spain
Conferencias para la comunidad universitaria de algunas cuestiones simbólicas y de la cosmovisión de los grupos indígenas en México, junto con el proyecto "68 voces, 68 corazones" una serie de cortos animados relatados en las lenguas maternas y creado por la empresa cultural mexicana, Hola Combo, junto con el Instituto Nacional de Lenguas Indígenas , la Comisión Nacional para el Desarrollo de los Pueblos Indígenas en México, Canal 11 de México. Exposición fotográfica del fotógrafo mexicano Francisco Palma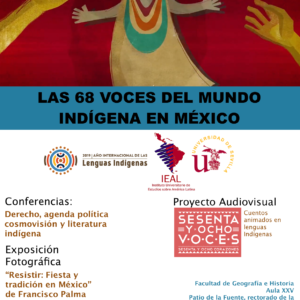 01.10.2019 - 30.03.2019
Europe and North America / / Paris
30 avenue Corentin Cariou 75019 Paris France
La Cité des sciences et de l'industrie propose des questions d'actualité scientifiques, petites expositions sur un sujet d'actualité, qui sont renouvelées tous les trimestres environ. Du 1er octobre 2019 au 30 mars 2020, l'une de ces questions d'actualité concernera les "Langues en danger : comment les sauver ?" Des milliers de langues autochtones – une […]
01.10.2019 - 03.10.2019
Europe and North America / / Aviemore
MacDonald Hotel, Aviemore, Inverness-shire PH22 1PN
The An t-Alltan 2019 conference for Gaelic teachers and Early Years staff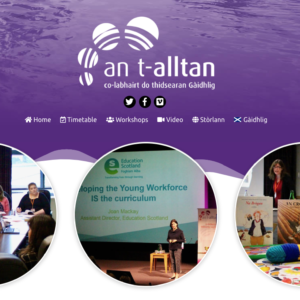 02.10.2019 - 03.10.2019
Africa / / Johannesburg
Indaba Hotel, Fourways, Johannesburg
The Multilingualism SA Conference is designed to present participants with the opportunity to engage in robust and extensive debate on finding sustainable solutions to the language issue in government, education, business, the workplace and in society at large. The papers read/presentations made at this conference will be collated with a view of producing a comprehensive report that crystalises the proposed solutions and chart the way forward.
Scroll