25.10.2019 - 25.10.2019
Africa / / Petauke
Petauke Boarding Secondary School
Presentations of pupils/teachers in teaching indigenous languages/ Literature and Languages.
25.10.2019 - 26.10.2019
Global / / Munich
Ludwig-Maximilans-Universität München
This student conference at LMU Munich on interdisciplinary approaches to multilingualism, language maintenance, indigenous languages is inspired by the IYIL. The event is open to all students of LMU and shall provide a platform to present their research and exchange thoughts on these important issues. This shall inspire future research in these fields and enable the interdisciplinary dialogue between researchers and students interested in these topics. The keynote lecture and panel discussion are open to the public - please register in advance!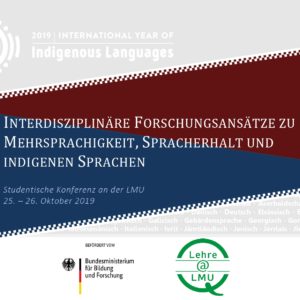 25.10.2019 - 27.10.2019
Latin America and the Carribean / / Guatemala
Centro Cultural de España en Guatemala
Este evento es una conferencia abierta al público en general e interesados en explorar la intersección de la revitalización y la tecnología de las lenguas indígenas, sumando el ambiente tecno-político actual, que también incluye el acceso y la adopción de estas herramientas, así como un lugar para mostrar los proyectos que están haciendo el cambio en la región. La conferencia se celebraría en el Centro Cultural de España en Guatemala, en el centro histórico de la ciudad.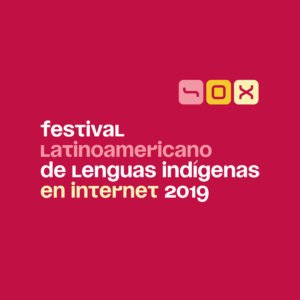 26.10.2019 - 26.10.2019
Europe and North America / / Palm Springs
888 Tahquitz Canyon Way Palm Springs, California 92262
Presentation of the Translation Commons platform, and mission, including the agreed IYIL 2019 projects.
26.10.2019 - 27.10.2019
Europe and North America / / Hannover
Kino Am Raschtplatz Hannover
FILMREIHE IM RAHMEN DES UNESCO INTERNATIONALEN JAHRES DER INDIGENEN SPRACHEN. Auf Empfehlung des Ständigen Forums für indigene Fragen hat die Generalversammlung der Vereinten Nationen das Jahr 2019 zum Internationalen Jahr der indigenen Sprachen ausgerufen. Wie das Forum feststellt, sind 40 Prozent der geschätzten 6.700 weltweit gesprochenen Sprachen vom Verschwinden bedroht. Die meisten dieser gefährdeten Sprachen sind indigene Sprachen, womit auch die Kulturen und Wissenssysteme, zu denen sie gehören, gefährdet sind. Indigene Bevölkerungsgruppen sind oft politisch, geographisch und sozial isoliert und können mit ihrer vielseitigen Kultur und ihrem Wissen nicht zu unserer globalisierten Welt beitragen. Das Hochschulbüro für Internationales der Leibniz Universität Hannover, das Konfuzius-Institut Hannover und das Centre for Atlantic and Global Studies freuen sich, zwei Filme zu präsentieren, die auf die Themen Isolation und Sprache aufbauen: die gefeierte Dokumentation "Thinking Like a Mountain" von Alexander Hick und die Romanverfilmung "Der Seidenfächer".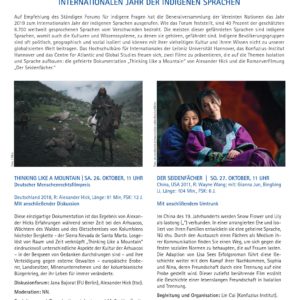 26.10.2019 - 26.10.2019
Europe and North America / / Houston
The Village School
International Food Fair celebrating of IYIL 2019 
26.10.2019 - 31.12.2019
Asia and the Pacific / / Aborlan, Palawan
Cabigaan National High School, Cabigaan, Aborlan, Palawan, Philippines
Katutubo Exchange School of Living Traditions is an informal training for the Tagbanwa indigenous script, a very important tool in communication.
Scroll