07.02.2019 - 07.02.2019
/ / Cardiff
Senedd, Cardiff Bay
Join our live stream (web or Facebook) for the launch of Dydd Miwsig Cymru / Welsh Language Music Day 2019: a live gig at the Senedd in Cardiff, home of the National Assembly for Wales. The gig marks the launch of activities in Wales to celebrate the International Year. Dydd Miwsig Cymru / Welsh Language Music […]
09.02.2019 - 10.02.2019
Asia and the Pacific / / Canberra
National Library of Australia
'Language Keepers: Preserving the Indigenous Languages of the Pacific' brings together experts from Australia and the Pacific to reveal how European travellers recorded the languages of the Pacific, and how the revitalisation of Indigenous languages is supporting cultural practice and healing. This conference will demonstrate the important work being undertaken in language preservation in the cultural, academic and community sectors, and celebrate the many examples of revitalisation of Indigenous languages of Australia and the Pacific.Bookings and program: https://www.nla.gov.au/event/language-keepers-0
09.02.2019 - 09.02.2019
Global / / Glasgow
Mitchell Library
Promote linguistic diversity Promote cultural diversity through languages Advancing education amongst the underprivileged by preservation of mother tongues The above actions will lead to community cohesion through recognition of diversity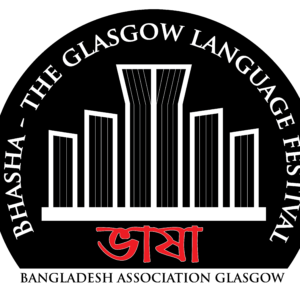 11.02.2019 - 17.02.2019
Europe and North America / / Timmins, ON
Northern College
The Canadian Language Museum's "Cree: The People's Language" will be showcased at the upcoming "Kishay Pisim Mamawihitowin 2019 - 28th annual Great Moon Gathering" in Timmins Ontario. Elaine Gold and Stephanie Pile of the Canadian Language Museum will also be hosting a workshop facilitating conversation about strategies with language speakers, teachers, and activists, to get people excited about Indigenous language!
12.02.2019 - 12.02.2019
Global / / Graz
Café Erde (Andreas-Hofer-Platz 3, 8010 Graz, Austria)
GEMEINSAM FÜR DIE RECHTE INDIGENER VÖLKER! FOKUS: BRASILIEN FIGHT FOR INDIGENOUS RIGHTS! Vortrag und Briefaktion "Our vision is a world where tribal peoples are respected as contemporary societies and their human rights protected." Wir laden euch ein, einen Abend lang über den Tellerrand zu schauen, besser: über den Kontinent Rand und mit uns zu den […]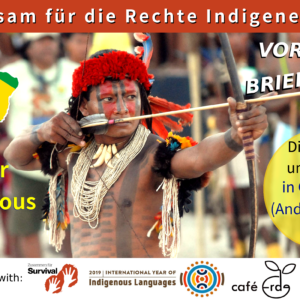 13.02.2019
Latin America and the Carribean / / Ixmiquilpan, Hidalgo
Instituto Hogä Mui, Calle Emiliano Cruz Chávez s/n, Comunidad de Cerritos, Remedios, Municipio de Ixmiquilpan, Hidalgo
EL OBJETIVO DE LA REUNIÓN ES ESTABLECER ACUERDOS PARA CONTINUAR CON LA DIFUSIÓN Y SOCIALIZACIÓN DE LA NORMA DE ESCRITURA Y LA PARTICIPACIÓN DEL COMITÉ DE SEGUIMIENNTO DE LA NORMA DE ESCRITURA HÑÄHÑU (CSNEH) EN EL CONGRESO INTERESTATAL PARA LA INSTITUCIONALIZACIÓN DE LA LENGUA HÑÄHÑU. Integrantes del Comité y personas a integrarse. Todos hablantes de […]
13.02.2019 - 17.02.2019
Europe and North America / / Montréal
Fairmont Queen Elizabeth Hotel
FAI's Artist in Residence project is a commissioned work to coincide with the UNs declaration of 2019 as the International Year of Indigenous Languages. Indigenous artists Twin Flames will consider and converse with Indigenous artists globally to create an original piece that speaks to the importance of language, especially as it relates to identity, culture, and history.Twin Flames is an Indigenous husband and wife duo (Jaaji, an Inuk Mohawk from Nunavik, and Chelsey June, Algonquin Cree métis from Ottawa). Touring the Arctic and North America, together they echo the voices of their ancestors and depict life on the land as they sing songs in English, Inuttitut, and French.
Scroll