13.02.2019 - 13.02.2019
Asia and the Pacific / / Melbourne
Outdoor location in-front of 50 Albert Road, South Melbourne
Bundjil the eaglehawk is a key figure in Australian Aboriginal folklore. In celebration of the rich cultural heritage of the first Australians, we are commissioning a series of outdoor public artworks dedicated to the Bundjil creation story. The first event serves as a launch for entire series including a traditional welcome to country from a local elder.
14.02.2019 - 31.12.2019
Europe and North America / / Eskasoni
Eskasoni Billboard
The showing of the 2019 International Year of Indigenous Languages will create awareness in our community about the year and may spark interests, in non speakers to start speaking the language.
14.02.2019 - 31.08.2019
Asia and the Pacific / / Manila
LRT station Baclaran
Katutubo sa Metro, an indigenous language project for the preservation of the languages.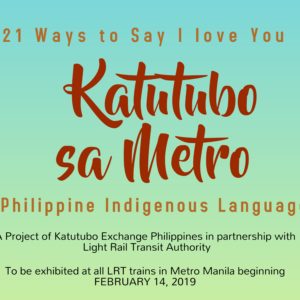 14.02.2019 - 14.02.2019
Europe and North America / / Kyiv
UNESCO Chair on Lifelong Professional Education in the XXI Century NAES of Ukraine (based on Ivan Ziaziun Institute of Pedagogical and Adult Education of the NAES of Ukraine)
Webinar on Mother Language and Multilingual Education in the Context of Sustainable Development (February 14, 2019), (Kyiv, Ukraine).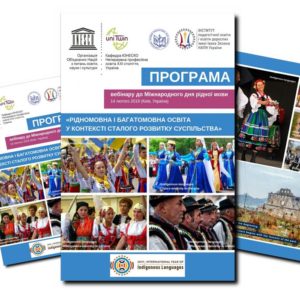 15.02.2019 - 15.02.2019
Europe and North America / / Tallinn
Estonian Writer's Union
The aim of the event is to introduce the 2019 International Year of the Indigenous Languages to the general public and media in Estonia and to contribute to the awareness raising about its objectives. The event will consist of two presentations, a panel discussion and a cultural programme.
15.02.2019 - 15.02.2019
Europe and North America / / Anchorage
ZJ Loussac Library - 3600 Denali St, Anchorage, AK 99503, USA
"On the tip of the tongue" documentary (52' - 2018)Six years ago, Vincent Bonnay, a french filmmaker started the documentation process as Eyaks began to reconnect and strategize together as a community. "SUR LE BOUT DE LA LANGUE" or "ON THE TIP OF THE TONGUE" is a result of this important work, telling the story of the encounter between the Eyak people and the young french linguist, Guillaume Leduey.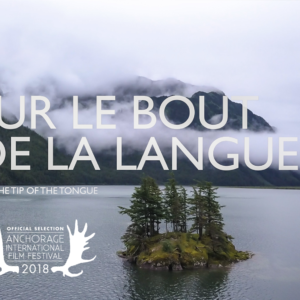 16.02.2019
Latin America and the Carribean / / San Luis Potosí
Av. Nicolas Zapata 200, Centro, 78000 San Luis, S.L.P.
El evento se realizará en el marco del "170 Aniversario de la BECENE" y, así mismo, responde al "2019, Año Internacional de las Lenguas Indígenas". Para ello se tiene contemplado realizar la Acreditación de Competencias Lingüísticas del Náhuatl e impartición de una conferencia magistral en torno a acciones institucionales para el fortalecimiento del náhuatl. Espacio […]
Scroll