28.03.2019 - 28.03.2019
Europe and North America / / Athens
Italian Institute of Culture
The work of the Neapolitan Academy to save the Hellenic Heritage of Neapolitan Language. An international conference at the Italian Institute of Culture of Athens to preserve an international mother language in danger.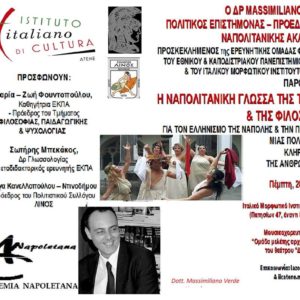 28.03.2019 - 28.03.2019
Latin America and the Carribean / / Cholula
San Pedro Cholula, Puebla
Compartiendo la cultura náhuatl. Clase Magistral, actividades lúdicas prehispánicas, pintura de códices.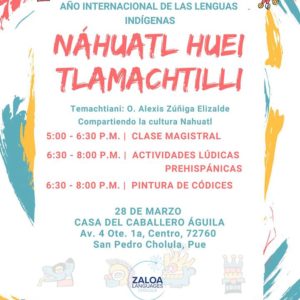 20.12.2018 - 28.03.2019
Global / / Malaybalay City, Bukidnon
Bukidnon State University
Kulturang Bukidnon is a live broadcasting to provide a basic understanding of the indigenous culture of the ICC's in Bukidnon.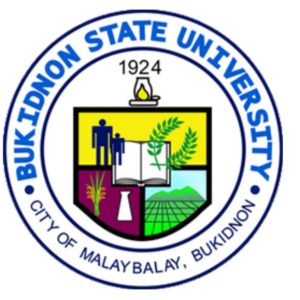 28.03.2019
Asia and the Pacific / / Malaybalay City
Bukidnon State University
The purpose of the study is to support Language preservation. Where the indigenous language which the researcher will preserve is a language she loves. A tribe where she belong.
10.01.2019 - 28.03.2019
Asia and the Pacific / / Malaybalay
DXBU Radio Station
We held a radio segment in "Bisaya" informing the people of the high and low context cultures
27.03.2019 - 27.03.2019
Latin America and the Carribean / / San Salvador.
El salvador
En la Universidad Tecnológica, reiteramos el compromiso y la buena voluntad para continuar trabajando en pro del idioma Náhuat a lo largo y ancho de nuestro El Salvador, y no solo el idioma, sino también la construcción de nuevos caminos que conduzcan a la visivilización de nuestros nahuablantes y la salvaguarda de sus derechos humanos más fundamentales. ¡Gracias a todos y todas, ya que con sus aportes le dicen al mundo entero que la Lengua Náhuat vive y que la seguiremos revitalizando y celebrando, para que nunca muera… ¡Padiux pal muchi! ¡Ne Náhuat Yultuk!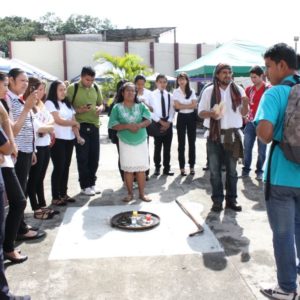 27.03.2019 - 27.03.2019
Asia and the Pacific / / Malaybalay
Philippines
KAAMULAN FESTIVAL is an indigenous festival of Bukidnon wherein the 7 tribes of bukidnon namely Higa-onon, Talaandig,Umayamnon,Manobo, Matigsalug, Bukidnon and Tigwahanon gather together in the center City of Bukidnon to celebrate this event. KAAMULAN is derived from the word "Amul" which means "to gather". Each tribe will present the the preservation of their cultural or indigenous heritage through streetdancing and performing in Malaybalay city ground (Center City of Bukidnon). These dances showcases their harvest Thanksgiving, Wedding ceremonies, hunting style, peace pacts, different kinds of rituals and the history of their tribe. They are also dressed according to their tribes and according to their rank. Their jewelries and the sign of their dress has also designated meanings.
Scroll