12.04.2019 - 17.04.2019
Global / / Bova
Museo della lingua Greco-Calabra "Gerhard Rohlfs"
The school will host 20 minority language experts coming from all over the world who will discuss in and about the following languages: Arbëreshë, Castilian, Dutch, English, Frisian, Galego, Modern Greek, Griko, Hebrew, Latgalian, Louisiana Creole, Maya, Mixteco, Nahuatl, Nahuat-Pipil, Polish, Southern Quechua, Uitbergs, Wymysiöeryś. Greko experts and activists will instead present their community and their language and share with their experience in language revitalization projects. The aim of the school is to sustain local efforts for language revitalization, share best practices, and find innovative ways to deal with issues as orthographic standardization, lexical borrowings and neologism formation.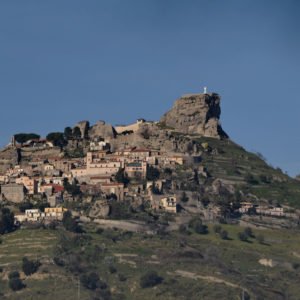 16.04.2019 - 16.04.2019
Global / / Зилаир
Зилаир
22 февраля Центр культуры и досуга села Зилаир стал главной площадкой проведения  I Всероссийского фестиваля «Культура коренных народов мира», посвященного Международному году языков коренных народов с участием Ассоциированных школ ЮНЕСКО, кафедр ЮНЕСКО, клубов друзей ЮНЕСКО и других образовательных учреждений.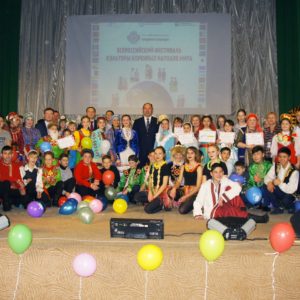 16.04.2019 - 16.04.2019
Europe and North America / / Kalkanli
Middle East Technical University, Northern Cyprus Campus
This award-winning documentary tells the stories of three survivors of Canadian assimilation-focused boarding schools for First Nations people, open until 1996.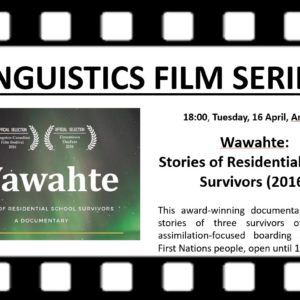 15.04.2019 - 15.04.2019
Global / / Okmulgee
College of the Muscogee Nation
The Mvskoke, Kaw, and Yuchi Languages Seminar hosted by the College of the Muscogee to present an overview of the International Year of Indigenous Languages 2019, the UN Declaration of Rights of Indigenous Peoples (DRIP), and current language perpetuation efforts in the community.  The Muscogee (Creek) Nation is leading an effort to translate the DRIP […]
15.04.2019 - 15.04.2019
Asia and the Pacific / / Palmerston North
Online, via Adobe Connect
UArctic Thematic Network on Teacher Education and UNITWIN/UNESCO network on Teacher Education are organising a joint webinar as part of UN International Year of Indigenous Languages 2019. Professor Huia Jankhe will speak about topic Sustaining an endangered language through initial teacher education. The Māori language experience in New Zealand. Professor Jankhe is from School of Maori Knowledge of Massey University, New Zealand. She will be joined by her colleague Mari Ropata Te Hei, coordinator of the programme. The webinar will be held on Monday, April 15, 2019, at 18.00 New Zealand time (UTC +12). You can check your local time here. The webinar will be presented via Adobe Connect. Joining the webinar is free of charge. The webinar will be recorded and the recording will be published afterwards.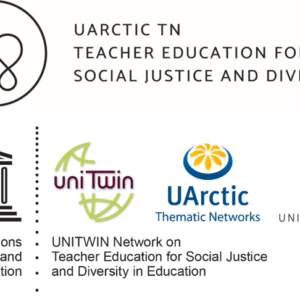 14.04.2019 - 14.04.2019
Asia and the Pacific / / Jakarta
Hoshino Tea Time, Menara BTPN, Mega Kuningan, South Jakarta
Polyglot Indonesia Jakarta Chapter presents the Language Exchange Meetup activities series entitled "Langlang Buana Nusantara!" In the fifth meetup of this series, we discussed the language and culture in South Sulawesi, Southeast Sulawesi, and Gorontalo province in an activity entitled "Visiting Lipu'u Hulondalo, Bumi Anoa, and Bumi Anging Mammiri" held on April 14, 2019. In collaboration with Ikatan Mahasiswa Sulawesi Selatan UI (IMSS UI), Gabungan Putra-Putri Sulawesi Tenggara UI (GAPURA UI), and Himpunan Mahasiswa Gorontalo UI (HIMAGO UI), we present unique facts about the three provinces and some of their ethnic language.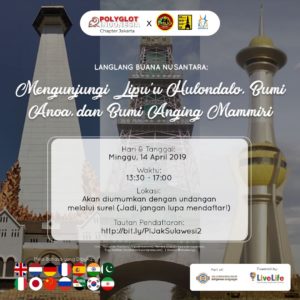 13.04.2019 - 14.04.2019
Europe and North America / / Tucson, Arizona
University of Arizona
The Symposium for American Indian Languages/American Indian Language Development Institute conference.  The theme for SAIL this year is "Language is Life" as we celebrate several important milestones including the UNESCO's designation of 2019 as the International Year of Indigenous Languages, 40 years of language education provided by AILDI and 20 years of the Native American […]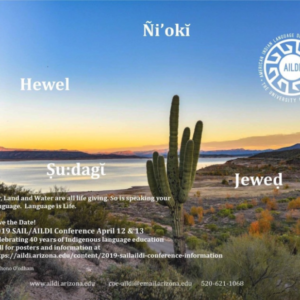 Scroll