01.03.2019 - 01.11.2019
Global / / Port Alberni
Ahtsik Native Art Gallery
About This Project First Nations Education Foundation, in recognition of the importance of Indigenous language and culture and the 2019 UN International Year of Indigenous Languages, has commissioned a Language Revitalization totem pole from renowned Nuu-chah-nulth carver, Tim Paul. "When we use our language," Tim Paul explains, "it is not just another way of saying something; the principles of our culture are embedded in the language and many words simply cannot be translated. It is only by understanding our language can we unlock the most important values, principles, and concepts of who we are." For more information about the Pole and language revitalization please visit: www.fnef.ca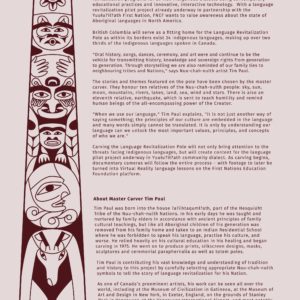 16.09.2019 - 01.11.2019
Europe and North America / / Tromsø
Culture and Social Sciences Library, Huginbakken 14, 9019 Tromsø
An exhibition about Arctic Indigenous languages and the people who speak them. We put a focus on what is needed for language revitalization and show some revitalization activities taking place around the circumpolar Arctic.
26.10.2019 - 01.11.2019
Europe and North America / / Philadelphia
University of Pennsylvania
The Quechua Language Program and the Kelly Writers House at the University of Pennsylvania are partnering to organize a week of events that promote indigenous language writers and indigenous language use in the Americas, with a special focus on Quechua (South America) and Zapotec (MesoAmerica).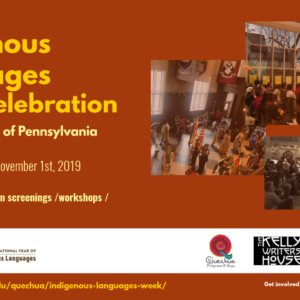 10.10.2019 - 01.11.2019
Global / / Szegedi
https://estinst.ee/hoimupaeva-pidustused-szegedis/
Soomeugri rändnäitus Ungaris Eesti Rahva Muuseum koostöös Eesti Instituudiga avab hõimukuul näituse "Ajanihe: udmurdi noorte palvused 1993/2017" Ungaris Szegedi ülikooli teabekeskuses TIK. Näitus on viies keeles ja pühendatud UNESCO rahvusvahelisele põliskeelte aastale 2019 ning jääb avatuks 1.novembrini. Läheminfo: Kreet Paljas Magyarországi Észt Intézet Eesti Instituut Ungaris Estonian Institute in Hungary Sisuinfo kodulehtedel: www.erm.ee/ajanihe https://estinst.ee/hoimupaeva-pidustused-szegedis/
31.10.2019 - 31.10.2019
Asia and the Pacific / / Tianjin
Tianjin Foreign Studies University
Evangelize the importance of indigenous language protection
31.10.2019 - 31.10.2019
Africa / / Johannesburg
UJ Arts & Culture
Celebrate the best indigenous language creative work with the 2019 Pendoring Awards. Exceptional work created in our ten indigenous languages will be awarded with Gold or Silver Pendorings, with the highlight of the evening being the Prestigious Umpetha Award. This year's event format promises to be an exceptional evening hosted by Hulisani Ravele and Schalk […]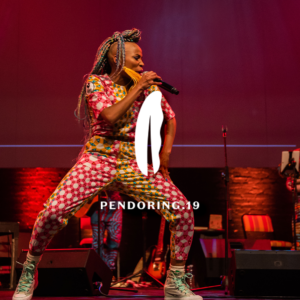 01.03.2019 - 31.10.2019
Asia and the Pacific / / Nationwide
Held in schools, workplaces, libraries and businesses nationwide.
The Great Book Swap is a fantastic way to celebrate reading locally, and raise much-needed funds for remote communities. Schools, workplaces, libraries, universities, book clubs and all kinds of organisations can host one. The idea is to swap a favourite book in exchange for a gold coin donation. This year the Indigenous Literacy Foundation hope to engage 30,000 students across Australia to help us raise $300,000 to buy 30,000 new books for remote Indigenous communities.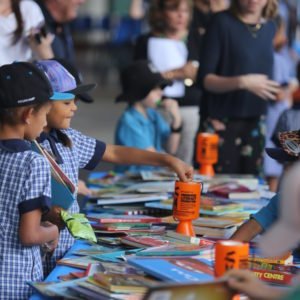 Scroll