26.10.2019 - 26.10.2019
Asia and the Pacific / / Shoalhaven
Bundanon Trust, 533 Bundanon Road, Illaroo NSW 2540
This participatory site- and culture-responsive audio installation, created by Aotearoa (NZ)-born, Sydney-based public artist Allan Giddy, utilises the natural flow of water to convey the voices of First Nations children, speaking their messages to their community, their countries and the world in their First Languages. The children's words, recorded and edited into soundscapes, are being 'released' into the water to flow to the oceans. This work is essentially invisible to passersby, yet the underwater audio can be accessed via a poetically simple means: a pole held with one end in the water, the other against the ear. As the project progresses the words that flow from children around the world will, metaphorically, eventually meet and mix with each other in the interconnected oceans of our globe. This intermingling of First Words will symbolise both the strength and support that First Cultures draw from establishing relationships with each other globally, and the interdependent nature of all humanity. 'Flow' is supported by the Australia Council, Create NSW and Creative New Zealand, and is endorsed by the Australian Institute for Aboriginal and Torres Strait Islander Studies (AIATSIS). In the Shoalhaven region Allan has created 'Bungli Flow', working with First Nations children speaking Gumea-Dharawal, in partnership with Red Room Poetry's 'Poetry in First Languages' project and with Bundanon Trust, and supported by Create NSW.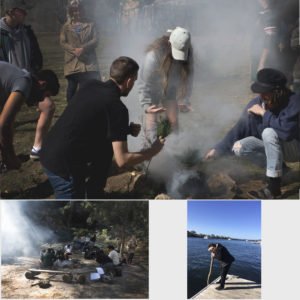 26.10.2019 - 26.10.2019
Europe and North America / / London
SOAS University of London
To celebrate the UNESCO's International Year of Indigenous Languages, we are proud to present the Symposium on Language and Music, organised by the SOAS Department of Music and the SOAS World Languages Institute.
26.10.2019 - 26.10.2019
Europe and North America / / Palm Springs
888 Tahquitz Canyon Way Palm Springs, California 92262
Presentation of the Translation Commons platform, and mission, including the agreed IYIL 2019 projects.
26.10.2019 - 27.10.2019
Europe and North America / / Hannover
Kino Am Raschtplatz Hannover
FILMREIHE IM RAHMEN DES UNESCO INTERNATIONALEN JAHRES DER INDIGENEN SPRACHEN. Auf Empfehlung des Ständigen Forums für indigene Fragen hat die Generalversammlung der Vereinten Nationen das Jahr 2019 zum Internationalen Jahr der indigenen Sprachen ausgerufen. Wie das Forum feststellt, sind 40 Prozent der geschätzten 6.700 weltweit gesprochenen Sprachen vom Verschwinden bedroht. Die meisten dieser gefährdeten Sprachen sind indigene Sprachen, womit auch die Kulturen und Wissenssysteme, zu denen sie gehören, gefährdet sind. Indigene Bevölkerungsgruppen sind oft politisch, geographisch und sozial isoliert und können mit ihrer vielseitigen Kultur und ihrem Wissen nicht zu unserer globalisierten Welt beitragen. Das Hochschulbüro für Internationales der Leibniz Universität Hannover, das Konfuzius-Institut Hannover und das Centre for Atlantic and Global Studies freuen sich, zwei Filme zu präsentieren, die auf die Themen Isolation und Sprache aufbauen: die gefeierte Dokumentation "Thinking Like a Mountain" von Alexander Hick und die Romanverfilmung "Der Seidenfächer".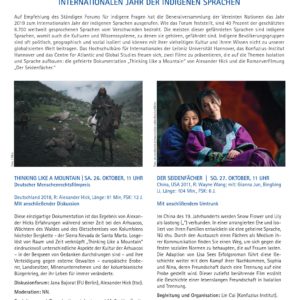 26.10.2019 - 01.11.2019
Europe and North America / / Philadelphia
University of Pennsylvania
The Quechua Language Program and the Kelly Writers House at the University of Pennsylvania are partnering to organize a week of events that promote indigenous language writers and indigenous language use in the Americas, with a special focus on Quechua (South America) and Zapotec (MesoAmerica).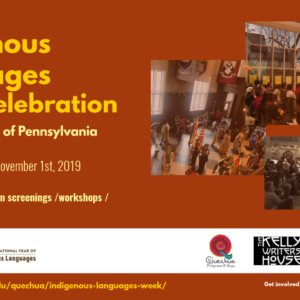 30.10.2019 - 02.11.2019
Global / / Fort Wayne
Purdue University Fort Wayne
This conference seeks to celebrate UNESCO's 2019 Year of Indigenous Languages. Conference themes include, but are not limited to the following: • Community achievements and indigenous languages • Community collaborations and partnerships • Educational policy for language revitalization and maintenance • Indigenous languages into the 21st century • Indigenous voices in popular culture (e.g. social media, fiction, poetry, film, hip hop) • Indigenous languages and multilingualism In the spirit of this celebration, participants will share experiences and knowledge to bring community voices, policy voices, and academic voices together. Further, this is an inclusive conference with a focus on celebrating indigenous languages and bringing indigenous perspectives to the forefront.
30.10.2019 - 30.10.2019
Latin America and the Carribean / / Cartagena de Indias
Universidad de Cartagena, Campus San Pablo
To celebrate identity and diversity, the University of Cartagena's Professional in Foreign Languages undergraduate program hosts a one-day workshop which aims to create awareness and foster a common understanding between students, education professionals, and civil society organizations, in relation to the importance of preserving indigenous languages in an indigenous-descendant country such as Colombia.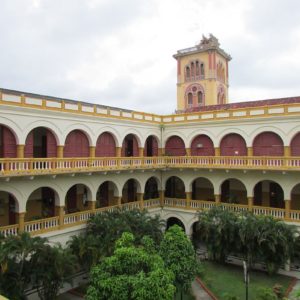 Scroll