Latin America and the Carribean / / Chiapas
San Cristóbal de Las Casas, Secretaría para el Desarrollo Sustentable de los Pueblos Indígenas
Generar un evento de índole cultural que reconozca la importancia y preservación de las Lenguas Maternas, a través de la reflexión antropológica, histórica, la música, y diversas manifestaciones artísticas. Conferencia: "Los apellidos zoques de Tuxtla: una lucha por superviviencia", impartida por el Mtro. Sergio de la Cruz Vázquez. La Danza Jatajama Etzé (Zoque), dirigida por […]
Latin America and the Carribean / / Oaxaca
Alameda de León
Presencia de Vidal Ramirez, ex director de la Casa de la Cultura quien compartió poemas en zapoteco del Istmo. Escuela Primaria Justo Sierra con su grupo de Danza Baduu Ruuya presentaron guelaguetza tradicional. Laura Cuevas, soprano oaxaqueña, originaria de San Mateo Macuilxóchitl interpretó diferentes piezas de la música popular además de ofrecer su canto en […]
Global / / calicut
Cubicle %1, 302, School of Bio-Technology, NITC East Campus, National Institute of Technology Calicut, Calicut - 673601, Kerala
I had organised a seminar on "conservation of indigenous languages from malabar region". on Jan 2, 2019 for the NITC staff co-ordinator: Prof Prem raj Pushpakaran https://www.youth4work.com/y/profpremrajpushpakaran/Prof-Prem-Raj-Pushpakaran-popularity
Latin America and the Carribean / / Campeche
Campeche
Invitar a algún adulto a la escuela para que platique con los niños algo sobre la historia de la comunidad, que lo cuente en lengua materna y después en español. Realizar con los niños juegos tradicionales por ejemplo, teléfono descompuesto, cantar alguna ronda, etc.
Latin America and the Carribean / / Ciudad de México
Auditorio "Eduardo Matos Moctezuma", Museo del Templo Mayor
Presentación y exposición de las propuestas de cambio de políticas de Estado en materia lingüística y de educación indígena por parte del grupo GALA (Grupo de Acompañamiento a Lenguas Amenazadas)
Global / / Asunción
Paraguay
Expertos naciones y del exterior desplegarán sus saberes, experiencias y análisis sobre distintos aspectos relacionados a las lenguas indígenas. El importante evento académico, con acceso libre y gratuito, de 08:00 a 17:00 horas en el Aula Magna de la Universidad Católica de Asunción (Independencia Nacional y Comuneros).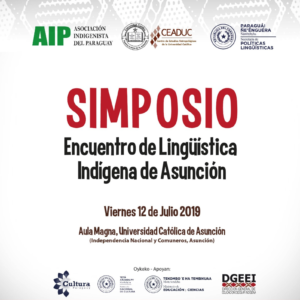 Latin America and the Carribean / / Querétaro
Valle del Mezquital, Querétaro
Taller dirigido a mujeres indígenas de la comunidad del Valle del Mezquital para hacerles del conocimiento sus derechos.
Scroll