01.04.2019 - 31.10.2019
Global / / London
The Association of Commonwealth Universities
The ACU Review magazine's endangered languages issue highlights the role of universities in preserving, promoting and revitalising indigenous languages across the Commonwealth and beyond.
25.05.2019 - 30.10.2019
Latin America and the Carribean / / La Paz
Facultad de Humanidades y Ciencias de la Educación - Universidad Mayor de San Andrés
The Course (Diplomado, in Spanish) will be organized into different modules: linguistics, history, anthropology, traditional world vision and will be dictated in Aymara as well as the graduation paper that will be written and published in Aymara.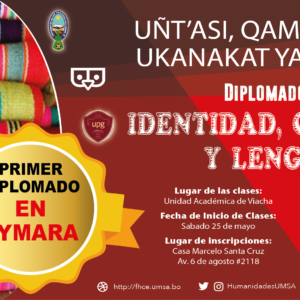 30.10.2019 - 30.10.2019
Latin America and the Carribean / / Cartagena de Indias
Calle de la Universidad, Cra. 6 ###36-100, Cartagena, Bolívar, Colombia
Our objective is to create awareness of how valuable indigenous languages are in an indigenous-descendant country, a characteristic that is often forgotten. In order to achieve so, we have planned an interactive workshop where participants are given a chance to really get involved, and propose solutions from their own unique experiences to spread the aforementioned awareness in their different contexts.
30.10.2019 - 30.10.2019
Latin America and the Carribean / / Cartagena de Indias
Universidad de Cartagena, Campus San Pablo
To celebrate identity and diversity, the University of Cartagena's Professional in Foreign Languages undergraduate program hosts a one-day workshop which aims to create awareness and foster a common understanding between students, education professionals, and civil society organizations, in relation to the importance of preserving indigenous languages in an indigenous-descendant country such as Colombia.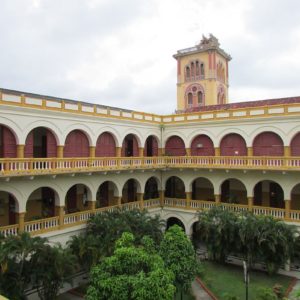 29.10.2019 - 29.10.2019
Europe and North America / / Limerick
University of Limerick, Tierney Building, T3-13
With this event we celebrate IY2019 at the University of Limerick with a special focus on the Irish language and small languages in general in a digital world. D'fhógair na Náisiúin Aontaithe go dtabharfaí Bliain na dTeangacha Dúchais (BI2019) ar 2019 chun aird a tharraing orthu, ní hamháin chun leasa na ndaoine a labhraíonn na teangacha sin, ach freisin chun go dtuigfidh daoine eile a mhéad a chuireann siad le héagsúlacht shaibhir chultúrtha ár linne. Leis an ócáid seo déanaimid ceiliúradh ar BI2019 in Ollscoil Luimnigh le béim ar leith ar an nGaeilge agus ar mhionteangacha i gcoitinne i ré dhigiteach.
28.10.2019 - 28.10.2019
Europe and North America / / Ottawa
2500 Don Reid Drive
The Our Lady of Guadalupe Circle welcomes with gratitude the United Nations' 2019 Year of Indigenous Languages. For this occasion we are releasing a message to all Canadians accompanied by a video which underscores the importance of promoting and preserving Indigenous languages here in Canada and abroad. The Circle sees this work as an important […]
28.10.2019 - 28.10.2019
Latin America and the Carribean / / Lima
Universidad Femenina del Sagrado Corazón
A conversational session about: Conservation and Revaluation of native languages such as Ashéninka, a shared responsability
Scroll