16.08.2019 - 16.08.2019
Asia and the Pacific / / Melbourne
To Be Confirmed
A one day workshop styled forum to discuss the finding s of the Fison & Howitt Papers and other related publications. A series of papers, taken from letters, discussing Aboriginal culture, language and kinshipThe Language consultation forums will provide Aboriginal and non-Aboriginal key note speakers, and discussion about the findings from the Fison & Howitt Papers. Deakin Uni and La Trobe Uni, VACL partnership
16.08.2019 - 16.08.2019
Europe and North America / / Fairbanks
Morris Thompson Cultural and Visitors Center
An inter-generational Denaakk'e language learning activity  for children accompanied by a caregiver.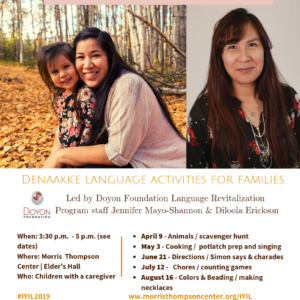 14.08.2019 - 14.08.2019
Europe and North America / / Moccasin
Pipe Spring National Monument
Visitors will arrive to Pipe Spring National Monument on 8/14/19 at 11:00 AM MST , talk will be held in the visitors center theater. Annual Passes will be accepted for monument entry; all others will be charged $10 per person age 16 and older. (406 N. Pipe Spring Rd. Fredonia, AZ) anyone under the age of 16 is free.
13.08.2019 - 13.08.2019
Europe and North America / / Toronto
Robarts Library, 4th Floor Electronic Classroom
This will be a Wikipedia Edit-A-Thon event focused on increasing and adding representation of Indigenous Language speakers in Wikipedia. These speakers will be from a list drawn up by staff at the University of Toronto Libraries and will focus on speakers from the University of Toronto, Toronto and Ontario, but please feel free to suggest […]
09.08.2019 - 11.08.2019
Latin America and the Carribean / / Mexico
Centro Nacional de las Artes
To make visible the creative potential of indigenous languages speakers through the presentation and promotion of the multilingual goods, products and services that generate communication bridges that allow dialogue, exchange and the strengthening of community cultural production.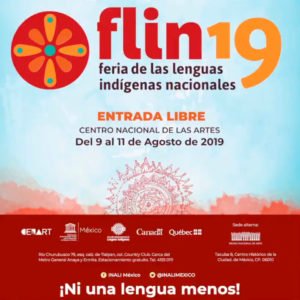 07.08.2019 - 11.08.2019
Global / / Amantea
Parco La Grotta
La Guarimba is a film festival situated in the southern Italian region of Calabria that uses culture as a vehicle to promote values of participatory democracy, integration and accessibility. Our main goal is to bring the cinema back to the people and the people back to the cinema.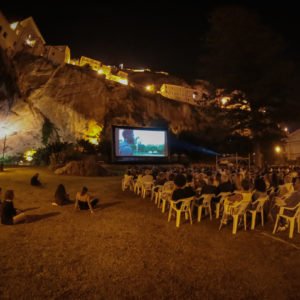 09.08.2019 - 09.08.2019
Asia and the Pacific / / Bhubaneswar
https://theofdn.org/activities/marginalized-community-council
O Foundation (OFDN), an Indian nonprofit that is involved in the conservation and growth of marginalized groups using Openness and technology is establishing the Marginalized Community Council, an online working group consisting of individuals and organizations that are working towards addressing some of the most vital issues that affect the various marginalized groups—speakers of indigenous and endangered languages, and groups that are marginalized because of geopolitical and socioeconomic reasons.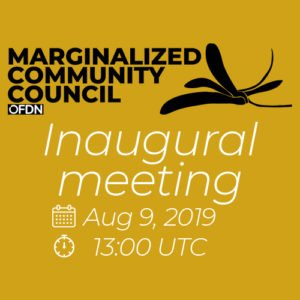 Scroll