21.11.2019 - 22.11.2019
Europe and North America / / Joensuu
University of Eastern Finland
Arctic Thematic Network on Teacher Education and UNESCO/UNITWIN Network on Teacher Education are organizing a roundtable discussion "Do you speak my language?", focusing on theme of indigenous languages, in FERA Conference on Education at the University of Eastern Finland, Joensuu, November 21-22, 2019. The Roundtable will be organised during the FERA Conference dates.
19.11.2019 - 22.11.2019
Global / / Montréal
Cabaret Lion D'or, Café Campus, La Balcon, Gesu, M2, Théatre Outremont, Théâtre Fairmount
Mundial is where North America's largest gathering of talent buyers and tastemakers connect intimately to create opportunities for the global music community. The event is creating an unprecedented community network of partners and presenters from across the country and abroad with a common goal: to develop touring opportunities nationally, and beyond ! Mundial Montreal also created a special series by and for Indigenous Music across the world : Indigenous Sounds Series. It secures a place for artists from Indigenous communities in Mundial Montréal's programming. It highlights the talent, presence and diversity of the many Indigenous communities across Canada and even further. The series showcases professional, export-ready artists and is accompanied by professional development activities, mentoring sessions and other targeted networking activities. This unique component of the world music industry's professional events, initiated by Mundial Montréal, was developed to create a bridge for artists to benefit from visibility and touring opportunities in new mainstream markets.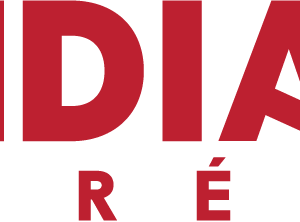 22.11.2019 - 22.11.2019
Europe and North America / / Stornoway
An Lanntair
Oidhche far an dèanar luaidh air dà shàr-fhear-ciùil à Leòdhas, Dòmhnall MacLeòid (Donaidh Leòdaidh) agus Iain Mac a' Mhaoilein (Seonaidh Beag). A celebration of two of Lewis' finest, Donald 'Donnie Leody' Macleod and John 'Seonaidh Beag' Macmillan. This event promotes Gàidhlig, improves access to Gàidhlig arts, promotes the language in a positive light, increases awareness about the language and encourages locals to appreciate our language by providing high quality Gàidhlig events.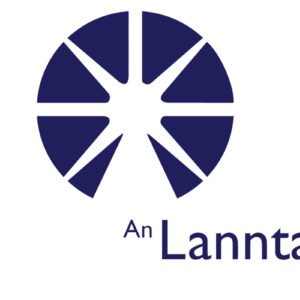 22.11.2019 - 22.11.2019
Europe and North America / / Albuquerque
University of New Mexico
Késhjéé' is only played in the winter after the first freeze of the year has occurred. At this event, Mr. Kevin Belin will teach késhjéé' protocols, tell historical stories, and the audience will learn to sing késhjéé' songs and play késhjéé'. Késhjéé' or the Shoe Game originated due to the disagreement of how long the day or night should last. The first game ended in a draw and as a result today we have both day and night. Késhjéé' is more than a story, it is a teaching tool for everyone.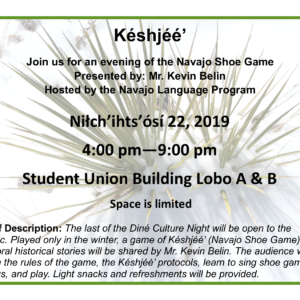 21.11.2019 - 21.11.2019
Global / / Baltimore
University of Maryland, Baltimore
United Nations Educational, Scientific and Cultural Organization (UNESCO) has designated 2019 as International Year of Indigenous Languages. The UMB Writing Center, Center for Global Education Initiatives, and Office of International Services have officially joined the worldwide programming with a discussion of decolonial perspectives and practices in health and human services education here at the University of Maryland, Baltimore. Come and learn about the Indian Child Welfare Act and its connections to current health and human services education and practice before engaging in a curated dialogue focused on how we, as students, faculty, and practitioners can work with Indigenous communities to provide more equitable health, legal, and human services.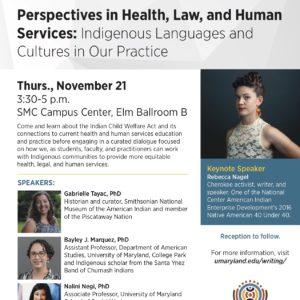 19.11.2019 - 21.11.2019
Africa / / Kampala
Makerere University
A community week with events, lectures and workshops
21.11.2019 - 21.11.2019
Europe and North America / / Paris
Theatre de Chatelet
An immersive AV experience, Last Whispers Oratorio (45 min), is simultaneously a spatially-designed sound composition and film. Dedicated to the mass extinction of languages, the project was created by Lena Herzog, and features sound design by award-winning sound designers Mark Mangini and Marco Capalbo. Presented in an immersive sound environment, a chorus of spoken and sung extinct and endangered languages, punctuated […]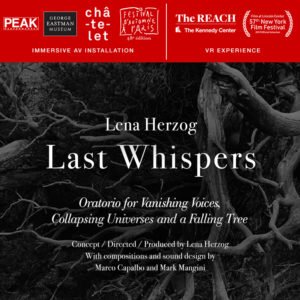 Scroll