21.11.2019 - 22.11.2019
Europe and North America / / Joensuu
University of Eastern Finland
Arctic Thematic Network on Teacher Education and UNESCO/UNITWIN Network on Teacher Education are organizing a roundtable discussion "Do you speak my language?", focusing on theme of indigenous languages, in FERA Conference on Education at the University of Eastern Finland, Joensuu, November 21-22, 2019. The Roundtable will be organised during the FERA Conference dates.
22.11.2019 - 22.11.2019
Europe and North America / / Albuquerque
University of New Mexico
Késhjéé' is only played in the winter after the first freeze of the year has occurred. At this event, Mr. Kevin Belin will teach késhjéé' protocols, tell historical stories, and the audience will learn to sing késhjéé' songs and play késhjéé'. Késhjéé' or the Shoe Game originated due to the disagreement of how long the day or night should last. The first game ended in a draw and as a result today we have both day and night. Késhjéé' is more than a story, it is a teaching tool for everyone.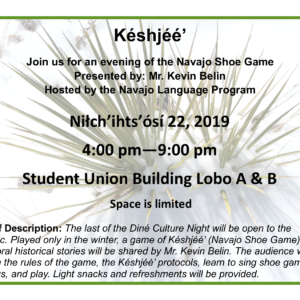 23.11.2019 - 23.11.2019
Europe and North America / / Seville
Venue pending to confirm
Non-official minority languages and linguistic varieties of Iberia includes Andalusian, Asturianu, Panocho, Extremaduran Languages and many more! The "1st Congress Indigenous Iberian Minority Languages and Linguistic Varieties" (shortened as CILMIM, as per the spanish acronym) is a meeting to promote them. 
23.11.2019 - 23.11.2019
Global / / Victoria
University of Victoria
About This Project First Nations Education Foundation, in recognition of the importance of Indigenous language and culture and the 2019 UN International Year of Indigenous Languages, has commissioned a Language Revitalization totem pole from renowned Nuu-chah-nulth carver, Tim Paul. "When we use our language," Tim Paul explains, "it is not just another way of saying something; the principles of our culture are embedded in the language and many words simply cannot be translated. It is only by understanding our language can we unlock the most important values, principles, and concepts of who we are." For more information about the Pole and language revitalization please visit: www.fnef.ca
24.11.2019 - 27.06.2019
Global / / Santiniketan
Visva-Bharati, Santiniketan
It gives us immense pleasure to invite you to participate in the International Seminar on Marginal Ethnologic and Linguistic Annals: MELA-2019 to be held during 24-27 November, 2019 at Visva-Bharati, Santiniketan, West Bengal (India), organised by Centre for Endangered Languages (CFEL), Visva-Bharati. Here Research Papers, Films, Poster Presentations and Theme Paintings are invited within given time frame. There will be interactive sessions consist of renowned linguists, interdisciplinary academicians, film makers, thinkers, writers, journalists and young scholars of the field.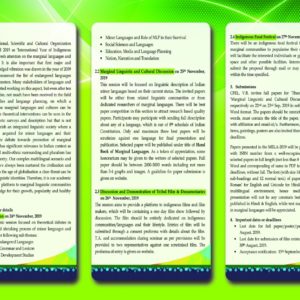 25.11.2019 - 29.11.2019
Latin America and the Carribean / / Cadereyta, Zimapan, Jiliapan
CADEREYTA – ZIMAPÁN – JILIAPAN
En esta ocasión, el coloquio se llevará a cabo con las siguientes líneas temáticas: 1. Expresiones rituales pames y otomianas 2. Lingüística pame y otomiana 3. Arqueología y pintura rupestre 4. Etnohistoria, con énfasis en la Sierra Gorda y la frontera sur de la Chichimeca 5. Pames en el contexto contemporáneo DATOS SOLICITADOS 1. Título […]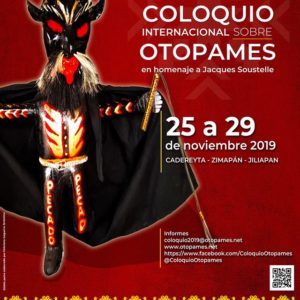 28.11.2019 - 01.12.2019
Global / / Paris
Musée du Quai Branly Jacques Chirac Paris France
FILMS D'AUTEUR LANGUES ANCESTRALES A signature film program giving voice to the galaxy of Indigenous film-makers whose works have and will continue to revitalize Indigenous languages, from within and outside the mainstream.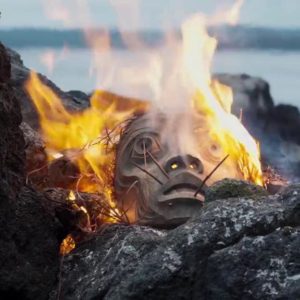 Scroll