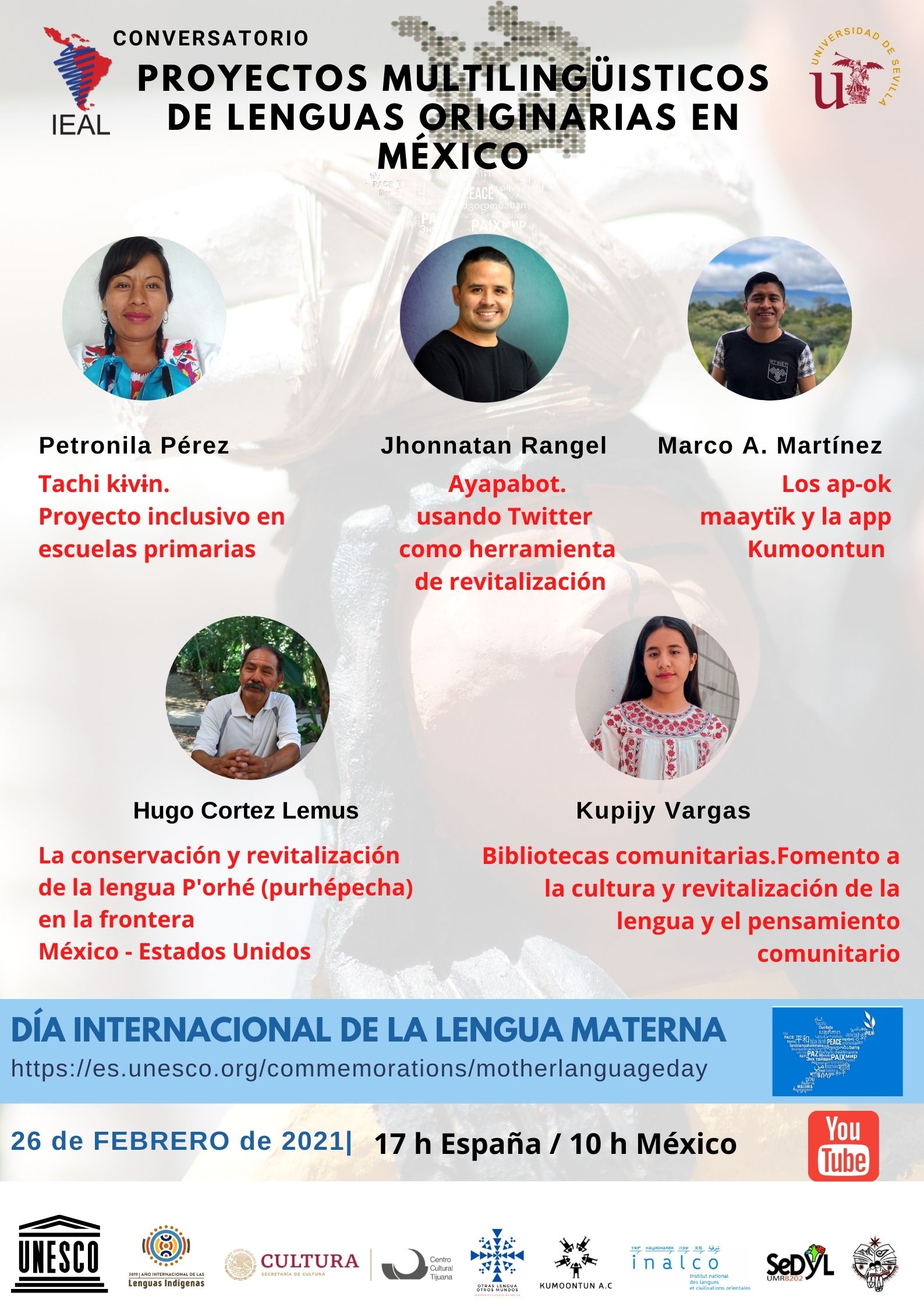 February 26, 2021 5:00 pm - February 26, 2021 7:00 pm
Latin America and the Carribean | Spain, Mexico | Sevilla | Sevilla, Spain
Conferences / Advisory
The theme of International Mother Language Day 2021 "Fostering Multilingualism for Inclusion in Education and Society" recognizes that languages and multilingualism can foster inclusion, and that the Sustainable Development Goals focus on leaving no one behind.
UNESCO believes that education, based on the first or mother tongue, should start from the earliest years of schooling, as early childhood care and education is the foundation for learning.
The IEAL prepares the activity around native languages as part of the project: Other languages, other worlds: native languages in Mexico, directed by anthropologist David Lagunas and Aline Lara, a project within our Institute.
Participating on this occasion will be:
Petronila Pérez Velasco: Native of the Sola de Vega Community Oaxaca. Mixteca Baja. Primary School Teacher. Tnu'u Savi Language.
Tachi k☨v☨n: inclusive project in primary schools.
Jhonnatan Rangel. Master in Language Sciences and Applied Languages from the University of Rouen and PhD in Language Sciences from INALCO (National Institute of Oriental Languages and Civilizations). Ayapaneco language
Ayapabot: using Twitter as a revitalization tool
Marco Antonio Martínez. Originally from Santa María Ocotepec, Mixe, Oaxaca, Mexico. Member of Kumoontun A. C. Member of the Network of Digital Activists of Indigenous Languages in Latin America. Speaker of the Ayöök language
The ap-ok maaytïk and the Kumoontun app.
Hugo Cortez Lemus. Originally from Arantepacua, Michoacán, representative of this community established in the city of Tijuana, Baja California, Mexico. He was state coordinator of the Indigenous Front of Binational Organizations (FIOB) from 2008 to 2010. Speaker of the P'orhé language.
The preservation and revitalization of the P'orhé (Purhépecha) language on the U.S.-Mexico border.
Adriana Kupijy Vargas. Originally from the community of Tejas, in the municipality of Santa María Tlahuitoltepec, Mixe, Oaxaca. Student of Pedagogy at the Facultad de Estudios Superiores Acatlán, Universidad Nacional Autónoma de México (UNAM).
Community libraries. Promotion of culture and revitalization of language and community thought.
Coordinated by:
David Lagunas (IEAL- department of Social Anthropology).
Aline Lara (Honorary Researcher, Department of Philology, University of Seville).
Oswaldo Cuadra (Tijuana Cultural Center)
Collaborating entities:
UNESCO-International Years Indigenous Language.
Secretariat of Culture, Mexico. Tijuana Cultural Center
Kumoontun A. C
Instituto Nacional de Lenguas y Civilizaciones Orientales
Laboratorio SeDyL (Estructura y Dinámica de las Lenguas) del CNRS (Centro Nacional de la Investigación Científica)
Bibliotecas Comunitarias Oaxaca