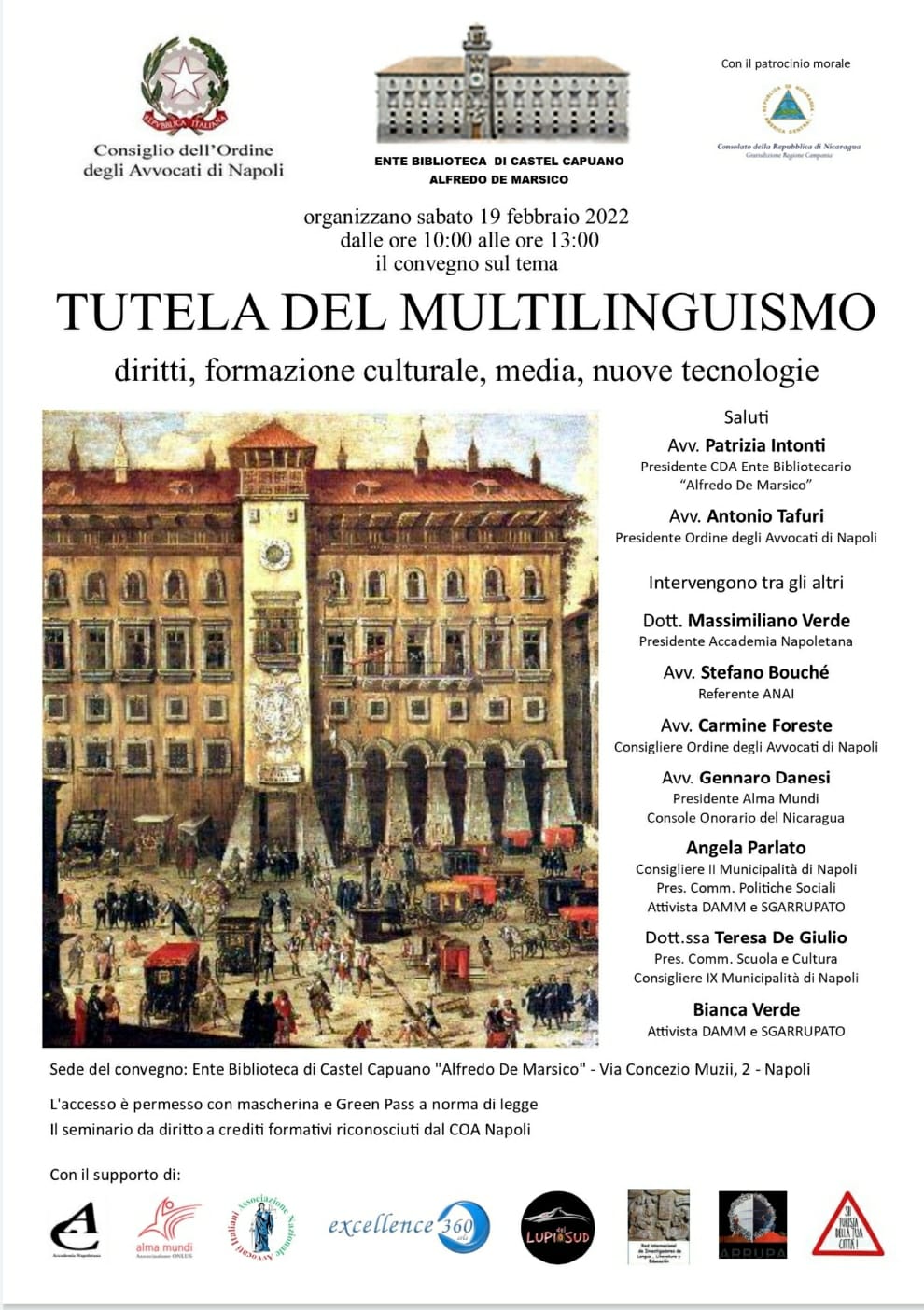 February 19, 2022 10:00 am - February 19, 2022 1:00 pm
Global | Italy | Naples | Library of Castel Capuano "Alfredo De Marsico"
Conferences / Advisory
Multilingualism preservation: rights, cultural education, media, new technologies.
The theme of the conference conceived by dr. Massimiliano Verde, President of the Neapolitan Academy and organized in collaboration with the Council of the Naples Bar Association as well as the "Alfredo De Marsico" Library of Castel Capuano, is multilingualism as a principle and value protected by international law.  On the occasion of the 2022 International day of the Mother lamguage  we introduce the case of the Neapolitan language as a historical and cultural heritage of the Neapolitan community in Italy and abroad, also in relation to training, media and new technologies. In this sense,  it will be considered the multidisciplinary work of the Neapolitan Academy, for the protection of the Neapolitan language and culture, as well as for the promotion of Neapolitan speakers, primarily women and children, as well as  social and cultural experiences developed by teachers and activists.
The seminar will highlight, also pursuant to the Universal Declaration of Human Rights, the UN Convention on the Rights of the Child and the Convention for the Elimination of All Forms of Discrimination Against Women (CEDAW), about the actual situation of the Neapolitan, a language codified by UNESCO as vulnerable and transmitted as a mother tongue.
The conference enjoys the moral patronage of the Consulate of the Republic of Nicaragua, competent for the Campania Region.
19 February 10.00h – 13.00h
Library of Castel Capuano Alfredo De Marsico
Via Concezio Muzii, 2 Naples