20.11.2019 - 20.11.2019
Global / / Belfast
Linen Hall Library
This Civic Conversation explores the socio-cultural and linguistic impact on language policies and practices in NI of global events generated by changes to EU policies, Brexit and the refugee crisis. It will celebrate 2019 as the year of Indigenous Languages and be chaired by Prof. Karen Corrigan, Newcastle University. Invited speakers will be experts in the fields of indigenous and community languages as well as practitioners who work with ethnolinguistic minorities in Northern Ireland and further afield.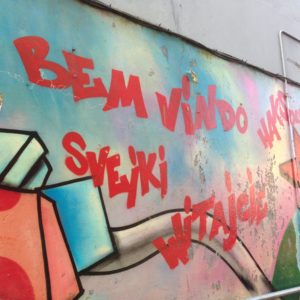 20.11.2019 - 20.11.2019
Global / / Tempe
Online Webinar at Arizona State University
Panelists will share how they navigate the boundaries between Indigenous and non-Indigenous worlds in a multilingual panel discussion with several people from Kichwa and Waorani communities of the Ecuadorian Amazon. Two generations of Indigenous people will speak in a combination of English, Spanish, Kichwa, and Wao Terero about their perspectives of future, present, and past. Moderators will translate the webinar to English as much as possible. The webinar will include a discussion about the Andes and Amazon Field School (https://i-spartnerships.com/), where students and researchers are invited by Indigenous peoples to co-produce knowledge through exchanges of language, culture, and projects.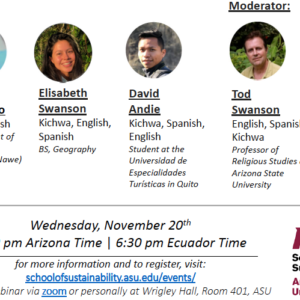 21.11.2019 - 19.04.2020
Asia and the Pacific / / Brisbane
State Library of Queensland
A thought-provoking exhibition about the survival and revival of Aboriginal and Torres Strait Islander languages.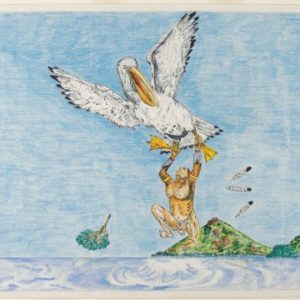 21.11.2019 - 22.11.2019
Europe and North America / / Joensuu
University of Eastern Finland
Arctic Thematic Network on Teacher Education and UNESCO/UNITWIN Network on Teacher Education are organizing a roundtable discussion "Do you speak my language?", focusing on theme of indigenous languages, in FERA Conference on Education at the University of Eastern Finland, Joensuu, November 21-22, 2019. The Roundtable will be organised during the FERA Conference dates.
21.11.2019 - 22.11.2019
Europe and North America / / Tromsø
UiT - Arctic University of Norway
"Sacred place names in Sámi landscapes" is an international conference to be held in Tromsø, Norway, 21–22 November 2019. It will focus on the under-research topic of Sámi place names and some multidisciplinary approaches to this, with a special focus on how to study sacred place names methodologically, theoretically, and with regard to ethical and political aspects of such research.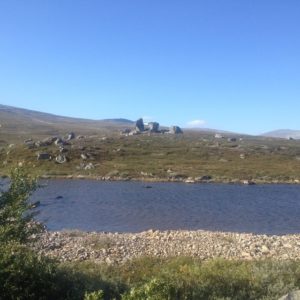 21.11.2019 - 21.11.2019
Global / / Baltimore
University of Maryland, Baltimore
United Nations Educational, Scientific and Cultural Organization (UNESCO) has designated 2019 as International Year of Indigenous Languages. The UMB Writing Center, Center for Global Education Initiatives, and Office of International Services have officially joined the worldwide programming with a discussion of decolonial perspectives and practices in health and human services education here at the University of Maryland, Baltimore.Come and learn about the Indian Child Welfare Act and its connections to current health and human services education and practice before engaging in a curated dialogue focused on how we, as students, faculty, and practitioners can work with Indigenous communities to provide more equitable health, legal, and human services.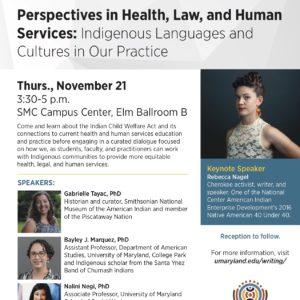 22.11.2019 - 22.11.2019
Europe and North America / / Albuquerque
University of New Mexico
Késhjéé' is only played in the winter after the first freeze of the year has occurred. At this event, Mr. Kevin Belin will teach késhjéé' protocols, tell historical stories, and the audience will learn to sing késhjéé' songs and play késhjéé'.Késhjéé' or the Shoe Game originated due to the disagreement of how long the day or night should last. The first game ended in a draw and as a result today we have both day and night. Késhjéé' is more than a story, it is a teaching tool for everyone.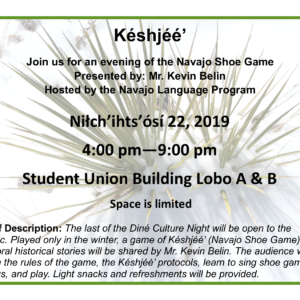 Scroll