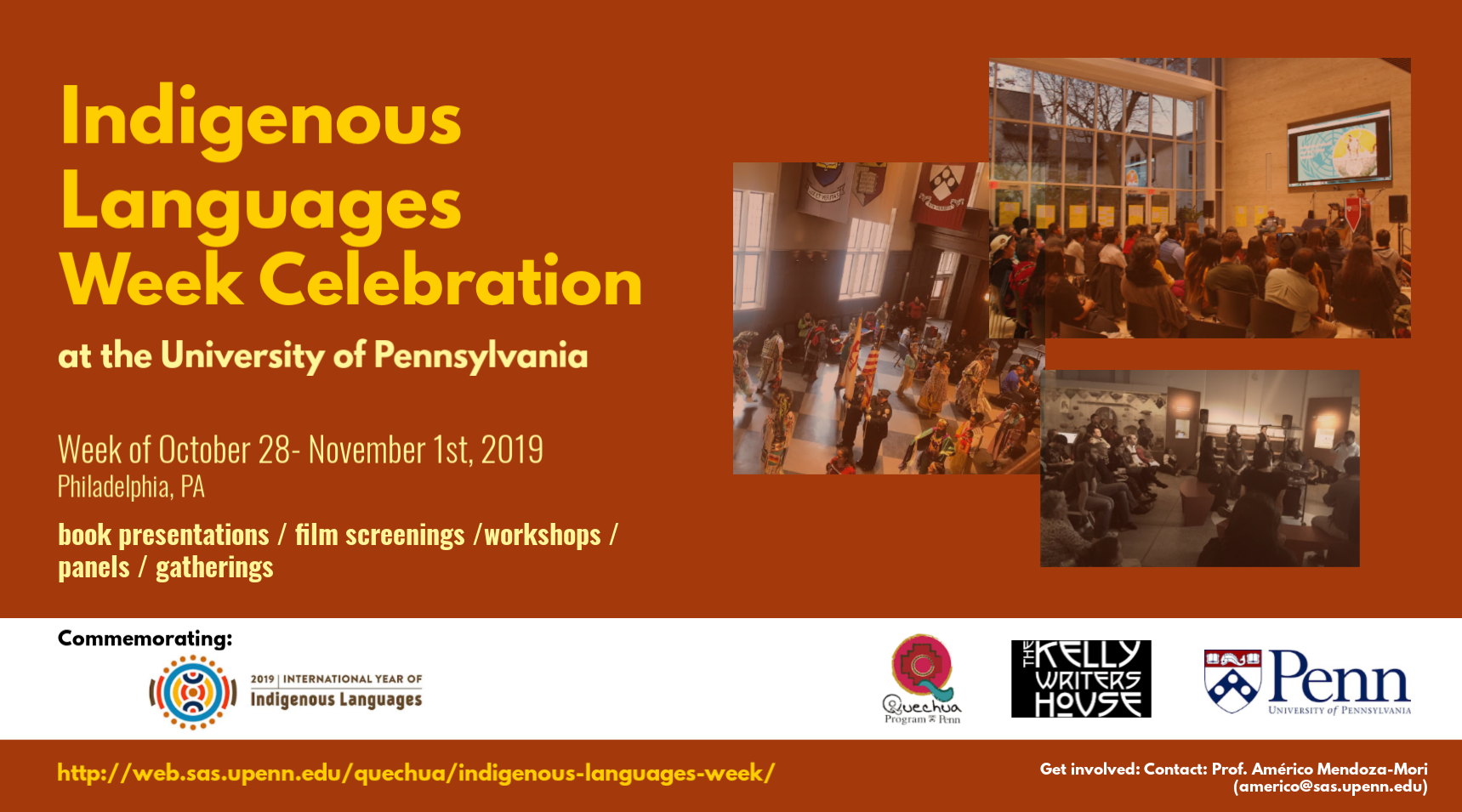 October 26, 2019 12:00 pm - November 1, 2019 6:00 pm
Europe and North America | United States of America | Philadelphia | University of Pennsylvania
Cultural events
The Quechua Language Program and the Kelly Writers House at the University of Pennsylvania are partnering to organize a week of events that promote indigenous language writers and indigenous language use in the Americas, with a special focus on Quechua (South America) and Zapotec (MesoAmerica).
The week will include: book presentations, film screenings, panels, workshops and exhibitions.
– Special invited author: Pablo Landeo Muñoz (Quechua)
Pablo Landeo Muñoz is a Peruvian award-winning writer, translator, and teacher of language and literature.  He is currently a Quechua professor at INALCO in Paris, and director of the literary magazine Atuqpa Chupan ("The fox's tail" in Quechua), which is published annually and written entirely in Quechua. In 2011, his collection of poems Los hijos de Babel appeared in Spanish. He published a collection of stories from Huancavelica in Quechua Ayacucho under the title Wankawillkain 2013, complemented by translations into Spanish and a study in Quechua. His novel Aqupampa, which appeared in 2016, won Peru's National Prize of Literature in the category of Indigenous Languages.
– Film screening of Dizhsa Nabani (Zapotec)
Dizhsa Nabani is a documentary film series, supported by DocuLab at Haverford College. They explore the relationship between Zapotec identity, language, and daily life. The series traces efforts of San Jerónimo Tlacochahuaya community members, including farmers, artesans, and public officials, to sustain and re-invigorate their Zapotec language.