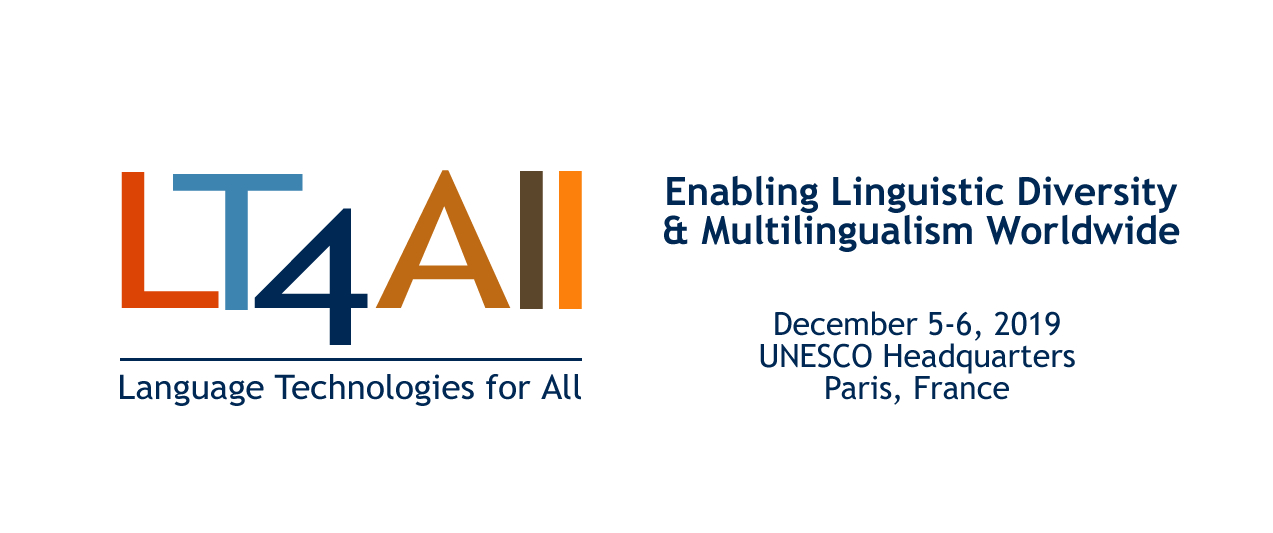 December 5, 2019 9:00 am - December 6, 2019 6:00 pm
Global | France | Paris | UNESCO Headquarters
Conferences / Advisory
In 2019, the language technology landscape is still dominated by English and while well-performing technologies exist for English, other languages are under-supported, many of them seriously. With more than 7,500 languages spoken all over the world, this situation puts the native speakers of the under-resourced languages in an unbalanced situation, and their languages in danger of digital extinction, if not complete extinction.
Everyone should be able to have access to Language Technologies in his/her native language, including when the native language is an indigenous language.
The challenge is twofold: preserving culture through language while allowing communication across languages. To tackle it, ELRA and its Single Interest Group on Under-resourced Language, SIGUL, are organizing the LT4All conference. LT stands for Language Technologies, All embodies all people and all languages, with a focus on indigenous, minority, under-resourced and endangered languages.
Over 2 full days, on December 5-6, 2019, the LT4All conference will contemplate the relationship between technology and language from political and economic perspectives, then address the technological state-of-the-art, including Artificial Intelligence methods such as Machine Learning which most LT applications are based on. Scientific presentations, panels as well as reports on systems, applications and experiences gained in the deployment of those technologies will frame the conference programme. The objective is to allow a better understanding of the status of the technologies, what they can achieve and how they can be extended in order to cover more languages. The actors of under-resourced countries will especially be targeted and will get a better insight on the scientific and technological issues.