24.04.2019 - 30.04.2019
Latin America and the Carribean / / Niterói, Rio de Janeiro
Icaraí
In the second edition of the project Brazil: the margin, the Centro de Artes da Universidade Federal Fluminense (Fluminense Federal University Arts Center) will be open, from April 24th to 30th, to Teko Porã, which in Guarani language means well living in the community. Notably in this year 2019, declared by UNESCO as the International Year of Indigenous Languages, we reiterate the words of Prof. José Bessa Freire: "A language contains in it all the territory where it is spoken, in the means that it classifies, names, describes, evaluates, hierarchizes and gives meaning to everything in it flora, fauna, geographical accidents, enchanted and disenchanted beings that inhabit it, as well as beliefs and knowledge that reveal the relationship between them". The programming will consist of conferences, debates, art exhibition, seminars, film sessions, concerts and Indigenous Handicrafts Fair. April 24th · Opening Conference: Indigenous ancestry and contemporary dilemmas", with Daniel Munduruku. · Espaço UFF de Fotografia Paulo Duque Estrada (Paulo Duque Estrada UFF Photography Space) "Tka dahêmba / corpo terra" (Earth body) – by Edgar Kanaykõ Xakriabá April 25th ·SEMINAR - INDIGENOUS LANGUAGES I "Línguas indígenas: cosmologias e culturas" ("Indigenous languages: cosmologies and cultures") Professor José Ribamar Bessa Freire. ·Minicourse: "Indigenous ethnoesthetics: The Attempts of 'Non-Indigenous' Approaches to Amerindian Plastic Production in Brazil" - Professor Wallace de Deus Barbosa ·Conversation followed by musical presentation - Dub For Galdino invites Wera MC and Katú Mirim April 26th · SEMINAR - INDIGENOUS LANGUAGES II ·Minicourse: ASCURI - Ñandereko e cinema indígena de direção (ASCURI - Ñandereko and directing indigenous cinema). Short film session of indigenous filmmakers. · Show: Brisa de La Cordillera Flow, with disc release Selvagem como o vento (Wild as the wind) April 27th ·Indigenous Handicrafts Fair · Sarau of Indigenous Literature · Indigenous Music April 28th ·Indigenous Handicrafts Fair ·Concert: Native American songs - Música Antiga da UFF (Ancient UFF Music) and guests April 29th ·Projeto Cine Escola (Cine Escola Project): Children's animation shows + Animation Workshop with Daniele Rodrigues ·UFF Debate Brasil (Brazil UFF Debate) "Originary women: resistance, poetry and identity", with Eliane Potiguara, Taily Terena and Renata Machao. April 30th · Minicourse: Do grafismo à arte indígena contemporânea (From graphism to contemporary indigenous art), with Denilson Baniwa. ·Closing Conference: "Ipa theã oni: flecha para tocar o coração da sociedade não indígena", ("Ipa theã oni: arrow to touch the heart of non-indigenous society"), with Davi Kopenawa.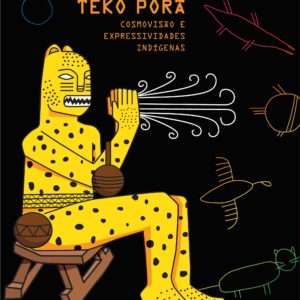 28.04.2019 - 28.04.2019
Global / / Woodland
Woodland Celtic Games and Festival, Woodland, California
Scottish Gaelic, Language of our Celtic Ancestors A review of the history of the Celtic languages with an emphasis on Scottish Gaelic, one of the most endangered of the Celtic languages. UNESCO classifies Scottish Gaelic as definitely endangered. The expansion and decline of Scottish Gaelic will be reviewed and current areas of fluent local speakers […]
27.04.2019 - 28.04.2019
Asia and the Pacific / / AHMEDABAD
39, Someshwar Bungalows , Satellite, Ahmedabad 380015
Green Kids Conference brings together over 1000 children and 100 educators and solution providers to addresses many Local, National and International issue of importance. Conference is open for KG to middle school students.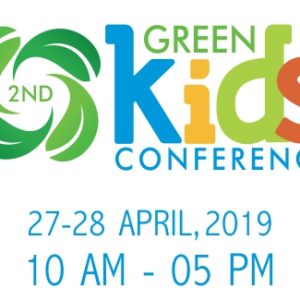 26.04.2019 - 27.04.2019
Global / / New York
New York University Tisch School for the Arts
Cine, Memoria y Resistencia is a collaboration between Indigenous organizations from across the Americas including: CLACPI (Coordinadora Latinoamericana de Cine y Comunicación de los Pueblos Indígenas), IsumaTV, Wapikoni and NAISG (Native American & Indigenous Student Group at NYU).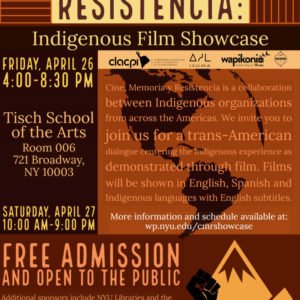 23.04.2019 - 26.04.2019
Latin America and the Carribean / / Manizales
Universidad de Manizales
El Cogreso de Documentación y Revitalización de Lengus Nativas organizado por el Departamento de Humanidades de la Universidad de Manizales pretende ser un espacio de discusión y reflexión sobre los esfuerzos de preservación de las lenguas nativas que se han hecho dentro de las comunidades mismas, así como desde el ámbito académico.
26.04.2019 - 26.04.2019
Asia and the Pacific / / Melbourne
To Be Confirmed
A one day workshop styled forum to discuss the finding s of the Fison & Howitt Papers and other related publications. A series of papers, taken from letters, discussing Aboriginal culture, language and kinshipThe Language consultation forums will provide Aboriginal and non-Aboriginal key note speakers, and discussion about the findings from the Fison & Howitt Papers. Deakin Uni and La Trobe Uni, VACL partnership
Scroll