24.11.2019 - 27.06.2019
Global / / Santiniketan
Visva-Bharati, Santiniketan
It gives us immense pleasure to invite you to participate in the International Seminar on Marginal Ethnologic and Linguistic Annals: MELA-2019 to be held during 24-27 November, 2019 at Visva-Bharati, Santiniketan, West Bengal (India), organised by Centre for Endangered Languages (CFEL), Visva-Bharati. Here Research Papers, Films, Poster Presentations and Theme Paintings are invited within given time frame. There will be interactive sessions consist of renowned linguists, interdisciplinary academicians, film makers, thinkers, writers, journalists and young scholars of the field.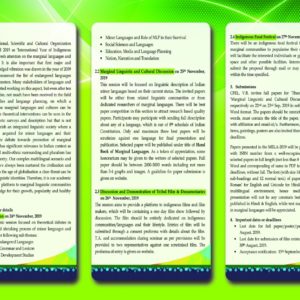 26.06.2019 - 26.06.2019
Latin America and the Carribean / / Panama City
Universidad UDELAS
The event will faciliate a conversation on the importance of protecting the indigenous languages and generating recomendations for the development of a national road map and action plan focused on the preservation, promotion of and use of the languages. The event will place emphasis on bilingual education, access to information, the use of technology. The importance of developing measures and policies which will encourage young people to take interest in learning the languages will be one of the key elements in these discussions.
24.06.2019 - 26.06.2019
Europe and North America / / Victoria
Victoria Conference Centre, 720 Douglas St, Victoria, BC V8W 3M7
HELISET TŦE SḰÁL – 'Let the Languages Live' 2019 International Conference on Indigenous Languages, presented by the First Peoples' Cultural Council and the First Peoples' Cultural Foundation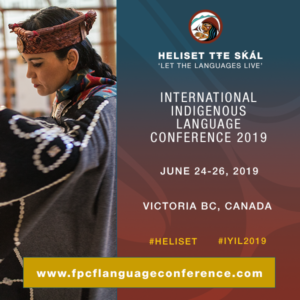 23.06.2019 - 26.06.2019
Europe and North America / / Victoria, BC
Victoria Conference Centre
The United Nations General Assembly's mandate to UNESCO supports the development of regional events that will bring together international stakeholders and contribute to an 'Indigenous Peoples' Languages Outcome Document', which will be considered by UNESCO and the UN General Assembly in late 2019. With this aim in mind, a Regional Meeting for North America and the Arctic will be held on the margins of HELISET TŦE SḰÁL – 'Let the Languages Live': International Indigenous Language Conference taking place from June 24 to 26 in Victoria, British Columbia, Canada. Participants in the UNESCO regional meeting will also be able to participate in the events of the HELISET TŦE SḰÁL conference.
21.06.2019 - 23.06.2019
Africa / / Marrakech
Impérial Plaza Hotel
Le 13ème Congrès Fédéral de l'organisation Tamaynut (organisation autochtone installée au Maroc) vient dans un contexte délicat et très sensible qui touche notamment tous les Peuples autochtones dans plusieurs domaines de vie et d'existence à savoir les changements climatiques, la biodiversité, les langues autochtones, les cultures et coutumes..etc. Ce congrès coïncide avec l'année internationale des […]
11.06.2019 - 23.06.2019
Europe and North America / / London
Rich Mix, Southbank, Shakespeare's Globe, The Place, National Maritime Museum, British Library, Arthouse Crouch End, Regent Street Cinema, Playground Theatre, Baldwin Gallery, Maxilla Gardens, Canada House, Genesis Cinema, Kings London, Queen of Hoxton
A Festival of First Nations Arts in London.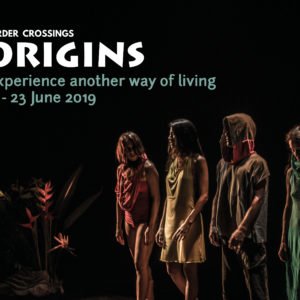 20.06.2019 - 23.06.2019
Global / / Constanta
Constanta County Library "Ioan N. Roman"
The 2nd Annual Lecture on Exile in Comparative Literature and the Arts – ALECLA 2019 focuses on "Indigenous Languages and Literature."
Scroll