25.10.2019 - 27.10.2019
Latin America and the Carribean / / Guatemala
Centro Cultural de España en Guatemala
Este evento es una conferencia abierta al público en general e interesados en explorar la intersección de la revitalización y la tecnología de las lenguas indígenas, sumando el ambiente tecno-político actual, que también incluye el acceso y la adopción de estas herramientas, así como un lugar para mostrar los proyectos que están haciendo el cambio en la región. La conferencia se celebraría en el Centro Cultural de España en Guatemala, en el centro histórico de la ciudad.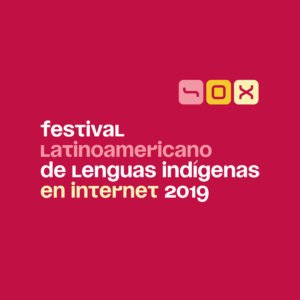 26.10.2019 - 27.10.2019
Asia and the Pacific / / nagpur
Central India, State: Maharashtra, City: Nagpur, Kunwara Bhivsen Penthana (Mandir), Near Old Library, Futala Lake Futala Nagpur
Researcher Will Presenting Research paper on Given Topic Indigenous Language Expert Will taking Seminar on "Raising Awareness On Indigenous Languages Of The India: Linguistic Features And Cultural Traits" President of Indian Tribal Association (Gondwana Sodum) Mr. Raayaan Ghodam Sir Will Guide on Importance of INDIGENOUS LANGUAGE topic.  the linguistic diversity and the revitalization efforts of […]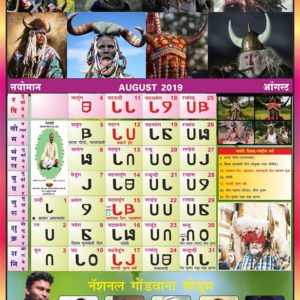 26.10.2019 - 27.10.2019
Europe and North America / / Hannover
Kino Am Raschtplatz Hannover
FILMREIHE IM RAHMEN DES UNESCO INTERNATIONALEN JAHRES DER INDIGENEN SPRACHEN. Auf Empfehlung des Ständigen Forums für indigene Fragen hat die Generalversammlung der Vereinten Nationen das Jahr 2019 zum Internationalen Jahr der indigenen Sprachen ausgerufen. Wie das Forum feststellt, sind 40 Prozent der geschätzten 6.700 weltweit gesprochenen Sprachen vom Verschwinden bedroht. Die meisten dieser gefährdeten Sprachen sind indigene Sprachen, womit auch die Kulturen und Wissenssysteme, zu denen sie gehören, gefährdet sind. Indigene Bevölkerungsgruppen sind oft politisch, geographisch und sozial isoliert und können mit ihrer vielseitigen Kultur und ihrem Wissen nicht zu unserer globalisierten Welt beitragen. Das Hochschulbüro für Internationales der Leibniz Universität Hannover, das Konfuzius-Institut Hannover und das Centre for Atlantic and Global Studies freuen sich, zwei Filme zu präsentieren, die auf die Themen Isolation und Sprache aufbauen: die gefeierte Dokumentation "Thinking Like a Mountain" von Alexander Hick und die Romanverfilmung "Der Seidenfächer".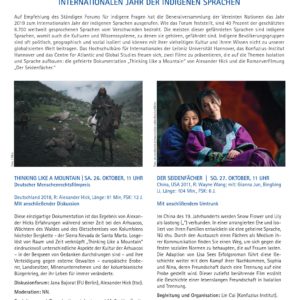 13.07.2019 - 27.10.2019
Latin America and the Carribean / / Santiago de Chile
v. Sta. Rosa 11315-11737, La Pintana, Región Metropolitana
Taller de Cultura y Lengua Mapuche Taiñ Zügun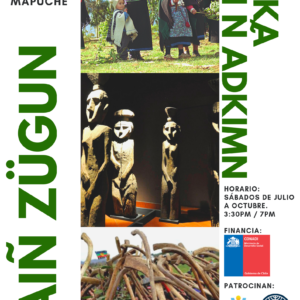 21.10.2019 - 27.10.2019
Europe and North America / / Karasjok
Sámediggi
The Sami Parliament in Norway wants Sami languages to be a natural and living part of everyday life for everyone, and therefore invites to Sami language week, October 21 – October 27, 2019. Through Sami language week, the Sami Parliament wants to focus on visibility of Sami languages, in all parts of the society.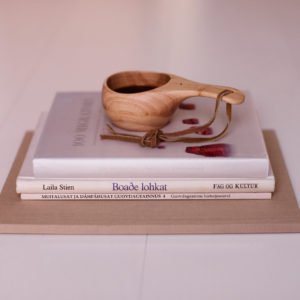 23.10.2019 - 26.10.2019
Asia and the Pacific / / Adelaide
Adelaide Festival Centre
The Asia-Pacific Creative Cities (APCC) Conference, organised by Adelaide Festival Centre, operator of the UNESCO City of Music Office in Adelaide, will be the first ever meeting of the UNESCO Creative Cities of the Asia-Pacific region. It aims to draw significant attention to the region's leadership position in the CCI sector and the global economy. This conference will bring together top-level delegates and world-class speakers representing Australia, the Asia-Pacific region, and specifically the UNESCO Creative Cities Network (UCCN) to discuss the ways forward, strengthen exchange of best practices, deepen collaboration and highlight the cultural leadership of the region across the creative cities.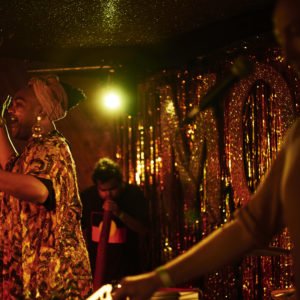 Scroll