20.06.2019 - 23.06.2019
Global / / Constanta
ibis Hotel
This year, the Annual Kurultai of the Endangered Cultural Heritage – AKECH 2019 is focusing on papers that examine aspects of "Indigenous People: Stories, Cultures, Languages."
23.06.2019 - 23.06.2019
Europe and North America / / Paris
37 Quai Branly 75007
"Apulée" est une revue de littérature et de réflexion qui parle du monde d'une manière décentrée, nomade, investigatrice, avec pour premier espace d'enjeu l'Afrique et la Méditerranée. A l'occasion de la sortie du n°4 de la revue "Apulée" - « Traduire le monde », 2019 (éditions Zulma), rencontrez des membres de la rédaction ainsi qu'une de leur contributrice.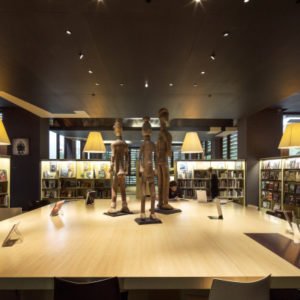 22.06.2019 - 22.06.2019
Europe and North America / / Bell canyon
Belongingness and Displacement
Event overview The event will consist of an official introduction of the event's purpose and collaborators, three keynote speakers will share personal stories, and we will explore innovative ideas for greater belonging during breakout sessions. After a delicious lunch featuring global cuisine, we will wrap up with a panel discussion and small break out group discussions. Discussion streams Key elements of belonging and displacement especially as it related to all impacted women and girls in Los Angeles (Refugee, Immigrant, and Unhoused persons). Displacement or othering through Feminist Lens. (SDGs will be incorporated into the below.)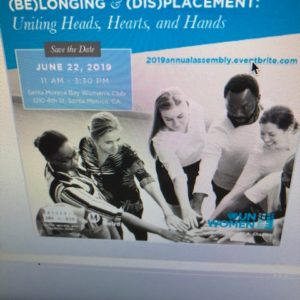 04.02.2019 - 21.06.2019
Europe and North America / / Barcelona
School Jesús, Maria i Josep ( Manyanet Sant Andreu )
School project about PRESERVING ENDANGERED LANGUAGES. Looking for languages and situating them in a world map. Reading serveral articles and mindmapping their information. Creating posters with messages to preserve all languages. Recording videos with the students proposals.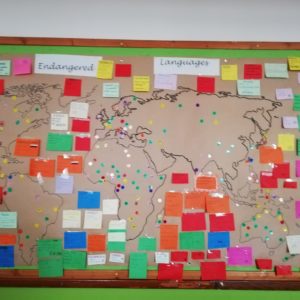 21.06.2019 - 21.06.2019
Europe and North America / / Fairbanks
Morris Thompson Cultural and Visitors Center
An inter-generational Denaakk'e language learning activity  for children accompanied by a caregiver.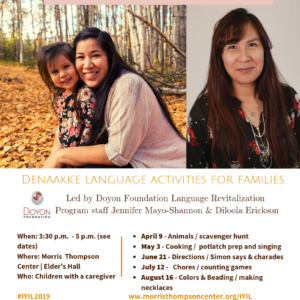 20.06.2019 - 21.06.2019
Asia and the Pacific / / Melbourne
Brambuk Living Cultural Centre Halls Gap, Victoria- Shepparton TBC
The Victorian Aboriginal Corporation for Languages will host two Language Development workshops for Victorian Aboriginal Traditional Owners. In a two day styled event, Aboriginal people will be provide with the skills and tools to build Language dictionaries as a pathway for Language reclamation and revival. Each forum is facilitated by Victorian Aboriginal Language Speakers and […]
21.06.2019 - 21.06.2019
Europe and North America / / Calgary
Sweetgrass Lodge, Calgary Stampede Grounds
Join the University of Calgary on National Indigenous Peoples Day to celebrate the diverse languages in the Treaty 7 region of southern Alberta. A day of cultural events featuring teepee raising, storytelling from Traditional Knowledge Keepers, dancing, drumming, bannock and more.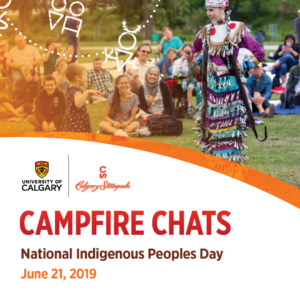 Scroll