01.07.2019 - 12.07.2019
Global / / Chapel Hill
UNC Chapel Hill Global Education Center
The Summer School, "Indigenous and Minority Languages: Living History and Opportunities for the Future" is organized in collaboration with the Americas Research Network (ARENET), the Institute for the Study of the Americas of the University of North Carolina at Chapel Hill, Center for Research and Practice in Cultural Continuity at the University of Warsaw "Faculty of Artes Liberales", the Council of American Overseas Research Centers, and the Smithsonian Institution. The summer school will take place at the UNC Chapel Hill Global Education Center July 1-12, 2019. An integral part of the workshop includes a two-day visit to the Cherokee Eastern Band Indian Community July 6-7, 2019.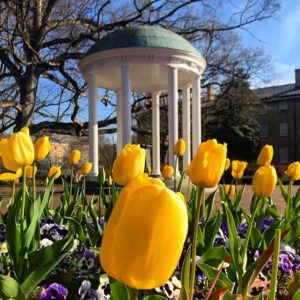 02.07.2019 - 02.07.2019
Europe and North America / / Leeds
Hyde Park Picture House, 73 Brudenell Rd, Leeds, LS6 1JD
Film screening following annual Leeds University Endangered Languages workshop 'Endangered languages and ecosystems: Threats and opportunities' Edge of the Knife is a 2018 Canadian drama film co-directed by Gwaai Edenshaw and Helen Haig-Brown. It is the first feature film spoken only in dialects of the Haida language. Set in 19th-century Haida Gwaii, it tells the classic Haida story of the traumatized and stranded man transformed to Gaagiixiid, the wildman.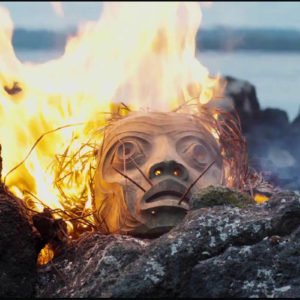 02.07.2019 - 02.07.2019
Europe and North America / / Graz
Afro-Asiatisches Institut Graz
Die beiden Guarani-Kaiowá Frauen Janete und Alenir erzählen vom Leben als Indigene unter der aktuellen Regierung Brasiliens. Erzählung und Gespräch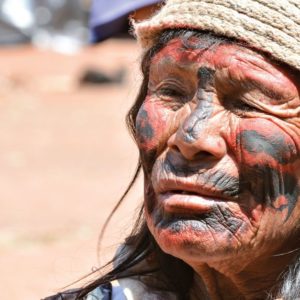 03.07.2019 - 03.07.2019
Latin America and the Carribean / / Bogotá
Universidad Nacional de Colombia, Edificio de Posgrados de Ciencias Humanas Rogelio Salmona, 111321 Bogotá
El año 2019 ha sido declarado por la ONU y la UNESCO como el año internacional de las lenguas indígenas en el mundo, con el propósito de llamar una vez más la atención sobre la importancia de preservar y fomentar el uso de las lenguas indígenas.  En un mundo en el que las tendencias homogeneizadoras […]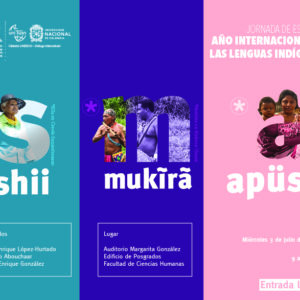 03.07.2019 - 04.07.2019
Latin America and the Carribean / / Quito
Calle La Pradera E7-174 y Av. Diego de Almagro
The UNESCO Office in Quito and Representation for Bolivia, Colombia, Ecuador and Venezuela has organized and coordinated three former editions of the Andean Meeting on Culture of Peace. This IV edition aims to make special emphasis to the contribution of the indigenous languages to the building of peace through the education in native language and […]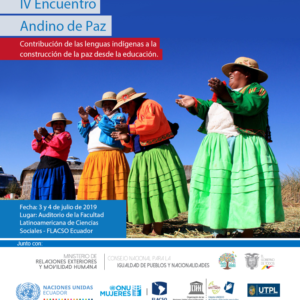 04.07.2019 - 04.07.2019
Latin America and the Carribean / / Quito
CIESPAL, Av. Diego de Almagro N32-133 y Andrade Marín
The IV Conferences of Communitary Communication organized by CORAPE in defense of life of the indigenous languages aim to encourage a space for the reflection, dialogue, interaction and training for community communicators, popular communicators, organizations, civil society and media. On this occation the event will focus on the objective of sensitizing public opinion on the […]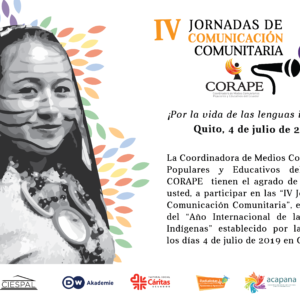 04.07.2019 - 07.07.2019
Europe and North America / / Bautzen
02625 Bautzen/Budyšin | 03185 Drachhausen/Hochoza | 01920 Crostwitz/Chrósćicy
Did you ever visit the smallest Slavic nation – the Sorbs? The Sorbs settled in the 6th century in the eastern part of Saxony, where the Sorbian language, culture and traditional costumes are still present. A good opportunity to get to know the Sorbs is the 11th Folklore festival "Lusatia" – which is organized by […]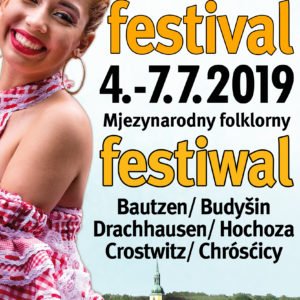 Scroll