21.02.2019 - 21.02.2019
Global / / London
The Foundry A Place For Change, 17 Oval Way, SE11 5RR
Native Spirit presents a programme of Indigenous Film screenings (English subtitles) for #UNESCO International Year of Indigenous Languages #IYIL2019 on International Mother Language Day (IMLD) in collaboration with The Foundry - A Place for Change.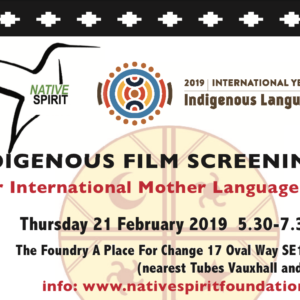 21.02.2019 - 22.02.2019
Global / / Mussoorie
Woodstock School
celebration of Mother Languages and sharing of knowledge.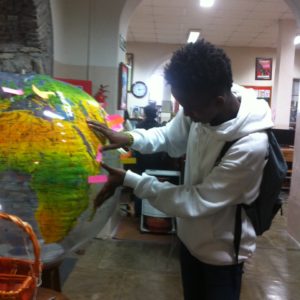 22.02.2019 - 22.02.2019
Asia and the Pacific / / Sual, Pangasinan
Sual National High School
This event helps in the advocacy of the revitalization of the Baybayin language and are in line with the UN General Assembly's aim to raise awareness of the consequences of the endangerment of Indigenous languages across the globe.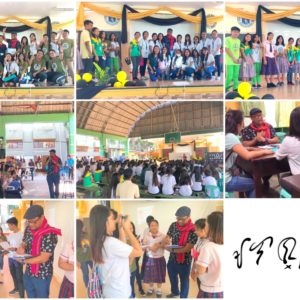 22.02.2019 - 23.02.2019
Europe and North America / / Galway
Galway2020 and various venues
A festival to bring people together and celebrate linguistic diversity to mark International Mother Language Day and the 2019 Year of Indigenous Languages!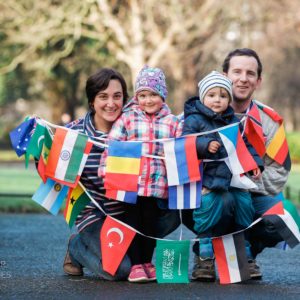 22.02.2019 - 24.02.2019
Asia and the Pacific / / Meningie
Long Point Road, Narrung
A weekend of sharing and learning. Hosted by the Ngarrindjeri Elder Uncle Moogy Sumner AM and his family this weekend will be an immersion into Ngarrindjeri language, culture and art. Other cultural language groups will attend and dance together under the southern skies in a corroborree that speaks to the heart. #seesouthaustralia #ngarrindjeri #dupang2019
22.02.2019 - 22.02.2019
Europe and North America / / Fairbanks
Morris Thompson Cultural Center
FAIRBANKS, AK – On Friday, February 22 at 6:30 pm at the Morris Thompson Center a group of local organizations will kick off a year-long series of programs about Alaska Native languages. Denakkanaaga, Doyon Foundation, the Morris Thompson Center, Tanana Chiefs Conference Cultural Programs, and the University of Alaska Fairbanks' Alaska Native Language Center are […]
23.02.2019 - 24.01.2019
Africa / / Glen Marais
Tembisa Library
Ethnikids will be hosting a book reading at Tembisa Library, Gauteng, South Africa. Authors, Lebohang Masango and Dr Nomsa Mdlalose will be reading their books 'Mpumi's Magic Beads' and 'The Grandmother and the Pig' to children in this community. These books feature characters of colour that they can identify with and have stories that they can relate to. This will not only encourage love for reading but will also promote self-love and love for South African languages.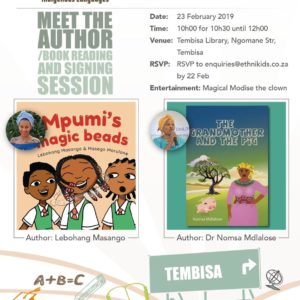 Scroll