27.02.2019
Latin America and the Carribean / / Ciudad de México
Ciudad de México
Se llevará a cabo la tercera y ultima entrega de apoyos a los ganadores de la  Convocatoria de "Estímulos para el Desarrollo de Proyectos de Investigación sobre  Procuración de Justicia, Seguridad, Salud y Derechos Humanos en Lenguas Indígenas", donde los participantes realizaran la entrega de sus proyectos concluidos. Contaremos con la participación de 7 asesores y […]
01.03.2019 - 17.03.2019
Europe and North America / / Derry City and Strabane District
Various
Derry City and Strabane District Council will celebrate Irish Language Week (Seachtain na Gaeilge) from 1st - 17th March 2017.The Council will work in partnership with a range of community stakeholders to present a programme of events and activities which aim to promote public awareness of the language and opportunities to learn and use the language in the local area.The full programme will be available at www.derrystrabane.com/gaeilge.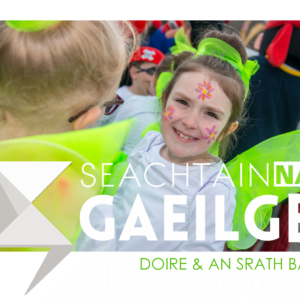 01.03.2019 - 31.10.2019
Asia and the Pacific / / Nationwide
Held in schools, workplaces, libraries and businesses nationwide.
The Great Book Swap is a fantastic way to celebrate reading locally, and raise much-needed funds for remote communities. Schools, workplaces, libraries, universities, book clubs and all kinds of organisations can host one. The idea is to swap a favourite book in exchange for a gold coin donation.This year the Indigenous Literacy Foundation hope to engage 30,000 students across Australia to help us raise $300,000 to buy 30,000 new books for remote Indigenous communities.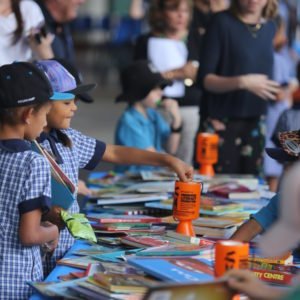 01.03.2019 - 01.11.2019
Global / / Port Alberni
Ahtsik Native Art Gallery
About This Project First Nations Education Foundation, in recognition of the importance of Indigenous language and culture and the 2019 UN International Year of Indigenous Languages, has commissioned a Language Revitalization totem pole from renowned Nuu-chah-nulth carver, Tim Paul."When we use our language," Tim Paul explains, "it is not just another way of saying something; the principles of our culture are embedded in the language and many words simply cannot be translated. It is only by understanding our language can we unlock the most important values, principles, and concepts of who we are."For more information about the Pole and language revitalization please visit: www.fnef.ca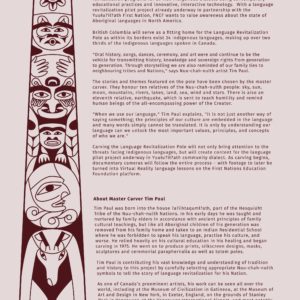 01.03.2019 - 01.03.2019
Africa / / Pietermaritzburg
University of Kwazulu-Natal
This event is to celebrate and create awareness in isiZulu. SADiLaR will be celebrating all of the 11 official languages of South Africa by dedicating each language to a certain month of the year. We aim to promote South African linguistic diversity and multilingualism as part of the United Nations' International Year of Indigenous Languages. SADiLaR has dedicated the month of February to celebrate isiZulu as an official language of South Africa.
01.03.2019 - 02.03.2019
Asia and the Pacific / / San Jose, Occidental Mindoro
Occidental Mindoro State College, Quirino St., San Jose, Occidental Mindoro; Caminawit National High School; Brgy. Monteclaro, San Jose, Occidental Mindoro
It is a cultural training for students & teachers and members of the indigenous community.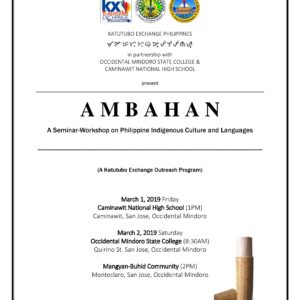 02.03.2019 - 03.03.2019
Europe and North America / / Dublin
Civic Theatre, Tallaght, Dublin 24
A festival to bring people together and celebrate linguistic diversity to mark International Mother Language Day and the 2019 Year of Indigenous Languages!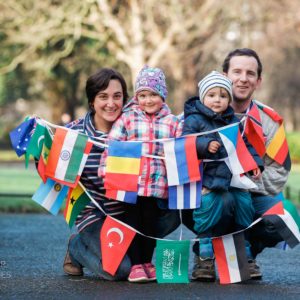 Scroll