18.01.2019 - 17.02.2019
Asia and the Pacific / / Northbridge, Perth, Western Australia
Perth FRINGE WORLD FESTIVAL
Best Dance Adelaide Fringe & FRINGE WORLD 2017. West Australian Arts Editors Award. UniSA Award for Excellence in Aboriginal Creative Arts. Djuki Mala wow audiences with a spectacular fusion of traditional dance, pop-culture and storytelling. A marvel of timing, comedy and clowning with a hefty dose of heart and soul! Unique, infectious, high-energy... like a confetti cannon point blank to the heart! https://fringeworld.com.au/whats_on/djuki-mala-fw2019
17.02.2019 - 17.02.2019
Asia and the Pacific / / Pangasinan
Masidem-Fishport
This Baybayin Lecture & Workshop is to help promote the revitalization of the indigenous writing of the native Filipinos that has been forgotten or has ceased its usage since around the year 1600 after the Spanish colonization and the romanization of the Filipino written languages.
16.02.2019 - 16.02.2019
Asia and the Pacific / / Jakarta
Hoshino Tea Time, Menara BTPN, Mega Kuningan, South Jakarta
Polyglot Indonesia Jakarta Chapter presents the Language Exchange Meetup activities series entitled "Langlang Buana Nusantara!" In the third meetup of this series, we discussed the language and culture in the Maluku Islands in an activity entitled "More Than Just Spice" held on February 16, 2019. In collaboration with Keluarga Mahasiswa Maluku UI (KMM UI), a student union of Maluku Province at Indonesia University, we present unique facts about the Maluku Islands and teach the Ambonese Indonesian.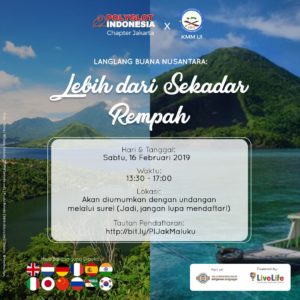 06.02.2019 - 15.02.2019
Europe and North America / / Rovaniemi
Arktikum, Polarium Hall
University of Lapland is celebrating the Sámi National Day by organising a film screening of Sámi films to school children. The event will be held on Wednesday, February 2 in Polarium Hall of Arktikum in Rovaniemi, Finland. The event is to raise awareness, recognition and interest on Sámi language and culture. The event aims also […]
15.02.2019 - 15.02.2019
Europe and North America / / Tallinn
Estonian Writer's Union
The aim of the event is to introduce the 2019 International Year of the Indigenous Languages to the general public and media in Estonia and to contribute to the awareness raising about its objectives. The event will consist of two presentations, a panel discussion and a cultural programme.
15.02.2019 - 15.02.2019
Europe and North America / / Anchorage
ZJ Loussac Library - 3600 Denali St, Anchorage, AK 99503, USA
"On the tip of the tongue" documentary (52' - 2018) Six years ago, Vincent Bonnay, a french filmmaker started the documentation process as Eyaks began to reconnect and strategize together as a community. "SUR LE BOUT DE LA LANGUE" or "ON THE TIP OF THE TONGUE" is a result of this important work, telling the story of the encounter between the Eyak people and the young french linguist, Guillaume Leduey.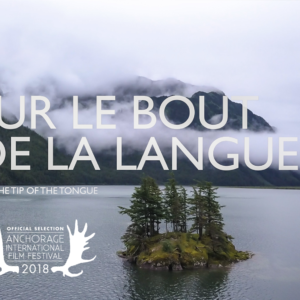 14.02.2019 - 14.02.2019
Europe and North America / / Kyiv
UNESCO Chair on Lifelong Professional Education in the XXI Century NAES of Ukraine (based on Ivan Ziaziun Institute of Pedagogical and Adult Education of the NAES of Ukraine)
Webinar on Mother Language and Multilingual Education in the Context of Sustainable Development (February 14, 2019), (Kyiv, Ukraine).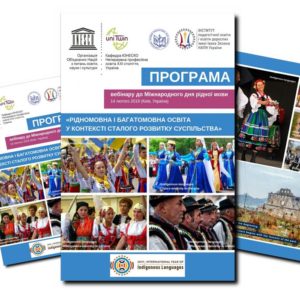 Scroll