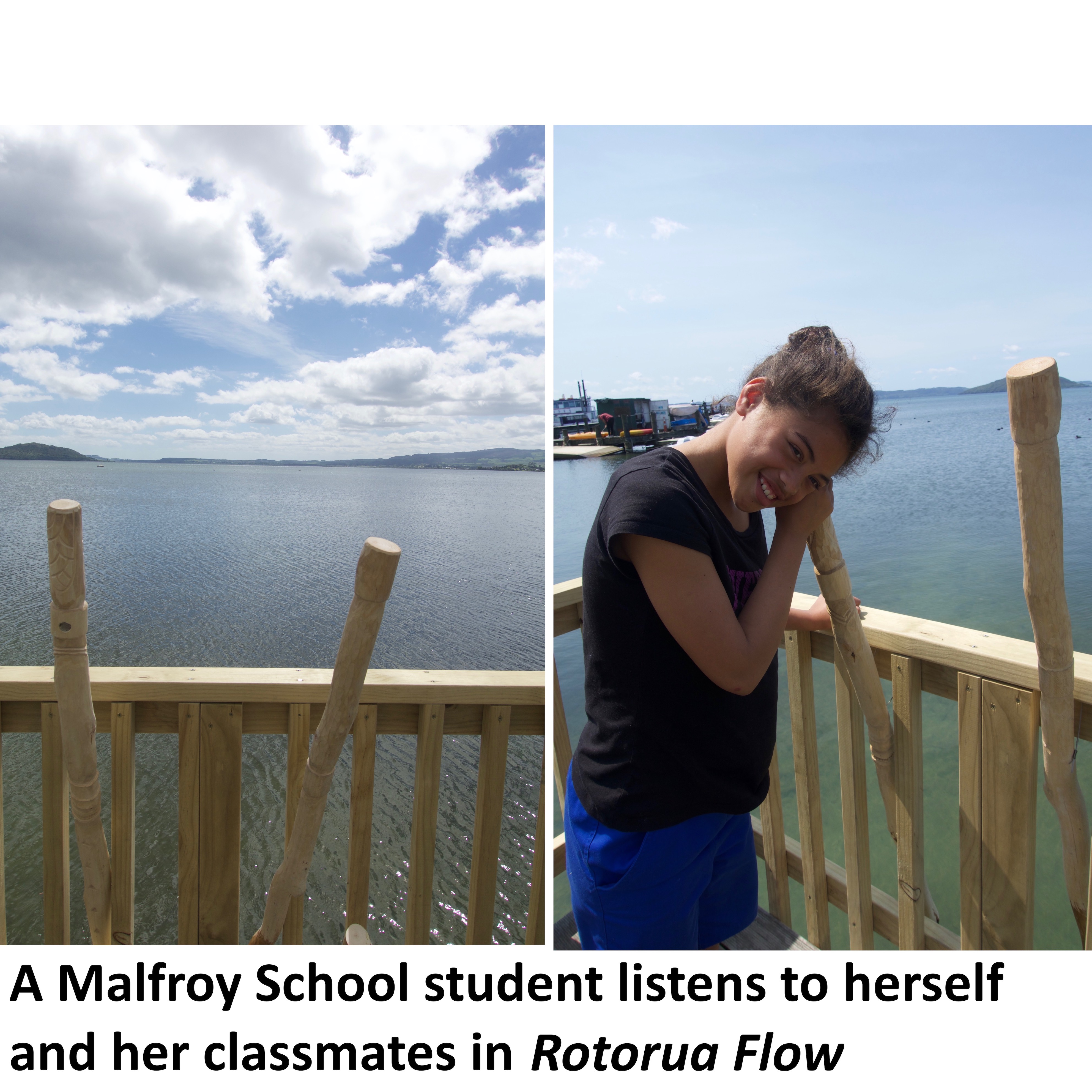 November 1, 2019 12:00 am - January 31, 2020 12:00 am
Asia and the Pacific | New Zealand | Rotorua | Rotorua lakefront
Cultural events
In the International Year of Indigenous Languages this participatory, site- and culture-responsive audio installation is utilising the natural flow of water to convey the voices of First Nations children in Aotearoa (NZ) and Australia, speaking their messages to their communities, their countries and the world in their First Languages.
The children's words, recorded and edited into soundscapes, are being 'released' into the water to flow to the oceans.
This work is essentially invisible to passersby, yet the underwater audio can be accessed via a poetically simple means: a pole held with one end in the water, the other against the ear.
As the project progresses, the words that flow from First Nations children around the world will, metaphorically, eventually meet and mix with each other in the interconnected oceans of our globe. This intermingling of First Words will symbolise both the strength and support that First Cultures draw from establishing relationships with each other globally, and the interdependent nature of all humanity.
Flow, created by Aotearoa (NZ)-born, Sydney-based public artist Allan Giddy, was conceived and prototyped during a 2018 Intercreate residency on Parihaka Pa, Taranaki, Aotearoa (NZ), working with local children speaking te reo Māori.
This project is supported by Creative New Zealand, the Australia Council for the Arts and Create NSW.
In Rotorua, Allan has been invited to create a local iteration of the project working with the schools he attended as a child: Malfroy Primary School and Rotorua Boys' High.
In late October 2019, Allan will record the messages of students from Malfroy and edit the recordings into soundscapes while Whakairo (Maori carving) students from RBHS will carve the listening poles. The completed work will be installed on Rotorua's lakefront, in Te Arawa waters, from 1 November 2019 to 31 January 2020.
Rotorua Flow is supported by Creative New Zealand and facilitated by Rotorua Lakes Council, with the approval of Te Arawa Lakes Trust.
With thanks to:
the staff of Malfroy Primary and Rotorua Boys' High School, Ngati Whakaue, Pukeroa Oruawhata, Intercreate.org, University of New South Wales.
In 2019 Allan is also working with First Nations students, Elders and Language Custodians, as well as local municipalities and educational and arts organisations, to create iterations of Flow in Australia. See:
Cookaroo Flow on Gadigal land in the Royal Botanic Garden Sydney
https://en.iyil2019.org/events/cookaroo-flow/
and Bungli Flow on the land of the Wodi Wodi people of the Yuin nation who speak the Dharawal language