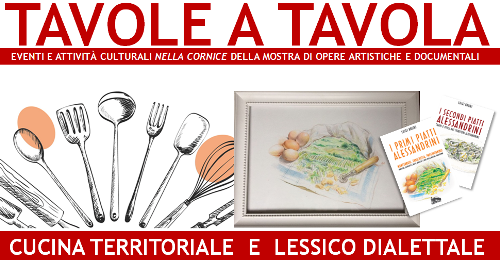 March 3, 2018 12:00 am - December 31, 2019 12:00 am
Europe and North America | Italy | Alessandria | Camino - via Villanova 4
Cultural events
Into TAVOLE A TAVOLA art exhibition's frame, the promoters organize a program of convivial events, cultural meetings and creative workshops, which themes focuses on the local traditions in the making and in the consumption of food, therefore about agricultural traditions and rural culture specific of the region.
Started in 2018, which in Italy is the national Year of Italian Food, and included in the program of events of the European Day of Artistic Creativity and in the European Year of Cultural Heritage's calendar, TAVOLE A TAVOLA's research explores in the fields of the application of the belle arti (artistic, creative and design techniques, and knowledges) for the best exposure of traditional food and cultural heritages nurtured by food.
Under the patronage of PROVINCIA DI ALESSANDRIA and ALEXALA, TAVOLE A TAVOLA's format in 2019 proposes several types of cultural initiatives on the theme CUCINA TRADIZIONALE E LESSICO DIALETTALE – the indissoluble relationship between local traditional cuisine and indigenous languages (dialects).
TAVOLE A TAVOLA's promoters invite local cultural associations, schools and colleges and local professionals, academics and students to visit the art exhibition and attend at its events, workshops and meetings, so to participate at the discovery of a hidden treasure: the words in the indigenous people's vocabulary, the local dialect, which refer to food, agricultural products, agricultural techniques, kitchen proceedings, convivial customs,… everything related to food – words which are key-words for understanding the history of the local community, and the knowledge contained into its traditions.
TAVOLE A TAVOLA's blog gives information about the project, about each promoter, for the cooperation, and about themes and contents of the program of exhibitions and events – https://tavoleatavola.wordpress.com/
spring events