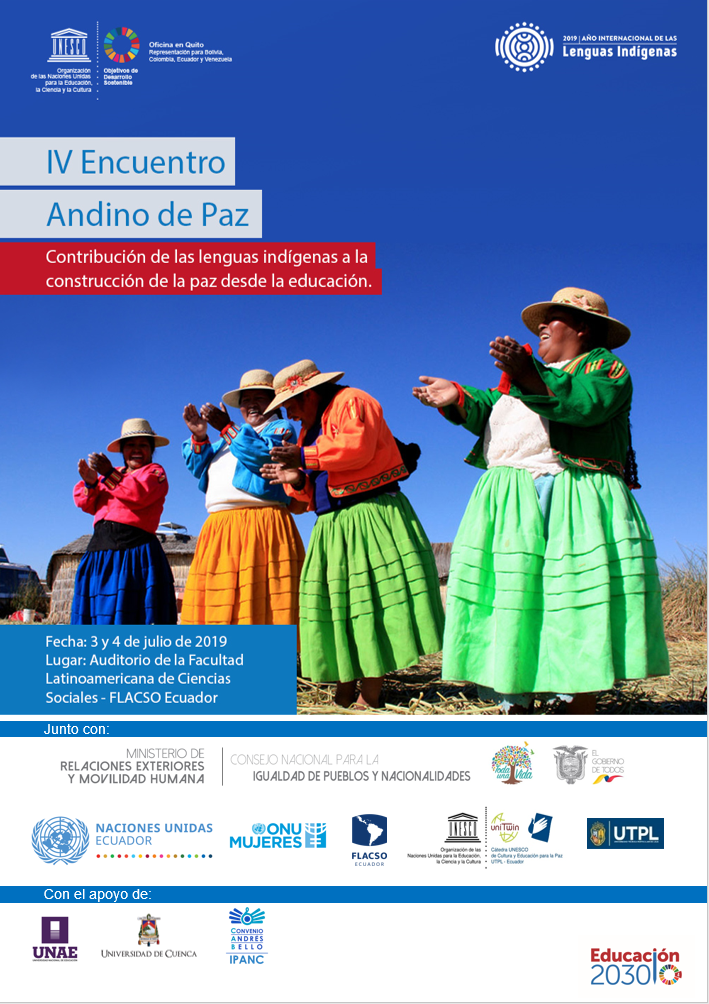 July 3, 2019 9:30 am - July 4, 2019 2:30 pm
Latin America and the Carribean | Ecuador | Quito | Calle La Pradera E7-174 y Av. Diego de Almagro
Conferences / Advisory
The UNESCO Office in Quito and Representation for Bolivia, Colombia, Ecuador and Venezuela has organized and coordinated three former editions of the Andean Meeting on Culture of Peace. This IV edition aims to make special emphasis to the contribution of the indigenous languages to the building of peace through the education in native language and the role of the indigenous communities for the building of a culture of peace.
It should be kept in mind that communities and indigenous peoples are carriers of knowledges, best practices and traditions that contribute to the strengthening and guaranteeing of the protection and sustainable management of cultural and natural goods, the diversity of the cultural expressions, the resiliency for mitigating and counteracting disasters and climate change, the sustainable management of the ecosystems and natural resources, the protection of biodiversity, food security and sustainable ways of consumption and production, and, finally, the well being and health care through traditional medicinal practices.
This meeting will make it possible the connection between peace, rescue, preservation and promotion of indigenous languages. It is important to give prominence to the situation of the Intercultural Bilingual System and the languages in the Region as well as the efforts that governments are making in order to prevent and promote them. In order to contribute through a more holistic approach, which will make it possible to complement the exposed topics from an international perspective, the event will be attended by Tauli-Corpuz, the United Nations Special Rapporteur on the Rights of Indigenous Peoples.